Five Must-See Villages in Sicily
Posted on 21 February 2020 in Rural Retreats, Sicily
Sicily is one of the most popular places for a summer escape. The most southern point of Italy, the large island is surrounded by stunning blue waters and no end of gorgeous beaches. However, what people sometimes forget is that Sicily has just as much to offer travellers inland.
Sicily is home to some of the most beautiful sites in Italy, with cultural history, dramatic landscapes and a plethora of charming towns and villages scattered all over the island.
Some of Sicily's locations are well known, such as the stunning cities of Palermo and Syracuse and the beaches of Taormina. However, this vast island holds plenty of hidden gems, quiet communities that are perfect for experiencing the authentic Sicily.
Experience The Sicilian Way of Life
There is a unique culture of Sicily that sets it apart from anywhere else in Italy. From the cuisine to how they spend their time with family and even the Sicilian language, still practised in some rural communities! There are many ways to discover this way of life, but exploring the lesser-travelled but equally stunning locations on the island is one of the best!
Here at Essential Italy, we've listed just five of our favourite towns and villages that provide the perfect day trip full of things to see and do, to help you have the holiday of a lifetime!
Cefalù
Located around 70km from the capital Palermo, Cefalù is one of the most beautiful villages in Italy, and as such proves hugely popular with visitors. It's home to both beautiful beaches and one of the greatest Arab-Norman architectural masterpieces.
Cefalu is a tight-knit community of around 14,000 people. The heart of the village is dominated by a monumental rocky crag, known as Rocca di Cefalu, which towers over the charming town.
Duomo di Cefalù
While La Rocca might be the largest landmark in Cefalu, the most eye-catching is the cathedral. A UNESCO World Heritage Site, this imposing presence was built by the Normans in the 1100s after their successful conquest of Southern Italy but retains some of the Arabian style that is prevalent throughout Sicily.
While striking from the outside, to discover the cathedral's real aura you must head inside and look up at the stunning depiction of Christ Pantokrator, surrounded by shimmering light, that looks down from the dome. It is perhaps one of the most potent images of Sicily's religious history.
Discover the Festival of San Salvatore in Cefalu.
One thing to bear in mind with Cefalu is that it's just as popular domestically as it is internationally. As a result, the small village can become crowded during the peak holiday season.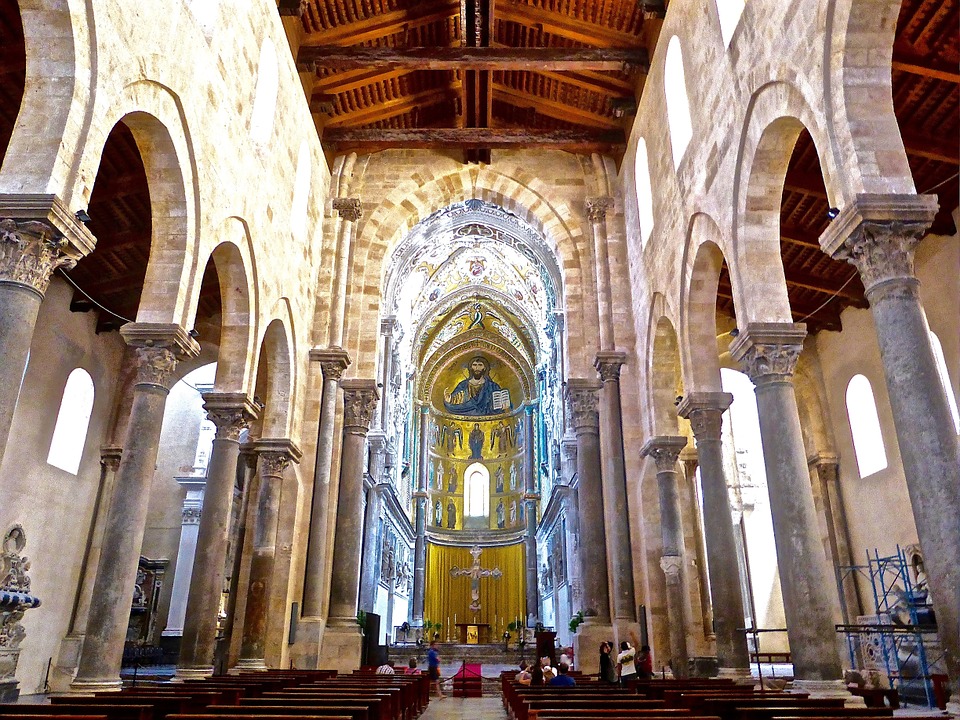 Erice
On the other side of Palermo is Erice, a picturesque village that straddles the small mountain of the same name. Erice's unique position, some 750m above sea level, contributes to the beautiful mystique that surrounds it.
This village has been inhabited for thousands of years, dating back to when the Greek's called the mountain Eryx. As a result, the town is full of winding streets, the majority of which date back to medieval times.
A Spiritual Adventure
Erice was one known as the city with a hundred churches and was valued as a religious site by every civilisation that lived here. Part of that is down to the stunning atmosphere the village has, created by the mountain it calls home.
One of the most eye-catching things about any visit to Erice is its unique weather. Due to its location and elevation, the climate in the village can change dramatically within minutes from clear blue skies to dense fog. This constant fluctuation can be unwanted if you're looking for a view, but it created some incredibly atmospheric adventures as streaks of sunlight piece the dense clouds that fill narrow streets.
Perfect for Hiking
For those after a little more activity, there is lots of hiking fun to be had in Erice, including a trail that takes to the summit of three churches, St. Maria Maddalena, St Ippolito and Santa Maria Maggiore. The path is straightforward, making it suitable for families of all shapes and sizes.
Also, don't miss your opportunity to taste the famous sweets of Erice during your stay, which are marzipan-flavoured sweets stuffed with preserved cedar.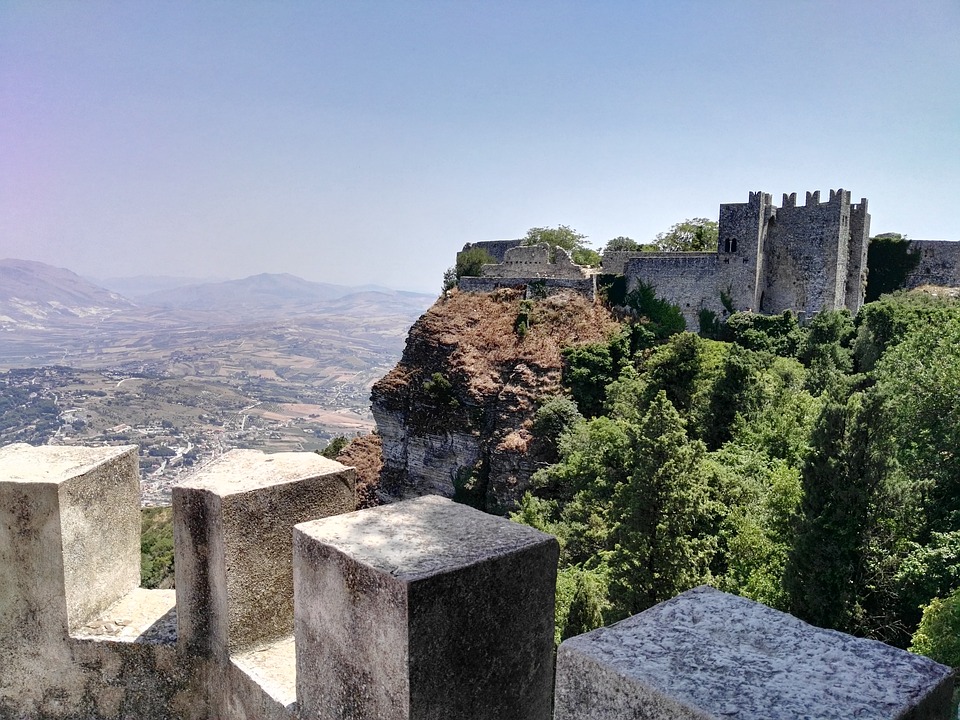 Savoca
Savoca is a small village located in the north-eastern part of Sicily, between popular destinations Messina and Taormina. Set amidst an idyllic hillside location, the town is overlooked by Catello di Pentefur, a ruined castle that speaks for the history of this location.
There are various bars and eateries for you to visit, including The Bar Vitelli, which boasts a balcony dotted with tropical plants and was featured in Francis Ford Coppola's famous film 'The Godfather'.
Cappuccini Monastery
Like many places in Sicily, Savoca is full of religious sites to discover. However, unlike places such as Cefalu, Savoca's churches have a much more quiet charm, often set on the idyllic hillside. One particular attraction of note is the Cappuccini Monastery, which features an impressive collection of 32 ancient mummified monks in their catacombs, some of which date back to the 18th century.
You won't leave Savoca hungry, with an array of local delicacies available for you to taste during your time there. Don't miss the opportunity to try piscistoccu, a cod dish made with olive oil, tomato paste, olives, capers, chilli, potatoes, celery, and local bread.
Gangi
This gorgeous town just outside of Palermo found fame after being officially named as the most beautiful village in Italy – a prestigious award amidst tough competition which should give you an idea of what awaits you in Gangi.
Built on Mount Marone, Gangi has for many generations been a predominantly farming community. The town is full of winding streets and old Italian buildings which speak to its heritage.
The Village with Two Palaces
There are two fantastic palaces to discover in Gangi with one being the Sgadari Palace. Here, you will find the Archaeological Museum exhibiting precious finds from the surrounding area; the Gianbecchina Art Gallery; the Museum of Weapons and the Ethno-anthropological Museum, which looks at the historical farming economy of the village.
The Buongiorno Palace, meanwhile, was the residence of the Buongiorno family in the 18th-century. The building is lavish, artistically beautiful and is of immense cultural significance to the village.
You won't regret a visit to this beautiful town to sample it's quintessentially Sicilian way of life. However, thanks to its sterling reputation and proximity to Palermo, chances are you won't be the only tourist with the same idea, so visit in the off-season if possible.

Castelmola
This gorgeous hillside village is located on the east of the island near the popular location of Taormina. Castelmola, as the name suggests, was built around the ruins of a Norman castle.
The village square consists of white lava stone and is bordered by shady, tree-lined pavements and cool urban design in a classic Sicilian style. Narrow, winding streets are scattered with souvenir shops selling traditional products and lead to the village church, which is well worth exploring in itself.
Stunning Views
Almost built like a balcony, it ticks all the boxes when it comes to location and scenery, boasting extensive views of the Ionian coast, Etna, the Bay of Giardini-Naxos, the strait of Messina, the Cape of S.Alessio and the Calabrian coast.
Whether you're staying in one of our luxury villas in Sicily nearby and visiting the spot regularly or spending a day exploring further afield, a trip to the Caffe San Giorgio is highly recommended. Here, you can take a break with a cold drink and enjoy the panoramic views.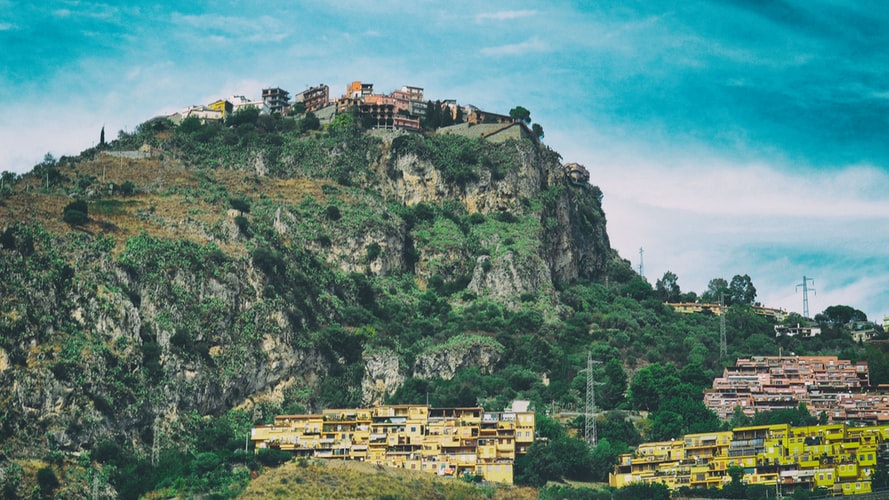 We hope you have enjoyed reading about five of our favourite Sicilian escapes, and that it has provided you with some inspiration for places to visit during your stay in Sicily.
Want to discover more? Read about some of our favourite hidden gems in Sicily.