Our villa in Sicily is mentioned in The Times
Posted on 20 December 2016 in Italy, Sicily, Umbria
Essential Italy are pleased to announce that The Times online have named Villa Scozilia, listed under the Essential Italy's Sicilian properties, as one of the best villas in the whole of the Mediterranean!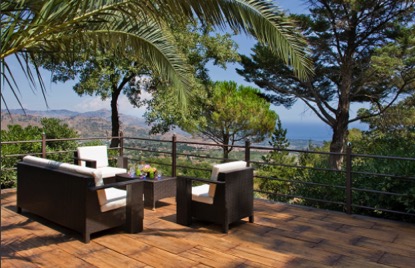 The beautiful villa complex compromises of two one bedroom apartments, one two-bedroom house with a double bedroom and twin bedroom, as well as a large house that sleeps up to 8 people, that are all within close proximity. This villa complex is perfect for big groups or families looking for a getaway together, but at the same time wanting their privacy. Located on the slopes of the famous Mount Etna volcano, the villa boasts breath-taking views across the hill-top town of Taormina, the surrounding countryside and the crystal blue coastline that can be admired from the patio. The complex is set in beautiful gardens, with a pool and tennis court that the children can enjoy as the Sicilian sun shines. The village of Presa is within walking distance, where an authentic Sicily can be experienced; it also has a small grocers and pizzeria when you are feeling peckish.
When you want to explore, head up to the top of Mount Etna to admire the vast volcano or venture down to the gorgeous beaches to enjoy a day relaxing on its golden sands or taking a dip in the warm, clear seas. Or if you're feeling a little lazier, stay in the villa, with a good book, glass of wine and the fantastic views. It really is no wonder The Times fell in love with this villa!
In other great news, Essential Italy have been expanding their accommodation options over the past year to bring you the very best accommodation that Italy has on offer. Perhaps, where the majority of expansions have been is in the region of Umbria, with several new abodes on the portfolio for you to choose from.
A hidden gem of Italy, the region of Umbria is truly somewhere every traveller should visit. Known as 'the green heart of Italy', this small region boasts some of the most fantastic views you can experience in Italy. From the Marmore waterfall, a man-made, cascading fall in amongst luscious greenery, to the Lake Trasimeno, with its clear waters –perfect for taking a dip or a photo… we'll let you decide which one you take!
The only region that does not have a coastline, or borders another country, experienced nomads can experience an authentic Italy here. With many vineyards, the Umbrian wine can be some of the best you can sample in this glorious country, with many people on the wine scene noting how fantastic the Umbrian offerings are!
So, whether you're looking for a villa in Sicily, right by the coast, or for Umbria villa holidays that provide you with unspoilt views over the cascading hills- there is something for everyone at Essentialitaly.co.uk.