The Ultimate Guide to Puglia
Posted on 23 September 2019 in Family & Friends, Italy, Puglia
Puglia, on the heel of the Italian boot, is quickly becoming one of the most popular holiday destinations in Italy. The south-eastern region is full of beautiful seaside towns, stunning city escapes full of culture and some of the finest cuisines in all of Italy!
Puglia is perfect for those looking to discover a new side to Italy, as it boasts so much to explore. If you're looking at visiting this region for the first time, check out our comprehensive guide to everything you should expect from your trip!
Geography
Puglia – sometimes referred to as Apulia – is the most south-eastern region in Italy. As mentioned above, it forms the 'heel' of the iconic Italian mainland 'boot'. Puglia covers an area larger than 19,000 km2, which makes it the seventh-largest region in Italy and fifth-largest on the mainland (the other four are all located in Northern Italy).
Puglia is most known for its coastline, the longest on the Italian mainland, believed to be around 800km long and joining two seas, the Adriatic on the east and Ionian along the south. It is a predominantly rural region of Italy, but is relatively flat, unlike much of Italy. Southern Puglia, in particular, is frequently exposed to coastal winds that can have noticeable impacts on conditions and temperatures.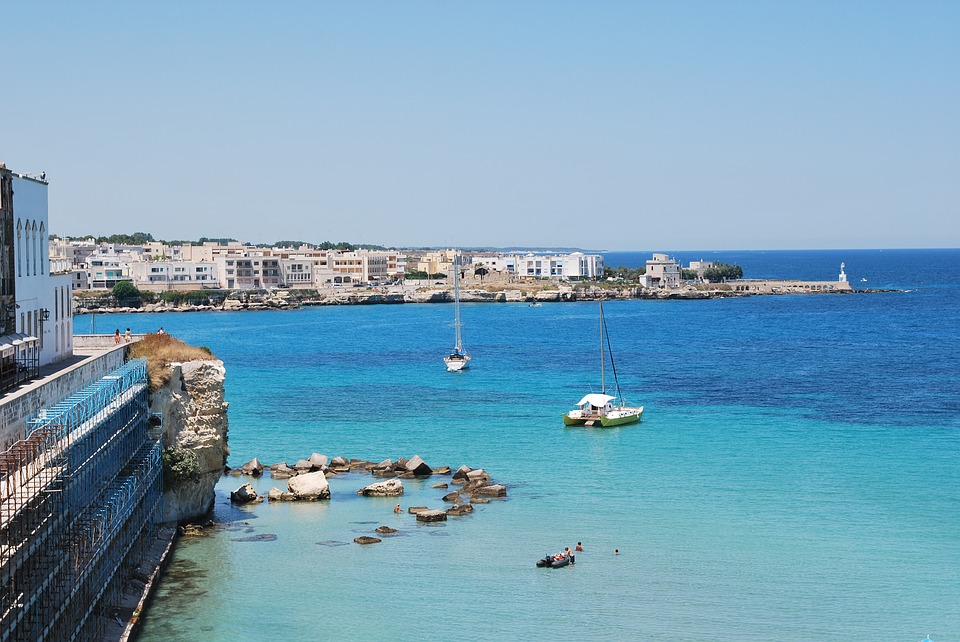 The Best Time to Visit Puglia
Like many holiday destinations, June to September are the most popular months to visit Puglia. The average temperature for the region peaks at around 25 degrees celcius during July and August, with highs reaching near 30 degrees. Late May, early June or late September are great times if you want to miss any crowds, and still want to catch some rays of Mediterranean sun. Temperatures are still consistently above 20 degrees celcius during these periods.
Puglia even has something to offer guests travelling to Puglia in the winter months. While some coastal tourist spots will close in part, Puglia's exciting city breaks and cultural events during the period continue to draw guests. Discover more in our blog on why Puglia is a winner in winter!
Travelling to Puglia
Every year, more airlines are offering flights to this increasingly popular region. Nowadays, you can get flights to Puglia's major airports – Bari and Brindisi – from most international airports in the UK. If you're looking to be more environmentally-friendly, it is possible to travel from London to Bari via train. However, the journey (via Paris and Milan) takes around 24 hours.
When you arrive, you will be happy to learn the region has good roads, with the main links between the cities of Bari, Foggia, Brindisi and Lecce. The local rail network also links those towns and cities, although to fully explore the region, you will likely need a hire car.
Where to Stay in Puglia
Puglia is one of the larger regions of Italy, and its stretched shape makes travelling from north to south a sizeable trek. For example, a car journey from Lecce in the south to Foggia in Northern Puglia takes around three hours. Therefore, you may want to pick a luxury villa in Puglia close to the locations you hope to visit.
Many people choose to stay in Southern Puglia, as you can reach the majority of the region's cultural hubs while also enjoying its incredible coastline. Northern Puglia, meanwhile, boasts the Gargano National Park, a great place to visit for those looking for a more rural escape.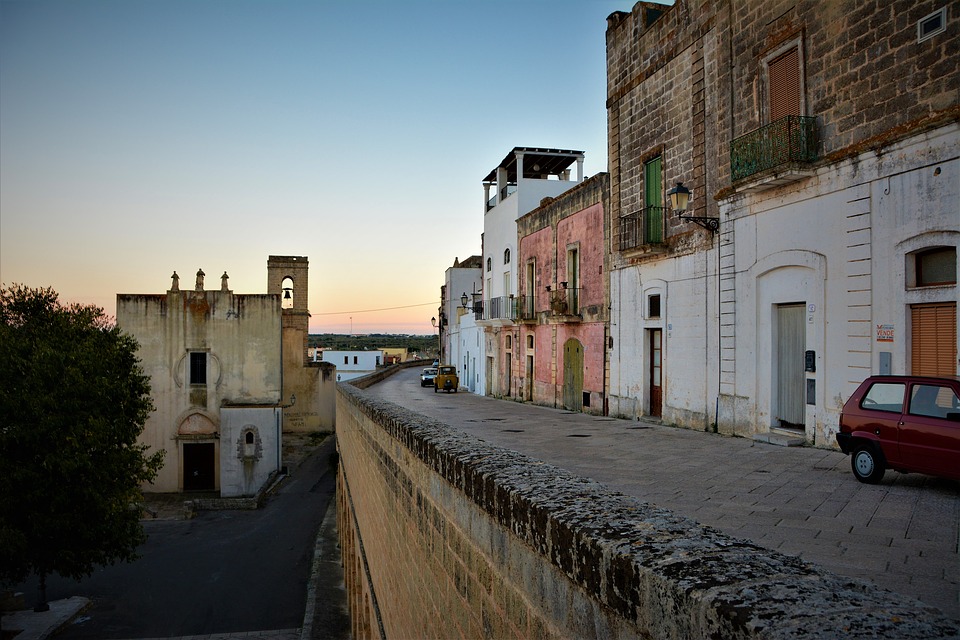 History
As with many regions in Southern Italy, Puglia's history is an eclectic mix of the various cultures that once called it their home. Greeks were the first people to settle in Puglia, founding the settlement that would go on to become Lecce. Evidence of Roman and Norman civilisations can still be seen across the region, while it was also transformed under the infamous leadership of Mussolini following WWI. You can learn more in our blog dedicated to the history of Puglia.
Top Attractions in Puglia
There are many places to discover across Puglia for all tastes. Whether it's historical monuments, quiet seaside retreats or natural escapes, this region has it all!
Castel del Monte
Castel del Monte, a UNESCO World Heritage Site, is one of Puglia's most famous landmarks. No-one knows why it was built by Frederick II as there are no nearby towns or strategic crossroads. Castel del Monte looks like it is a purely decorative building, and it is fascinating to explore.
Otranto Cathedral
One of Italy's most renowned religious buildings, Otranto Cathedral is famous for its collection of the skulls of the city's ancient martyrs. Founded by the Normans in the 11th century, a mosaic covers its entire floor – a tree of life balanced on the back of two elephants. The design was by a monk, whose vision of heaven and hell incorporated elements from the classics, religion and even superstitions such as Adam and Eve, Hercules and King Arthur. It is certainly a unique place to visit.
National Archaeological Museum of Taranto-Marta
One of Italy's most important archaeological museums, it explores ancient Taras and is a great place to explore the region's ancient history. It houses many artefacts, such as a large collection of Greek terracotta figures. There is also stunning jewellery and 1st-century glassware.
Basilica di San Nicola
Bari's main church was one of the first Norman churches built in Southern Italy and is an excellent example of Puglian-Romanesque architecture. The basilica dates back to the 11th century and was initially constructed to house the relics of St Nicholas, which were stolen from Turkey in 1087. The remains are concealed in a beautifully-decorated crypt. Today it is a vital pilgrimage location for Catholics and Christians, particularly from Eastern Europe.
Santuario di San Michele
Public access to this cave in Monte Sant'Angelo is all year round, and this sanctuary has expanded to include a complex of religious buildings that overlay the original shrine. The arched entrance can be found next to a bell tower built in 1282 by Carlo I of Naples. Look out for 17th-century pilgrims' graffiti as you descend to see the footprint left by Saint Michael himself. A 16th statue of the Archangel Michael overlooks the site and Byzantine doors open to the grotto. The oldest shrine in Western Europe, this UNESCO World Heritage Site is another Puglian location full of history and deep religious meaning.
Alberobello's Trulli
Alberobello is a hugely popular place to visit in Puglia, thanks to the unique buildings that line many of its old streets. The trulli are conical-roofed dry stone huts that date back to the town's beginnings and are unique to Puglia! These beautiful buildings make the region a delight to explore.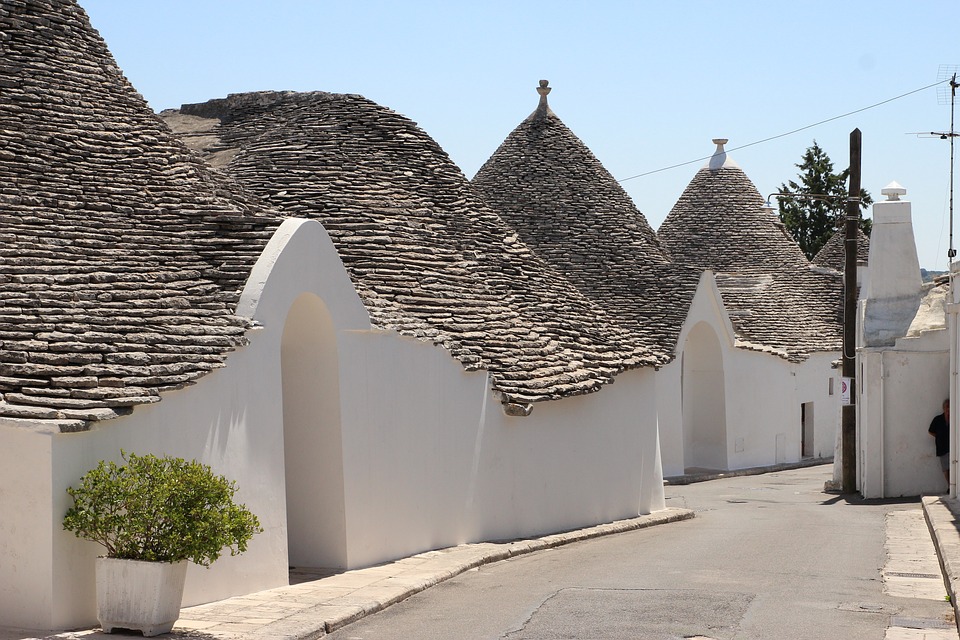 Food to Try
As a mostly agricultural region, it's no surprise that Puglia's cuisine is seen as one of the best in Italy! A mix of home-grown produce, beautiful fresh seafood and unique regional traditions go into making some of the tastiest treats in the country!
In terms of pasta, try orecchiette, little ear-like shells which are produced by hand. It is usually served with sauces like meat ragu or green vegetables like broccoli. Puglia also has delicious bread made from the local durum wheat. A constant companion to all meals, it comes in all shapes and sizes and in rural villages, communal wood-burning ovens are often used.
Being a sheep-farming region, lamb is a common option on the menu. In Valle d'Itria, look out for rosticceria butchers where you can choose your meat and have it cooked there and then on a hot grill. The local cheese is burrata, a gooey ball that cheese lovers are bound to love!
The long coastline and prominent fishing industry of Puglia means there is a large amount of seafood on the menu. Red mullet, mussels, anchovies, sea bass and cuttlefish are featured in many recipes. In the coastal towns of Otranto, Brindisi, Gallipoli and Taranto, fresh-caught fish will be available at many restaurants. You can also enjoy the Puglian take on paella, tiella, in the region's coastal towns.
If you have space for a dessert, you are in for a treat. Almonds feature in many desserts, combined with honey and figs. Sweetened ricotta cheese sweets are also a favourite of the locals. You can learn more about the local cuisine by reading our blog on the food of Puglia!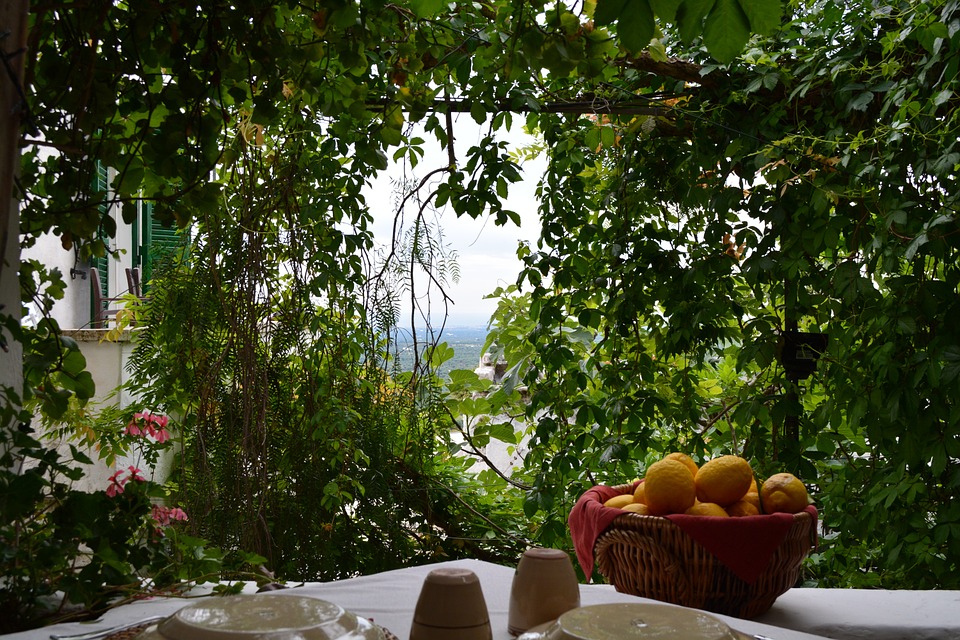 Puglia is a gorgeous region that has everything to offer! If you're considering a holiday here but don't know where to stay, why not get in contact with us? We're more than happy to help! Alternatively, why not follow our social media channels for more travel advice for regions across Italy?