The ultimate guide to Puglia
Posted on 6 March 2017 in Family & Friends, Italy, Puglia
Puglia, Italy's south-easternmost region in the heel of the boot is the perfect holiday destination, offering lovely beaches, a beautiful climate, fascinating towns, several inspiring archaeological sites and excellent cuisine. Puglia is much-loved by all who visit, those wanting a relaxing beach holiday or looking to experience a truly authentic slice of Italian life. Our ultimate guide to Puglia provides you with all the information you need to know before booking one of our Puglia villas this summer.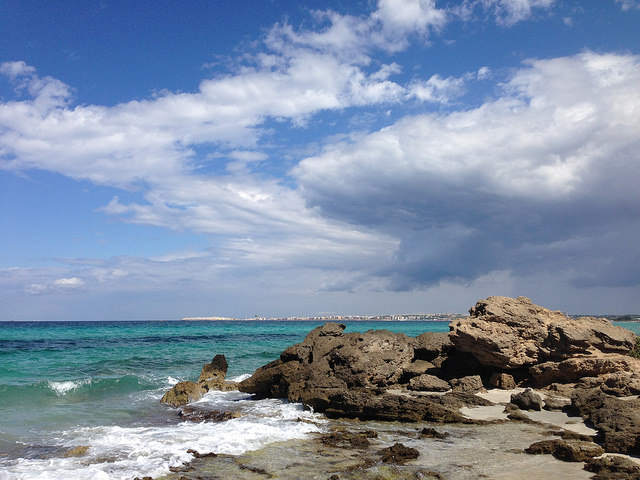 Time to visit
Like many holiday destinations, June to September are the best months to visit Puglia, but it is also the busiest time of the year, especially in August as the summer holidays allow for family travels. Late May and early June or late September are great if you want to miss any crowds and still want to catch some rays of Mediterranean sun. If you are daring enough to face some rather windy weather and cold, Puglia is magical in the winter months, though a few tourist spots are closed at that time of year.
Travel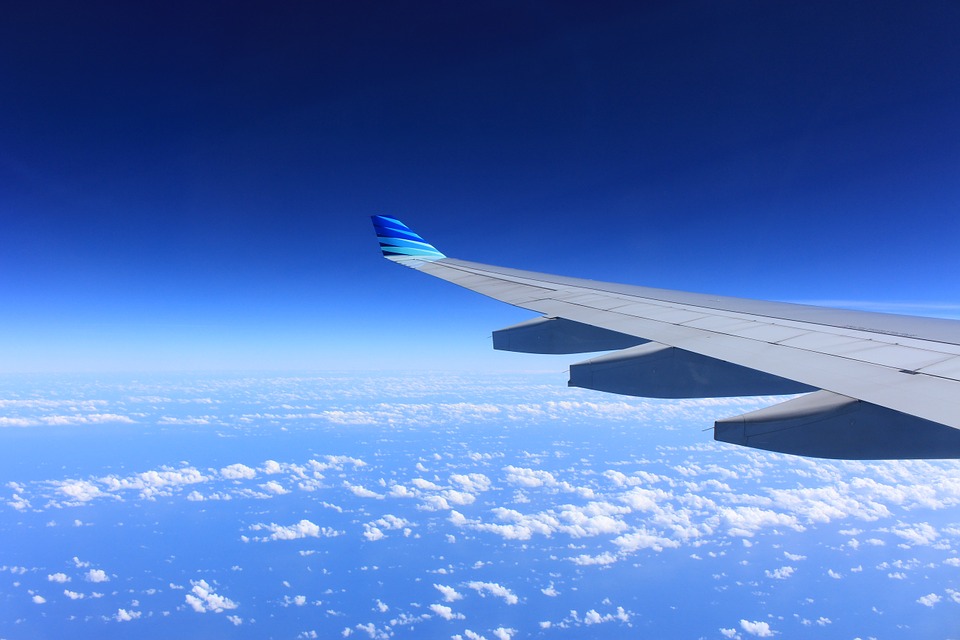 The two airports in Puglia you can fly to from the UK – either Stanstead or Gatwick – are Bari and Brindisi. By rail is takes about 24 hours from London St Pancras, via Paris and Milan. When there, you will be happy to learn the region has good roads, with main links between Bari, Foggia, Brindisi and Lecce. The local rail network also links those towns and cities if you opt for not hiring a car out.
Where to stay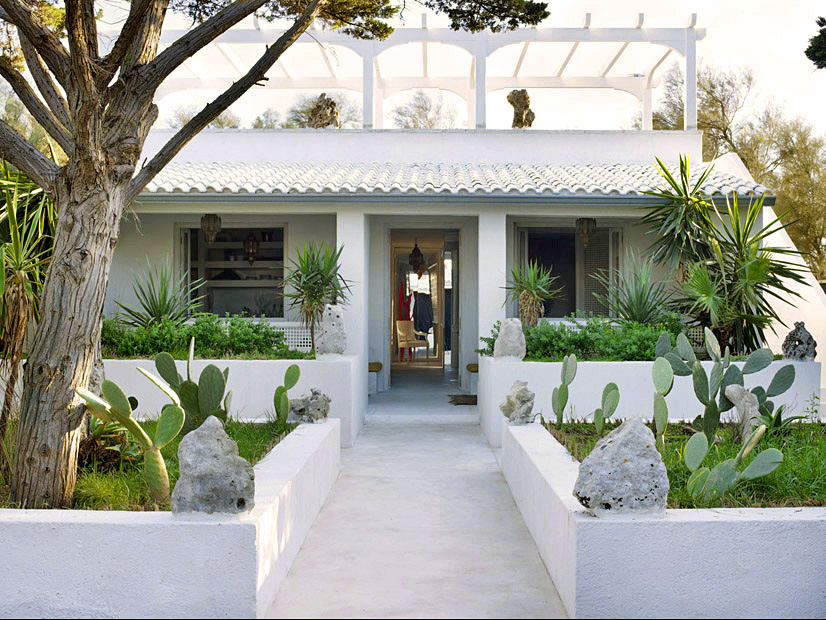 When looking for a place to stay in Puglia, you may want to stay close to the coast to make the most of over 800km of coastline. Whether you are seeking luxury or a family friendly abode, our Puglia villas are perfect and suitable for your every need. Our selection of villas in the region has been hand-picked to reflect the character of Puglia, from its beauty to its timelessness. Take your pick between a modern villa or a traditional Trullo with their distinctive cone roofs.
History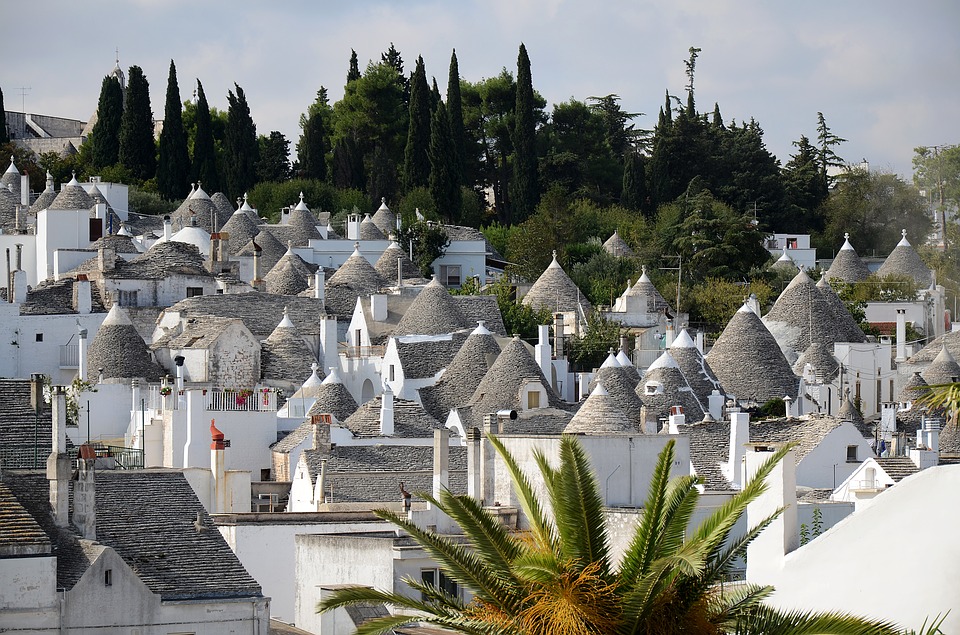 Puglia has a rich and diverse history which is fun to explore on your holidays. Its strategic position and fertile soil made it an attractive place to colonise and has seen various invasions, and many medieval watchtowers are still dotted along the coast. Each conqueror of the region has bestowed an interesting cultural, architectural and even gastronomic footprint on Puglia. You can see remains from the Roman, Greeks, Norman, Turkish, Spanish and others rule. One of the most popular historical features of the region are the trulli, mostly found in the Itria Valley area which date to the 17th century.
Geography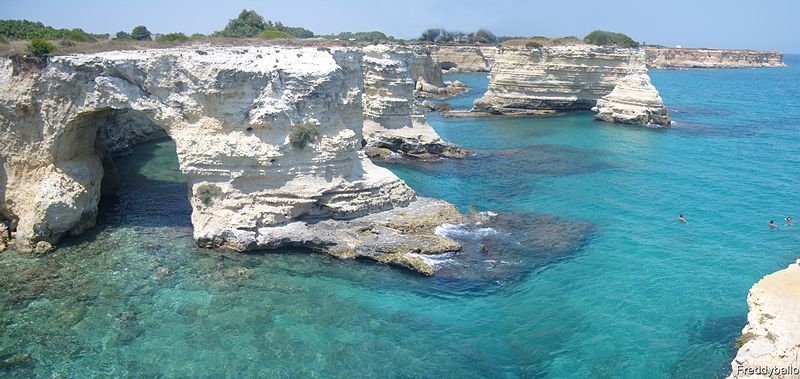 Italy's 7th largest region out of total 20 covers over 19,000 km sq has a splendid coastline featuring some of Italy's best beaches, amazing rock formations and gorgeous azure seas. In the north of the region is the Gargano peninsula, the only mountainous area of the region. From there a large plain extends to Valle d'Itria whose old towns of Alberobello and Locorotondo sit among the rolling Arcadian hills. This is one of the most popular areas in Puglia for tourists to visit. Due to its relative flatness, Puglia is an agricultural region, producing olive oil, wine, tomatoes, artichokes, aubergines and wheat and sheep-farming reigns supreme. Puglia's long coastline also makes it great for fishing – and the fish is also a huge part of the local cuisine.
Top attractions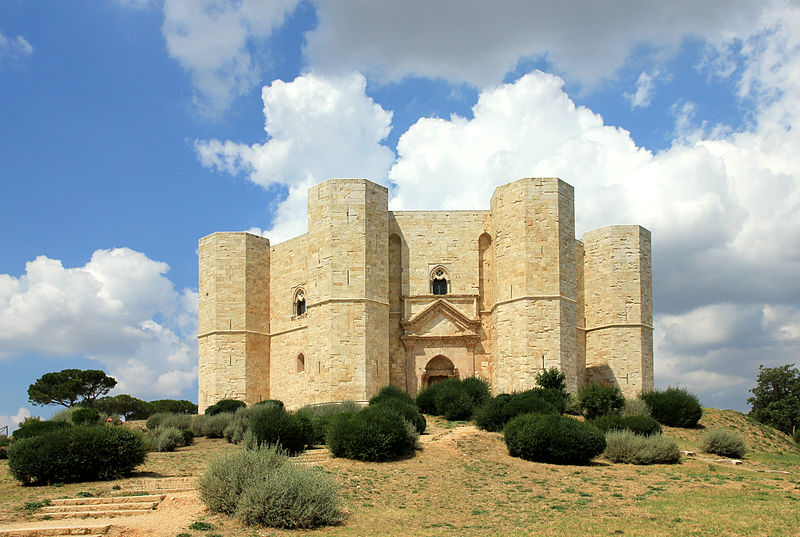 The top attractions found across Puglia include historical and religious buildings along with museums, caves and the many beaches.
Castel del Monte
Open from March to October can be seen on top of its hill from miles away. Mysterious and with eight octagonally shaped towers, Castel del Monte is one of the most popular landmarks in the region and also has UNESCO World Heritage status. No-one knows why it was built by Frederick II as there are no nearby towns or strategic crossroads. Not built as a defensive building due as there is no arrow slits or moat, Castel del Monte looks like it is a purely decorative building, and it is fascinating to explore.
Otranto Cathedral
Like no other in Italy, the cathedral is Italy has mosaics, skulls, crypts and very different imagery. Built by the Normans in the 11th century, a mosaic covers its entire floor – a tree of life balanced on the back of two elephants. The mosaic was created by a monk called Pantaleone in 1165, whose vision of heaven hell incorporated elements from the classics, religion and even superstitions such as Adam and Eve, Hercules and King Arthur. There is also a dungeon like a crypt and the bones and skulls of Otranto martyrs on display.
Museo Nazionale Archeologico di Taranto
One of Italy's most important archaeological museums, it explores ancient Taras and is a great place to head to if the weather might not be so great. It houses many artefacts, such as a large collection of Greek terracotta figures. There is also stunning jewellery and 1st century glassware.
Basilica di San Nicola
Bari's main basilica was one of the first Norman churches built in southern Italy and is a fine example of Puglian-Romanesque architecture. The basilica dates back to the 12th century and was originally constructed to house the relics of St Nicholas, which were stolen from Turkey in 1087. The remains are concealed in a beautifully decorated crypt. Today it is a place of pilgrimage for Catholic and Orthodox Christian
Santuario di San Michele
Public access to this cave in Monte Sant'Angelo is all year round and this sanctuary has expanded to include a complex of religious buildings that overlay the original shrine. The arched entrance to the shrine can be found next to a bell tower built in 1282 by Carlo I of Naples. Look out for 17th century pilgrims graffiti as you descend to see the footprint left by Saint Michael. A 16th statue of the Archangel Michael overlooks the site of the footprint and Byzantine doors open to the grotto.
Food to try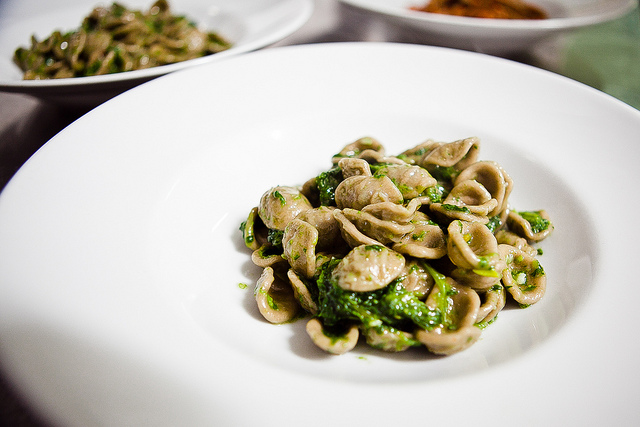 As an agricultural region, Puglia's cuisine is one of the best in Italy, and is very home-country inspired. Over 40% of Italy's olive oil is produced in Puglia, and that is not the only locally sourced food to try on your holiday.
In terms of pasta, try orecchiette, little ear like shells which are produced by hand. It is usually served with tasty sauced like meat ragu, broccoli and lard and mushrooms. Another pasta is maccheroni al forno. Mixed with meatballs, hard boiled eggs and all manner of ingredients, this is topped with a pie crust and cooked in the oven.
Puglia also has delicious bread made from the local durum wheat. A constant companion to all meals, it comes in all shapes and sizes and in rural villages, communal wood-burning ovens are used.
Being a sheep farming region, lamb is the most popular meat on the menu. Feast days are marked with the smell of roasting lamb. In Valle d'Itria, look out for rosticceria butchers where you can choose your meat and have it cooked there and then on a hot grill.
Cheese is also from sheep rather than cows, and the best are the pecorinos and ricottas. Any cheese lovers should also try some burrata di Andria, a soft cheese which is best eaten within 24 hours of production, and is absolutely delicious!
The long coastline and prominent fishing industry of Puglia means there is a large amount of seafood on the menu. Red mullet, mussels, anchovies, sea bass and cuttlefish are featured in many recipes and in the coastal towns of Otranto, Brindidi, Gallipoli and Taranto, fresh-caught fish will be available at many restaurants.
If you have space for a dessert you are in for a treat. Almonds feature in many desserts, combined with honey and figs. Sweetened ricotta cheese sweets are also a favourite of the locals.
Heading somewhere else in Italy this year? Check out our other guides to places across Italy such as Sicily, Sardinia and other helpful tips for your holidays on our blog.
Images by Luca Conti, Freddy Ballo, Bjoern Eisbaer, Caspar Dierderik