Sailing in Sardinia
Posted on 13 December 2007 in Sardinia
This August Helen and I took our families to Sardinia for our annual summer break. We were also joined by two other families. Porto Rafael was the perfect location for our big group and we took four separate properties so that everyone had their own space, using Helen's house with its large terrace as a communal eating space. But undoubtedly the highlight of the week, was our day out on a sailing boat – arranged with her usual flair by our local expert Sarah.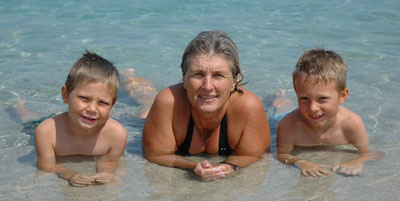 An early morning pick up on the beach at Porto Rafael was no challenge for the six children involved, but slightly more problematic for the adults after a superb BBQ the night before. A wonderful 15m wooden sailing boat, was our vessel of choice and the captain and his assistant immediately made us welcome. Sardinia's amazing coastline with it's beautiful beaches and stunning emerald waters is something we're lucky enough to have seen from land on previous holidays, but we all agreed this was quite something else.
Lunch on board was a delicious menu of cheese and cold meats followed by seafood pasta, with fruit and cake for dessert all washed down with some lovely Sardinian white wine. All the children had a fantastic time aboard. Helen's smallest (aged three) was left at home with another family who have a small one year old and on reflection this was a good choice. This isn't the ideal activity for anyone under the age of five. Split between us, 800 euros made for a day trip which none will forget and all will no doubt repeat next year.