Why Sardinia is the destination that has it all
Posted on 29 January 2017 in Family & Friends, Italy, Romantic Holidays, Rural Retreats, Sardinia, Seaside Holidays
The beginning of a new year always gets people thinking about the adventures they will have in the upcoming months. For many, this will involve planning and organising their summer holiday away, whether that's with friends, family or just jetting off with your partner for a romantic get-away. The challenge is finding a holiday that provides plenty of sunny days, perfect pools and exquisite beaches that isn't a long-haul flight to get there. Then there's the food, and this can be a big thing if there's a fussy eater or food lover amongst your group. Not to mention, the drink, for all the adults that either want to let their hair down whilst on holiday, or just dabble with a couple of beverages… you're on holiday after all!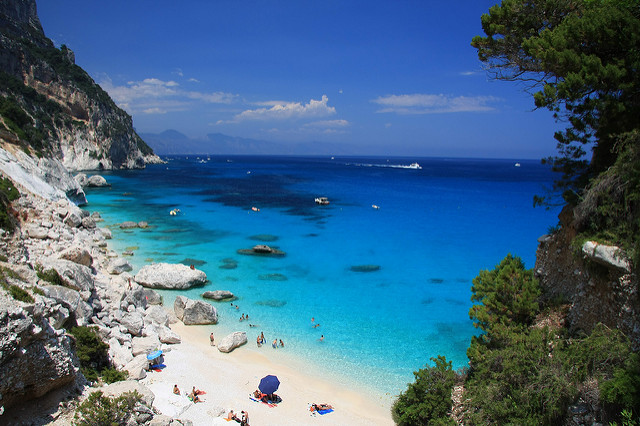 When exploring a new location, you want to be able to soak in as much culture as you can, and Sardinia has this in the bucket loads. Whilst escaping to and wandering through the idyllic countryside is easy in this fabulous destination, you still want to visit a place that exudes class and sophistication, so with this in mind you may want to consider staying in a luxury villa set in the countryside. However, you want all this for a price that won't cost you the Earth, as the pound isn't what it used to be! This is what Essential Italy can offer you with their range of Sardinia luxury villas.
What is Sardinia like?
Prepare to fall in love at first sight. Sardinia is everything you expect from a holiday, and so much more. Although, Sardinia may appear small on the map, this region can offer you more than you ever dreamt possible. This picturesque region is one that is shaped, rather fascinatingly, by its strong traditions, culture and languages, as well as its dramatic landscapes, where the near-alpine forests contrast with the snow-white beaches. Sardinians show great pride for their little Italian slice of paradise, and who can blame them?
Sardinia is sure to provide you with an enchanting experience, that far exceeds what any other sunny, summer destination could give you. With its eccentricities, history and views that captivate travellers the world over and encourage people to come back, year after year. There is plenty on offer, for every type of traveller.
If you're looking for a relaxing holiday…
For many, a holiday is a chance to escape the busy lives they have at home and offer a chance to unwind. If you're the sort of person that prefers to revel in a good book, lazing by the pool with your feet up than hiking up a mountain, then a luxury villa would be a perfect choice for you. Enjoy the peace and quiet of your own secluded villa, with stunning views all to yourself! There also won't be any early morning battles of trying to secure a sun lounger by the pool, because your own seat will always be reserved.
If you want to venture out from your villa accommodation, then your first port of call is the beaches. Post-card worthy, these little paradise beaches can be the ideal location for you to soak in some rays, whilst listening to the ocean rolling. The sand is soft and white in colour, which perfectly complements the crystal blue waters that meet it, with many of the coves and private beaches bordered by sheer cliffs that ensure seclusion.
Because of how beautiful the Sardinian beaches are, it's easy to get lost in time here; it will surely be a sad goodbye when you must return home.
If you're looking for a cultured experience…
History and heritage oozes from Sardinia, it's in the Bronze Age towers and settlements, as well as in the grave tombs. Down every lane there is a piece of history waiting for you to discover it.
Eccentricity brings this historical haven alive through festivals like the Barbagia carnival parade, which is performed to banish any winter demons, to the enthralling S'Ardia horse race that needs to be seen to be believed.
If you're seeking an adventure…
Many who picture Italian culture think of a sleepy village, stepped in history and culture, where nothing much happens. This is just not the case. Whether you choose coast or country, are after fast-paced and energetic or slow and tranquil, Sardinia truly is the home of all types of adventures. Take walks through the peaceful countryside, or along the coastal paths. If you're feeling brave, and under expert supervision, climb the limestone cliffs at the bay of Cala Luna. Many ramble through the oak forests to the canyon of Gola Su Gorropu, whilst sea-lovers set their eyes on wind-surfing across the water or diving in the depths to explore shipwrecks, caves and submerged Roman ruins.
If you're looking for Italian delicacies…
Italy is renowned for its delicious cuisine, that attracts many people from all around the world. The island however, is unique in itself, with creative takes on pasta dishes, bread and cheeses, some of which, including the casu marzu pecorino which is stored in barns along the mountain interior.
Whilst the wines, known as dolci, offer you a distinctive and enjoyable taste. But Sardinia isn't all about the wine! Locally made craft beers can be a great option to try, especially for those that do not like wine, when you visit the bars and restaurants.
With a multitude of reasons why Sardinia is the perfect destination for your summer holidays, when will you be visiting?
Image credit: Michele Testini, available under creative commons.