Five family days out in Puglia
Posted on 12 January 2016 in Family & Friends, Puglia
Lined with over 800km of beautiful sandy beaches, the Italian boot region of Puglia is an excellent choice for families with children of all ages – perfect for relaxing in the Mediterranean sun as the children enjoying playing in the luminous blue waters. When spending the whole of your holidays in Puglia on the beach just won't do, however, the region also offers a variety of fun and exciting attractions perfect for some memorable family days out.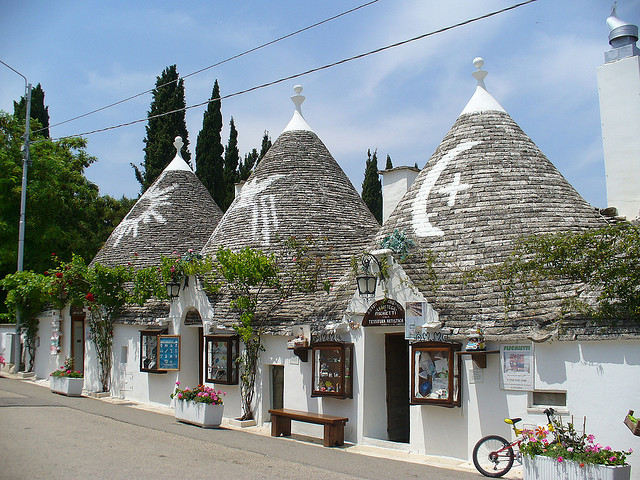 Splash Parco, Gallipoli
A combination of water and amusement park, Gallipoli's Splash Parco is perfect for a wet and wild day out. By day, enjoy the thrills of the waterslides and cool off with the numerous swimming pools and water activities, and, in the evening, enjoy the fun and games at Fabilandia, which features a roller-skating rink, a wild west train ride and bumper boats.
Zinzulusa Grotto
Located between the small Salento towns of Castro and Santa Cesarea Terme, the Zinzulusa Grotto is a fascinating sea grotto measuring over 150m long. You can explore the cave by boat, passing through the wonders of the "Duomo" chamber and amongst the stalactite and stalagmite formations, and also discover the interesting Paleolithic history and unique fauna Zinzulusa Grotto is rich in.
Alberobello
A fascinating town which captivates people of all ages, Alberobello is unique in that it is lined with hundreds of trulli – whitewashed homes with conical roofs – each decorated with magical symbols. Look closely for the tiny doors which can be found in some of the buildings, leading to tiny and enchanting staircases and miniature rooms.
Fasano ZooSafari
Perfect for those with a love of animals, the ZooSafari is an exciting place where you drive the adventure. As you travel through the park you'll take your vehicle past a host of wild animals such as bears, zebras, camels, elephants, lions, leopards, giraffes and tigers, which wander free through the park. Alongside the drive-through safari, there is also a walking section as well as an amusement park and an entertaining dolphin show.
Castellana caves
Filled with fascinating underground treasures, the Castellana caves are the result of the erosion caused by an ancient underground river, chipping away at and shaping the calcareous rocks for centuries. As you pass through the caves, you'll pass by huge stalactites and stalagmites in a variety of dazzling shapes and colours. If you'd like to learn more about the caves, there is also a small speleological museum dedicated to Franco Anelli, who discovered the grottoes in 1938.
Image: loloieg, available under Creative Commons