The best beaches in Sicily
Posted on 29 March 2017 in Family & Friends, Italy, Seaside Holidays, Sicily
The beaches in Sicily are considered to be some of the best in Mediterranean and make for the perfect day out destinations when staying at our family villas in Sicily. From the long stretches of golden sandy beaches to the pebbled coves and also the striking volcanic shoes, they are not only beautiful beaches but also geologically fascinating coastal destinations. What's best, is that even in the height of summer, you can still find a relatively deserted beach to enjoy with your family, if you just know where to look!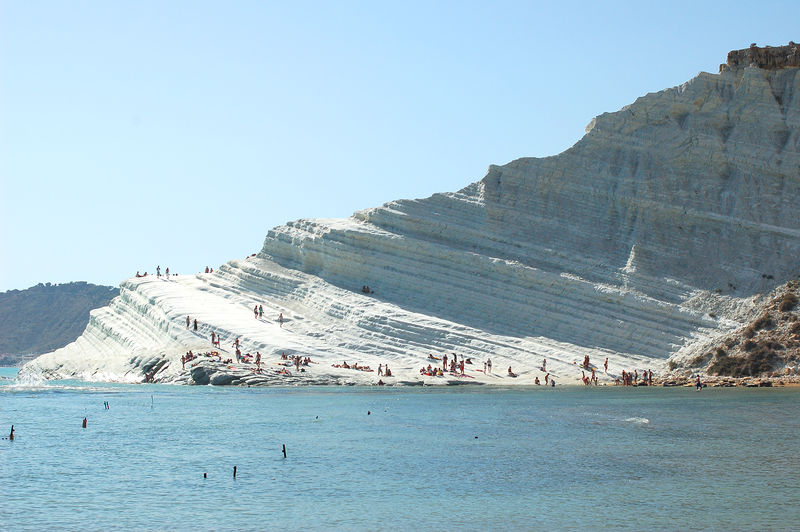 In the top tourist spots, you will also have plenty of beach facilities and water sports available, and along with the crystal-clear water making it ideal for snorkelling, it is easy to see why Sicily is a popular destination. What's more, is Sicily tends to have a longer summer season than most other European holiday spots, as it is further south. This means it is the fantastic choice for a family holiday – just remember your factor 50!
Southern Sicily
Licata to Sciacca
The southern region is not as well known for its stunning coastline, but from Licata along to Sciacca, you will see dazzling blue bays, dramatic cliffs and lovely beaches tucked out of the way. All you need to do is drive along the coast and stop where you can, in search of a beach.
San Leone
One of the best beaches in the south is San Leone, south of the town of Agrigento. A popular beach in the region, it's a sandy beach which includes areas for public access alongside those used by the beach side restaurants who hire out sun loungers. In the evening, it is especially lively and is a great place to head to for an evening meal.
Scala Dei Turchi
Moving further west, but still just a 15-minute drive from Agrigento, is the stunning Scala Dei Turchi (Turkish Steps), a white marlstone cliff which forms a natural staircase. The steps lead down to a beach of fine sand, scattered with rocky areas, toward a crystal-clear sea.
South East Sicily
Fontane Bianche
Around the city of Syracuse, there are many fantastic beaches, including one of the best sandy beaches, possibly in the whole of Sicily. Fontane Bianche is a 3km stretch of the coast and 15km from Syracuse. It's fine white sand, gently sloping beach and warm, clear seas have made it very popular for families.
Vendicari
Also in the area is Vendicari 10-minutes' drive from Noto. Part of the Vendicari Nature Reserve, the 8kmm stretch of golden sand dunes, lagoons, cliffs and hidden bays is the perfect place for a day exploring mixed with fun beach time with the family. There are few crowds, and it's a great place to go swimming, but you do need to take all the beach gear with you, including water.
Spiaggia Sampieri
Right on the south-east tip of Sicily, you will come across the never-ending sand dunes where Allied forces landed on in World War II. West from there is a long stretch of sandy beaches until you get to the town of Gela. Spiaggia Sampieri is one of the best; 3km of golden sand with turquoise water.
Northern Sicily
Mondello
With the city of Palermo in Northern Sicily, it is easy to see why this region is popular for families wanting a beach holiday. One of the most popular family spots is Mondello, which lies between two cliffs, Monte Galle and Monte Pellegrino. It's soft, pale sand and clear, shallow water in the crescent shaped bay has made it one of the most famous, and is only 12kmm from Palermo's city centre. Mondello is a lively place and a favourite for windsurfers and snorkelers.
Caldura
Near Cefalù is Caldura beach. A little less known, it is a quieter and fairly secluded. It takes a 20-minute walk from the centre of Cefalù; then you head down about 100 steps which take you to the pebbled beach, surrounded by rocks. The clear turquoise water is perfect for snorkelling.
Lungomare
Also near Cefalù is Lungomare di Cefalù, a beautiful 8km stretch of golden sands which are lapped by calm waters. This is an ideal spot for families, and sun loungers and parasols are available for hire. Another large beach is Sant'Ambrogio, just 5km from Cefalù. This pebbly beach is quiet and makes for a great place to head to when you want to relax and recuperate.
North East Sicily
Isola Bella Beach
In the region of Taormina is one of the most famous, and also loveliest beaches, Isola Bella Beach. Connected to the island of the same name by a strip of sand, the beach offers panoramic views of the mainland and island and is very popular. The pebbly beach is connected to the town by cable car – or 300 steps – and the top facilities available make it a great place for a family beach day.
Giardini Naxos
Also in the region is Giardini Naxos, a beautiful beach of white sand and pebbled sections. The largest in the area, the beach boasts spectacular views of Taormina. There are great facilities at this beach, including the chance to learn the basics in some water sports, and enjoy a light lunch at one of the beach cafes and bars.
Western Sicily
San Vito Lo Capo
It seems like every coastline of Sicily is covered with gorgeous beaches, and the west coast is no different, with San Vito Lo Capo being a popular place. Its 1km curved bay with white sand and sparkling water is an hour from Palermo and ideal for families as there are beach facilities along with beachside restaurants where you grab a snack to refresh.
Zingaro Nature Reserve
East of San Vito Lo Capo is Zingaro Nature Reserve, where there are several pebbly coves which are great to go for a swim. The quiet reserve is also a stunning location for coastal views, as the cliffs and hills offer beautiful views of the region and out to sea.
Image by: Vegafi