Why Tuscany is perfect for a wedding abroad
Posted on 18 November 2015 in Tuscany
Tuscany is a beautiful area – that's something that's well established, so it's little wonder that many people choose to get married here.
One of the latest couples to say I do in the area was Danielle Mastrangelo and Brad Walish, who travelled all the way from New York for their ceremony.
Mastrangelo is the cofounder of Brooklyn-based interior design firm Decorative Traces, while Walish is a marketing coordinator for Woolrich.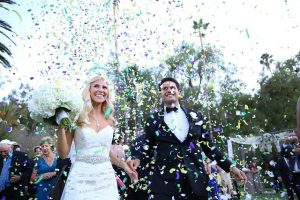 With both having good jobs they could choose to get married anywhere around the world. Perhaps most obvious was the opportunity to have a fashionable American barn wedding in upstate New York, but the couple decided against that – and went for a simple ceremony in Tuscany.
The couple had been together for five years before Brad proposed at home on the Lower East Side.
They then turned their attention to planning and decided immediately on a destination wedding. "We wanted it to be like a holiday with all our friends," said Danielle, "and when we looked into it the idea of Tuscany holidays just stuck out because I lived there after finishing college and Brad loves the culture and the food."
After working with a locally based wedding planner the couple decided on a beautiful venue near Arezzo.
On the day they enjoyed stunning Tuscan sunshine as Danielle walked down the aisle in a floral French lace gown and said I do in front of a semi-circle of friends in an intimate ceremony.
Afterwards guests enjoyed Aperol Spritz, freshly sliced prosciutto and a fresh honeycomb dripping over Pecorino Toscano. A four course dinner followed with vegetable carpaccio, a risotto with white wine, saffron, and Pecorino, then Tuscan pici and wild boar ragu followed by Florentine steak.
The couple said they loved the wedding and would do it all over again!