Where to Stay in Puglia
Posted on 1 October 2017 in City Breaks, Italy, Puglia, Rural Retreats, Seaside Holidays
Puglia is a beautiful destination in Italy that has, until recently, been very much a well-kept secret. In 2017, the 'heel' of Italy was put into the limelight and set as one of the must-visit destinations for the year, and for a good reason! There is so much to see, do and explore in this area, offering an authentic and enjoyable experience to all who visit. The variety in Puglia means that there is a little something for everyone, and our guide will help you to find the perfect holiday type for you, whether that's by the beach, in the city or set in the rolling hills of the countryside!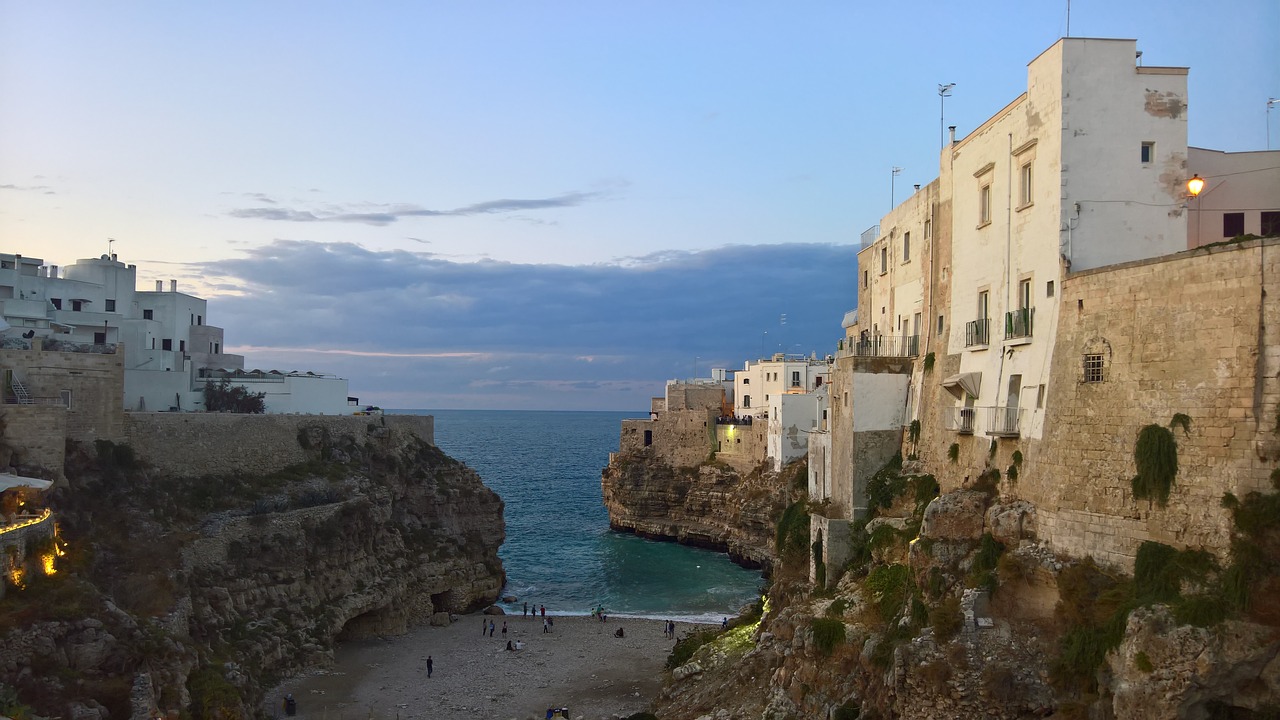 For the Beaches
The Adriatic coastline offers dramatic scenery that will truly stun. Polignano a Mare is one of the most iconic beach destinations in Puglia and is a beautiful little sea town located in the north. It offers a fantastic array of local restaurants, several stretches of sand and plenty to explore in the Valle d'Itria. Monopoli, situated very close to Polignano a Mare, is also a wonderful place to visit for its beaches!
The city of Bari is also home to many beaches; however, these tend to be of the rocky or pebbly type. Anyone looking for soft sand to sunbathe on will have to travel a little out of the city boundaries to find the perfect spot.
A little further to the south is the beautiful beaches of Marina di Ostuni and Torre Guaceto Nature Reserve. Both of these locations offer spectacular choices of beaches, with Torre Guaceto offering miles of golden sands and a protected marine reserve. If you're lucky, you might even spot a flock of flamingos! On many of these beaches, you'll find opportunities for watersports such as windsurfing, perfect for any adrenaline junkies out there!

For the City
Bari is the main city within Puglia and is a truly spectacular place to visit. There is an airport located in Bari which means that your transport from the airport to your chosen accommodation will be a quick and easy transfer. There are a plethora of sights to be seen, from 13th-century castles to iconic churches, as well as an array of other stunning architectural masterpieces. If it's food and wine you're seeking out, then you'll not be disappointed as authentic food can be found around every corner! With Bari being the biggest city in Puglia, there are good public transport links to other exciting destinations found nearby for any days you wish to explore a little further afield!
Leece is known as the 'Florence of the south' and is renowned for its stunning 17th-century Baroque architecture. With over 2,500 years of history, this is the perfect place to visit for those wanting to look back in time to where the city first began. Their trade of ceramics, olive oil and wine is still held with the utmost importance as a mark of their heritage, and you can feel their pride in their products and their home as you wander through the streets.
Another fantastic city located within Puglia is Brindisi, which also has its own airport for ease of access. As it is located in the more eastern regions, you can see indulge in the ancient characteristics which remain from when the Greeks inhabited the city before the 3rd century. The long history of passing hands from one culture to another means that Brindisi offers a fantastic range of historical attractions, including a grand fortress built by Emporer Frederick II, and some fantastic Baroque churches in the winding streets. Whilst many who visit Brindisi are simply there to pass through the airport to access other areas in Puglia, it is certainly worth taking a day or so to explore this little-known gem!

For the Countryside
If you are looking for a taste of the Apulian countryside, then there are a few options which are simply perfect. You could look to locate yourselves between these fine towns to make the most of all that surrounds you. If you're looking to stay in the countryside, it is highly likely that you will be staying in a traditional trulli, which has been restored into a marvellous villa for your enjoyment. Take your pick from the charm of Cicsternino, Martina Franca, Ostuni or Locorontondo, and you won't be disappointed!
There are markets within these towns one day a week and regular festivals for you to attend. Alongside the stunning architecture, quaint whitewashed streets and the array of restaurants, you'll find the locals to be incredibly friendly. Each town offers its own unique feel, and the one that you find to be your favourite will very much depend on personal preference. If you're booking a holiday with us, we'll send you out a personalised guide for the luxury villa in Puglia of your choice; as well as providing recommendations for the best restaurants and attractions in the surrounding areas to help you to make the best of your time. We'd highly recommend renting a car while on your holidays to Puglia, particularly if you're staying in the countryside, as it will give you the freedom to explore the best parts of each town and city, as well as taking a trip to the beach!
Where will you be heading on your next holiday to Puglia? Let us know via our social media channels!