Top Travel Tips for Visiting Italy
Posted on 28 July 2019 in City Breaks, Family & Friends, Italy, Tuscany
Italy is a beautiful place to visit. Swathes of lush countryside bathed in sunshine roll into ancient cities built with artistic taste envied across the world. Superb food, welcoming people and incredible diversity make any vacation here one full of discovery and adventure. When staying with us, you can also be guaranteed luxury in your very own Italian villa, the perfect place for your next break!
When planning your holiday, there are several different things that you need to take into consideration before booking. Expectations regarding money, how to visit the sights, and whether people can speak your language are all essential to consider. Here, we discuss some of the key points to bear in mind while planning your Italian break!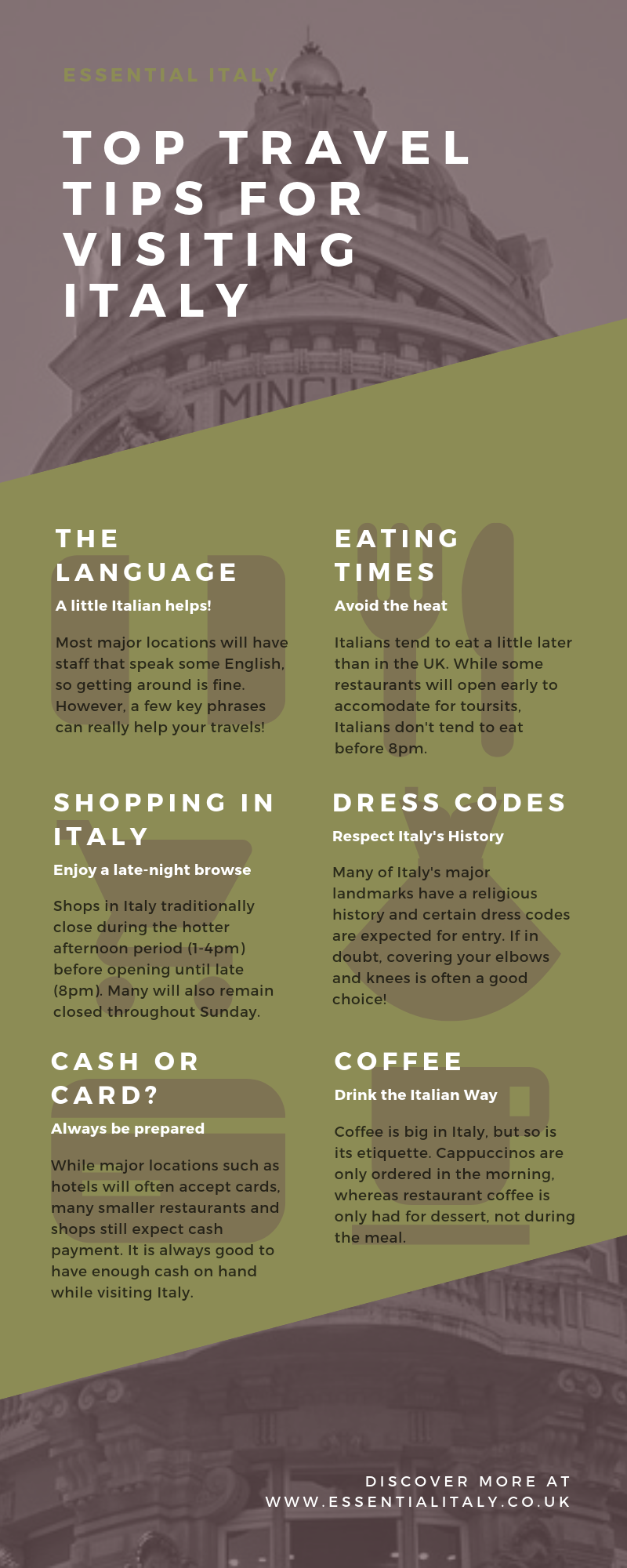 The Italian Language
We are very fortunate that in Italy, as with many other places around the world, many staff can speak a little bit of English. If you are visiting one of Italy's major cities, then you should be able to get by with only a few Italian phrases. However, as with visiting anywhere, the more you learn, the smoother your experience will be. Meanwhile, locals are generally very receptive of visitors who are seen to be trying to speak the local language, even if it's a little grazie (thank you) at the end of a conversation.
Eating Times in Italy
As with many countries in Southern Europe, one of the first things you'll recognise is that Italians tend to eat later than in the UK. This slight difference can be an advantage for some, as restaurants in major locations tend to open earlier specifically for tourists. However, if you wish to live like a local, you may have to adjust. As a general rule of thumb, Italians tend to eat lunch around 1:30pm, while dinner is usually eaten between eight and nine. However, the further south you go, the later they tend to eat, often to avoid the heat of the day.
Shopping in Italy
Similarly to restaurants, shops in Italy tend to follow a Mediterranean pattern. In traditional areas, shops will open in the morning as usual but close during the hottest part of the afternoon, usually between one and four. They will then re-open for the evening and not close until late, often around 8pm. It is also worth bearing in mind that many shops will be closed on Sunday, including supermarkets in more rural areas. However, in cities and popular tourist spots, shops are more inclined to be open throughout the day and on Sundays.
Dress Codes in Italy
There is no end to the sights to see in Italy's major locations. The majority of these tend to have religious connotations, thanks to the country's Christian past (and present). While the heat can leave people inclined to wear shorts and shirts while exploring Italy, bear in mind that many religious buildings enforce a dress code for entry. Therefore, if you want to explore Italy's beautiful duomos and even some of its museums, you may have to wear more appropriate clothes. Generally, it's best to ensure your elbows and knees are covered if you want to visit major religious landmarks.
Visiting Tuscany? Make sure to discover these renaissance gems on your trip!
Drink Coffee the Italian Way
Coffee is one of the great rituals of Italian life, and if you want to join in, it helps to understand the etiquette behind it. In Italy, people tend only to drink cappuccinos in the morning – often standing at a bar as opposed to sitting at a table – and never after mid-morning (usually around 11). Meanwhile, coffee served at restaurants is usually only for dessert – drinking it with your main meal wouldn't typically be considered.
Cash or Card in Italy?
Another thing worth considering is that Italy is not as accepting of card payment as the UK. While many major locations will accept card payment, including hotels, restaurants and shops, smaller places will still expect cash. Many museums, even in popular areas, still only accept cash payment, so it is always worth having plenty of money to hand if exploring Italy's towns and cities.
Hopefully, this guide will help you make the most out of your next Italian break! Whether you're staying in one of our holiday villas in Tuscany with a pool or visiting another of our regions, we at Essential Italy are more than happy to help you make the most of your trip!