The Best Places for Walking and Hiking in Abruzzo
Posted on 30 March 2019 in Abruzzo
Often dubbed as the 'greenest region in Europe', Abruzzo will leave you feeling like you've been transported to a completely different world, with dense forests, dramatic mountains and breath-taking mountain villages. Walkers here will be spoilt for choice, as there are incredible coastal walks, three national parks and an astounding 38 natural reserves to choose from. Here are just some of the highlights for those staying at our holiday villas in Abruzzo.
Abruzzo, Lazio and Molise National Park
Welcoming over two million tourists every year, Abruzzo's main national park is spread over 50,000 hectares, encompassing sweeping valleys, spectacular mountain ridges, waterfalls, forests and rivers. The park offers over 150 walking trails, with many that are accessible to everyone, no matter your fitness level as there are a plethora of walks to choose from, ranging from beginner levels to something for the seasoned hiker. A visit here also gives you the opportunity to spot some otherwise hard-to-find animals, from chamois and red deer to grey wolves or even brown marsican bears. Local tour operators even offer bear watching tours, where you can sit and watch a bear peacefully grazing on the mountain slopes as the sun rises. A visit to Abruzzo National Park is worthwhile at all times of year, with each season bringing its own unique landscape. A visit to Abruzzo, Lazio and Molise National Park will certainly be a highlight of your trip!
Majella National Park
Home to over 700km of walking paths, which pass through gorges, rivers, mountains, forests and caves, Majella National Park is perfect both for those who love nature and those seeking a little more of a hiking challenge. For something a bit more difficult, there are plenty of higher altitude hikes, with over half of the park's peaks rising above 2000m. The 85km long Spiritual Trail makes for the perfect 3-4 day hike – an ancient pilgrim route which takes in several Celestine hermitages, abbeys and ancient stone shepherds' huts. The hermitage of San Giovanni all'Orfento, the isolated home of Pope Celestine V for nine years, can also be found here, chipped out amongst the stones, where you will have to crawl on your stomach to enter. If an 85km trip is a little much for you, you can certainly enjoy smaller segments along the way where you can catch the true highlights of the path.
Trabocchi Coast
Not only is Abruzzo home to some stunning mountains and national parks, but it's also just a stone's throw from the coastline. The Trabocchi Coast, found in the south of the region overlooking the Adriatic Sea offers some of the most beautiful coastal walks in all of Italy; especially wandering through the sand dunes, where you'll have the azure waters of the sea on one side and the dramatic mountains of Majella on the other. There's also plenty of opportunities to take a break in one of the many restaurants and enjoy some freshly caught fish, paired with rich local ingredients for an authentic taste sensation. For some great birdwatching spots, head to the Punta Aderci National Reserve, where several protected species can be found nesting that can't be seen anywhere else in the world!
Gran Sasso National Park
This national park is one of the largest in Italy and boasts a wide range of beautiful sights, scenic routes and points of interest to be enjoyed whilst hiking in the area. The main trails last between one and four hours and are of medium difficulty, though, as with most hiking attractions, they can be shortened or lengthened to meet your requirements. The landscape here is wildly diverse, with hidden caves and waterfalls matched with lush greenery and woodland; this diversity means that all kinds of wildlife can flourish here including golden eagles, wild cats and roe deer to name a few! With fantastic facilities all around the park including museums, architectural sites of interest and campsites, you could easily lose days exploring the vast history of this beautiful park.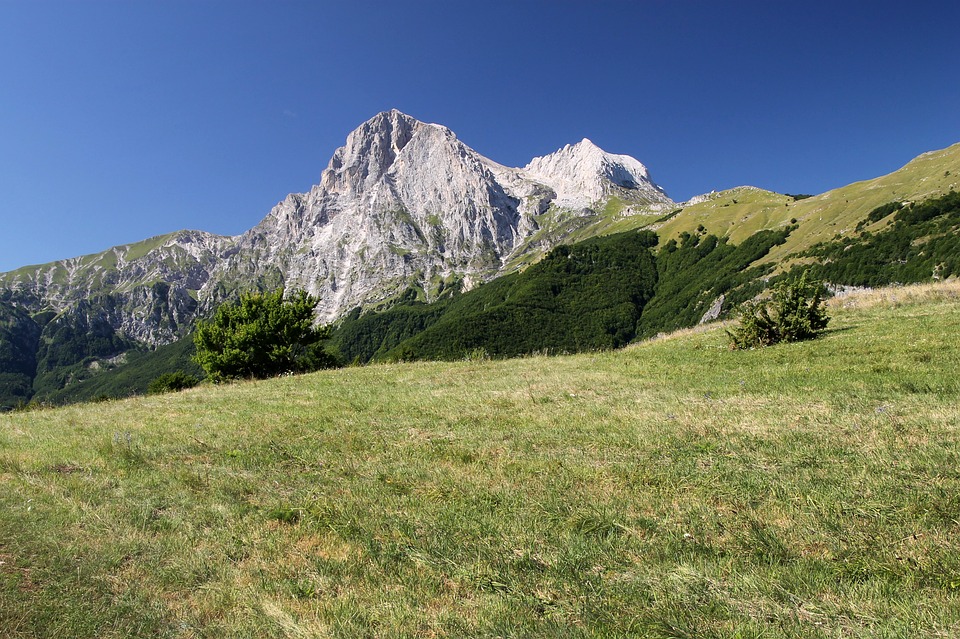 Hopefully, this has given you some inspiration on where to travel on your hiking trips to Abruzzo. We'd love to hear where you will be heading, so let us know on our social media channels! Alternatively, why not discover 10 interesting facts about Abruzzo to learn more about this region?