Ten eclectic things to do in Tuscany this August
Posted on 28 July 2011 in Tuscany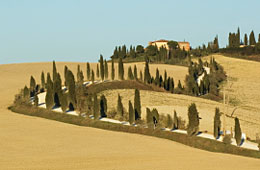 Tuscany in August offers a host of cultural, gastronomic and family events to satisfy just about any tastes. So if you're in the area next month, and you're determined to have at least one day where you don't lounge by the pool, bake on a beach or trek through the countryside, here's a selection of the well-known, the less-well known, and the downright quirky events you can enjoy this month.
Tuscan Sun Festival 31st July – 7th August – Cortona (Arezzo)
World-famous festival featuring classical, culinary, wine and spoken word events. Highlights this year include legendary pianist Martha Argerich in a night devoted to Argentina and the tango in particular. Hollywood stars Sharon Stone and Jeremy Irons will perform a dramatisation of the romance between Chopin and George Sand later in the festival. See website for full details.Further information.
Porcini Mushroom festival 5th-7th August – Cascine di Buti (Pisa)
One of the most well-loved 'Italian' ingredients is celebrated in this small festival dedicated to the not-so-humble porcini. Further information.
FestAmbiente Ecological Festival – 6th-15th August Rispescia (Grosseto)
Open air shows, concerts, films and workshops dedicated to the Environment and Green issues.
Further information.
Truffle Festival – 12th – 15th August – Chiusi della Verna (Arezzo)
A sagre dedicated to the scorzone truffle, widely available throughout Tuscany, and celebrated for its variety of culinary uses. Further information.
Zappa Day – 12th August – Sarteano (Siena)
An unusual one this, the saxophonist Napoleon Murphy Brock will be performing his unique (and Grammy-award winning) tribute to the legendary Frank Zappa. Further information.
Palio dell'Assunta 13th- 16th August – Siena
No roundup of events in Tuscany can escape without mentioning this world-famous horse race around the Campo Square. Very busy, and very popular, the race itself (on the 16th) is best experienced either on television (sadly) or by arriving very early in the day.  The preparations and pre-race trials are well worth a visit though, and are much less busy. Further information.
Bank Holiday 15th August – all of Italy
Expect the beaches and picnic spots to be extra busy. One to be contrary and do nothing – stay by the pool in the villa, or try something off the beaten track. The last of the sunflowers will be fading in the fields….
Madama Butterfly – part of the Puccini festival – 18th August – Torre del Lago (Lucca)
The Puccini festival is a yearly event in Lucca, attracting world-class opera stars to celebrate and perform the works of Giacomo Puccini.  This year's operas are La Boheme, Turandot and Madama Butterfly.  Further information.

Rievocazione Medievale Volterra AD 1398 – 21st and 28th August – Volterra (west of San Gimignano – near Pisa)
Bringing the magic of the middle ages to life, with a pageant of medieval themed processions, music, food and celebrations. Further information.
Bravio delle Botti – 28th August – Montepulciano (about an hour's drive South of Siena)
An annual festival featuring a barrel-rolling race between the 8 quarters of Montepulciano. Each team must roll an 85kg wine barrel across the narrow streets of this pretty and historic city. Further information.
And number 11 – start planning for next year
If you're not fortunate enough to be in Tuscany this August (or you're already dreaming of coming back) – why not book for next year? Have a look at our selection of Tuscan villas, apartments and hotels.