Stepping out (and up and down) in Modica
Posted on 15 April 2023 in City Breaks, Food and Wine, Italy, Sicily, Uncategorized
Our lovely guests Lynn and Paul recently sent this blog post from their stay at Kimiya in Modica, Sicily
We stayed in the lovely apartment Kimya in late March, early April.  We absolutely loved it and definitely hope we go again.  It was a magical time of year because it was mainly sunny (apart from the odd torrential downpour) but Modica and the nearby towns didn't feel busy with tourists. It was also getting close to Easter so we were lucky enough to experience the community celebrating Palm Sunday. The apartment itself is very comfortable and it's lovely being able to look over the town and see the lights at night.  It had all the amenities we needed and the bed we slept in was super comfortable.  The furnishing and finish of the apartment were very quirky and interesting, this is not a cookie cutter holiday apartment which is definitely a plus for us – the actual experience of staying there is as much about the holiday as the external surroundings.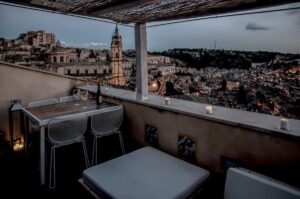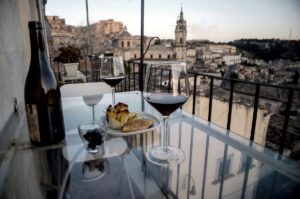 Modica itself is gorgeous. Everyone is really friendly and welcoming.  We had some super meals and what was nice was that there wasn't a 'tourist menu' in sight but the food was very reasonably priced.  We particularly loved the restaurant Osteria in the main street (their tiny meatballs and pasta in broth is delightful).   To my shame in the past I have always avoided churches and cathedrals but my interest was really ignited with the beautiful Chiesa San Giorgio and Chiesa Si San Pietro – even if you think ecclesiastical architecture isn't for you, reserve your judgement until you have experienced the extravagant architecture and interiors of Sicilian baroque cathedrals.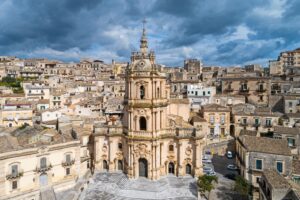 The surrounding area has lots of interesting places to visit  – Noto is particularly impressive.  Essentially you will be spoilt for choice for places to visit.  We hired a car but decided to go Sicracusa by train.  It was a sweet little train which took about an hour and a half and was about 16 euros each return, definitely worth a visit if just for the market in Ortigia.
Some tips that might be helpful:
Modica is built on the side of a steep hill and therefore there are steps.  Specifically there are 250 steps from lower Modica to higher Modica, we are reasonably agile pensioners but after scaling them twice, I decided never again.  If you have a car this is not a problem as it is easy to park in higher Modica.  There are still further steps to climb to the apartment but they are much more gentle.  There is allegedly a bus you can catch but this never worked out for us.
There are two or three little trains which do different tours of Modica and the local area – they are only 5 euros and really good value as you see areas I don't think we would have seen even with the car.  One of them actually has a stop in higher Modica so you can always use that if you want to miss out those steps.
Modica is famous for its chocolate, if you intend to take some home definitely buy it whilst you are in Modica  (it's twice the price in the airports) and do visit one of the places they make it – their dedication to the way it is made and the variety of flavours is amazing.  We actually found that the little bar which is up the steps on the left of San Giorgio near the apartment had the best and was the best value.  It is a lovely little bar and the young woman serving us was really friendly – the 'nibbles' she brought us would have constituted a three course meal at home.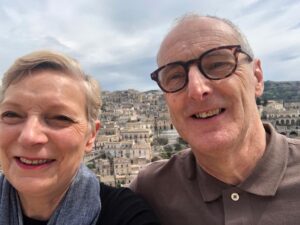 With regard to the apartment – the recycling regime perhaps needs mentioning.  We failed abysmally –  we had great debates as to what went where and we never quite managed to get it collected. Fortunately we didn't generate masses of rubbish but we should have listened more carefully when the lovely Lorenzo was giving us information on the first evening.  There is information in the apartment but I think we just had a blind spot.
Of course I can't finish this review without saying how easy Essential Italy made the whole trip.  Everything was organise really well and even when our outward flight was delayed by 5 hours (thank you Wizz air), without asking them the team at Essential Italy called ahead and let people know we were going to be late.  They were really knowledgeable about the apartment and the area so were able to answer all our questions.
Dr Lynn Morgan MBE
See all our properties in Sicily here