Sea Bass baked in a salt crust
Posted on 2 September 2008 in Uncategorized
Helen writes: we've just have just returned from this year's summer holiday in Sardinia; another fabulous week was spent on the beach and on boats.
Our best meal (apart from the spectacular BBQ provided by Sarah on our last evening) was at Giorgio's in Palau. We selected Orata al Sale (Sea Bass baked in a salt crust). We picked out our fish, and 30 minutes later two blocks of salt were presented and once the salt was chipped away our delicious dinner was revealed.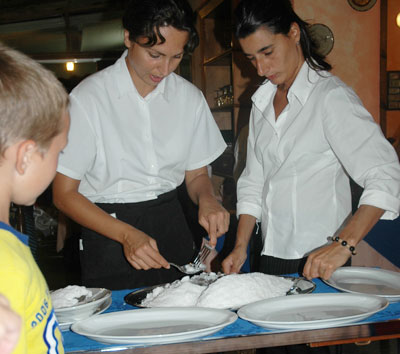 It's easy to cook at home. Take a fish (most large fish will do – not fillets mind you), clean it, cover it with salt and stick it in a hot oven for about 30 minutes (depending on the size of the fish). Here's Mitch Tonks showing you how easy it is, albeit with the addition of some rosemary springs. Bon appetito.