Recommended short breaks in Italy: Bologna
Posted on 6 May 2009 in Uncategorized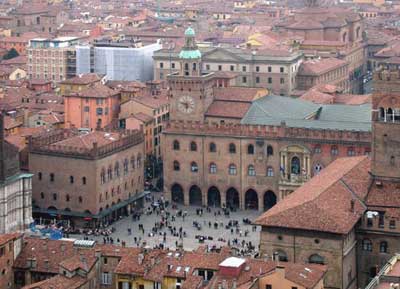 Sarah writes: I have just come back from a very interesting and fun few days in the beautiful town of Bologna. Invited by the Emilia Romagna tourist association, the trip was just fantastic as they took care of every little detail of my stay; putting me up in a great hotel, showing me around the area, letting me visit some lovely hotels, taking me to the Adriatic coast (not quite so enchanting when you live in Sardinia, but they tried) and best of all, keeping me occupied with glorious food and wine.
Bologna does not always spring to mind when thinking of the more famous Italian cities – Rome, Florence and Venice often taking predecence – but I can strongly recommend a short break in this magical city. Best known in Italy for being the home of 'la cucina Italiana' (Italian cuisine), I suggest that you do not visit if you are trying to lose weight as the food is seriously good. As is the local wine. Try some homemade Tortellini either in broth; or in a creamy mushroom sauce; or with fresh asparagus or with a tasty meat sauce (everyone has heard of 'spaghetti bolognese'); and accompany with a glass (or three) of tangy red Sangiovese di Romagna wine. Delicious.
A trick to help you get to the end of a meal is to not go wild on the 'aperitivi', though it may be difficult when confronted by a glass of sparkling wine and a huge array of tasty little titbits. Main courses are based on local and fresh products with pork based dishes being very traditional. Mortadella being a must whilst you are there. Puddings are simply gorgeous; try a mascapone souffle with hot chocolate sauce. I think I may hold the record for eating three in one sitting.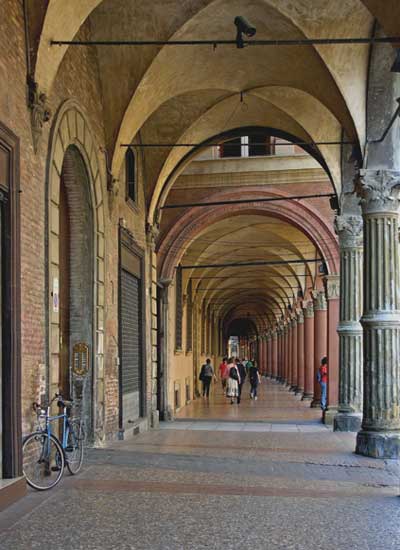 Bologna is probably best avoided in the very heat of the summer, but it's a great location in the spring, autumn and even winter. 40km of covered arcades line the ancient streets meaning that you can wander around the town in shade if it gets too hot, and keep dry if it's raining. There are a wealth of narrow streets to explore with no sign of a shopping centre in sight. Old fashioned shops that you thought you may never experience again are there to browse and when you are tired of standing on your feet, there is always a bar or restaurant ready to nurture you back to the best of health with excellent local fare.
Watch out for our new cities page coming soon and choose one of Essential Italy's handpicked hotels – selected for their comfort, service and location in this lively city. The airport is only 15 minutes away, and with a good selection of flights from the UK what are you waiting for?
Buon Divertimento (or perhaps, in my case) I should say: Buon Appetito!