Perfect in Puglia
Posted on 9 October 2013 in Uncategorized
Helen and I have just come back from our annual autumn trip to Puglia – something we both look forward to at the end of the summer.
Our flights coincided perfectly into Brindisi airport (Helen from UK with Ryanair, paying a quarter of what I paid with Alitalia on an internal flight) we picked up our hire car, and off we set. We both commented on how pleasant it is to fly into this newly renovated airport – small, everything well laid out, bright and totally functional, unlike some others we will not mention!
Our first assignment was down in Salento, one of our favourite spots for the countryside, the super coastline and some simply lovely properties. A quick stop at Tulsi to visit the lovely Deborah and check out her new wares (Helen bought a beautiful skirt…) before a rather important lunch appointment, which kept us entertained until mid afternoon when we zipped up to the little town of Vignacastrisi to take a look at the new rooms still under construction at the stunning Palazzo Guglielmo – a charming property with great rooms and two really spacious apartments. The town was getting ready for its annual festival celebrating the saint of the village (the Virgin of the Rosary). Preparations for the festival start a month before hand and during this time the village is decorated with intricate structures of 'luminare', the small multi coloured lights that are traditional to the region. The opening night runs from 7pm to midnight, and plays host to an array of firework displays with a prize awarded to the most impressive. The three nights of the village festival continue with live orchestral music, fireworks and astonishing displays of 'dancing' luminare.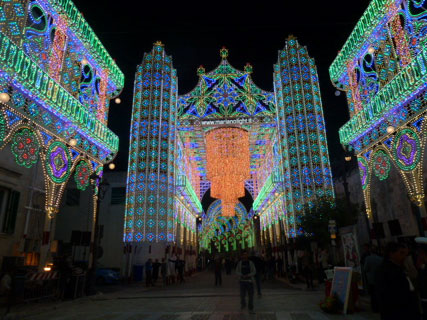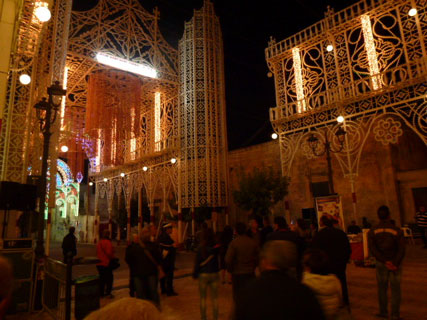 Onwards to our next stop – Masseria Gialli – located very close to the inland town of Taurisano. The gardens had just been planted when we last visited in the spring, so we were totally surprised to find grassy lawns and beds of all sorts of flowering bushes and lavender around the super pool.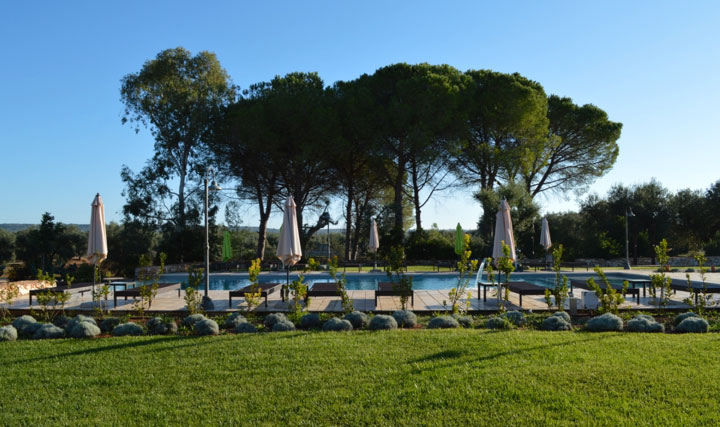 Dinner was delicious and Andrea, Marcello and Marina were the perfect hosts – shame we could only stay for one night!
The next morning we were up early and off to visit Porto Cesareo – a town on the west coast just 30kms from the great town of Lecce. From here we headed north to the Valle d'Itria where many of our well established properties are dotted around some of the better known towns of the area – Ostuni, Cisternino, Alberobello, Martina Franca, Locorotondo… to name but a few. We revisited Trullo Capitolo, Trullo Lontano, Trullo Caterina and also Lalapanzi  with its super pool, stylish accommodation and the cloud-pruned olive trees…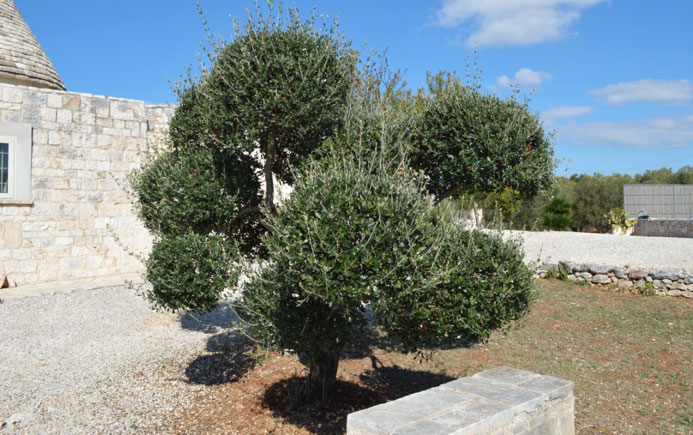 Casa Serena  was to be our base for the next 3 nights – what a treat! This little trullo could not be more stylish or comfortable, and Serena – in her wonderful hospitable fashion – had stocked up for our arrival with olives, grapes, fresh ricotta, salami and the most amazing bottle of red wine.
Our longest day in the car was on Friday when we drove from Ostuni up to the Gargano – the most northerly promontory of Puglia famous for its stunning coastline. Our destination was the old town of Vieste where we were invited to visit a truly great seaside hotel – perfect for families and couples, this resort has everything from water sports to skate board lessons, plus the most amazing beach and views across the bay. Watch the website, this will be live very soon, and we're sure it'll be a hit with many of our guests, old and new!
Our last day was spent driving up tracks, clambering over stone walls and searching out yet more properties amidst the magical and age old olive trees found in Puglia. As we were about to call it a day, we found a lovely little trullo with one bedroom and a fabulous pool – just right for anyone wanting to escape and spend some quality time with a partner or friend  (on the website very soon). This was really the perfect end to our all-too-short visit to Puglia.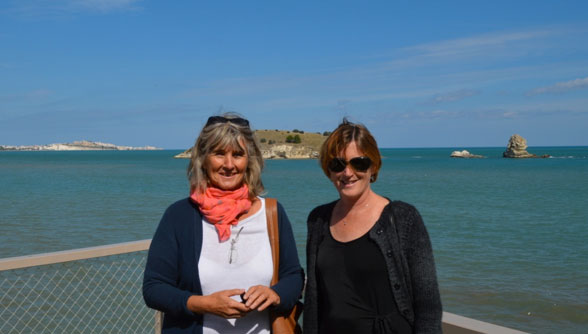 Roll on spring 2014 when work dictates that we'll just have to take another visit to this spectacular region to ensure all is ready for the summer season – well, someone has to do it!