Newly reopened Campatelli tower shines new light on historic town of San Gimignano
Posted on 28 April 2016 in Italy, Tuscany
San Gimignano in Tuscany is famous the world over for being one of the world's prettiest historic villages, perched atop a hill overlooking the lush greenery of the Val d'Elsa. Dating back to the Middle Ages, the city, located close to many of our Italy villas, is characterised by its several historic towers, many of which hark back to the city's medieval origins.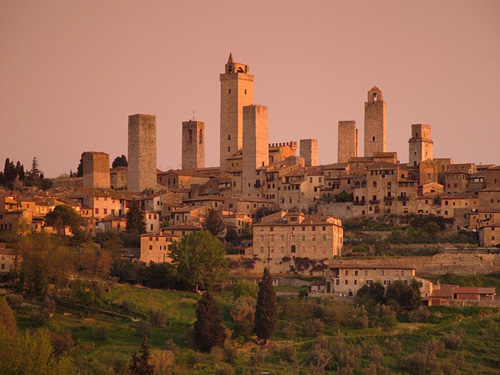 As a result of the city's wealth, by the end of the 14th century, as many as 70 towers decorated the village, however, only 14 of these survive today. One of these such towers, dating back to the 12th century is the Campanelli tower (Torre Campanelli), has recently reopened to the public following an important restoration.
Located on Via San Giovanni in the heart of the town, the tower and its neighbouring 19th century building were gifted to Fondo Ambiente Italiano by the Campatelli family in 2005, in the hope the organisation would be able to further educate visitors about their ancestors and San Gimignano's history. In 2011, the organisation, whose work helps to restore and preserve Italy's cultural and artistic heritage, began work on restoring the tower, after raising two million euros in funding.
The restoration was completed this year, with Torre Campanelli reopening its doors on April 16, becoming the only private house in San Gimignano to regularly be open to the public. With its interiors and exhibitions, it aims to educate visitors on San Gimignano and its history, the surrounding Tuscan landscape, the building's history and the Campatelli family. It gives visitors free rein on the main floor, which has on display a number of items including furniture, souvenirs, photographs, letters and paintings.
Image: Mark Goebel, available under Creative Commons