Introducing Essential Italy's exciting new properties for 2017!
Posted on 28 October 2016 in Family & Friends, Italy, Puglia, Sardinia, Sicily, Tuscany, Umbria
Essential Italy have always been proud to say they have a great range of villas in Italy for you to visit. As well as amazing apartments and hotels all around beautiful southern and central Italy. For 2017 the range of choice just gets better and better, with several accommodation options being added to top tourist locations: Tuscany, Umbria, Puglia, Sicily and Sardinia.
Tuscany
Tuscany is probably one of the most popular tourist regions in Italy. This picturesque region boasts beautiful views wherever you go, with rolling hills that cascade into little towns in the valleys to the breath-taking attractions of Florence, Siena and Pisa. If you're looking for a holiday that has it all, then Tuscany is the perfect destination for you.
Villa Guidi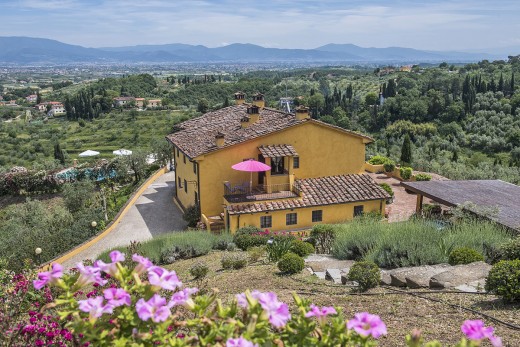 The stunning properties added to Essential Italy's Tuscany listings include the grand Villa Guidi. This vibrant, yellow-washed villa sits amongst rolling green hills with impressive views that extend as far as the eye can see. This makes it the perfect place for big, family get-togethers or a big group of couples looking for a perfect get-away choice.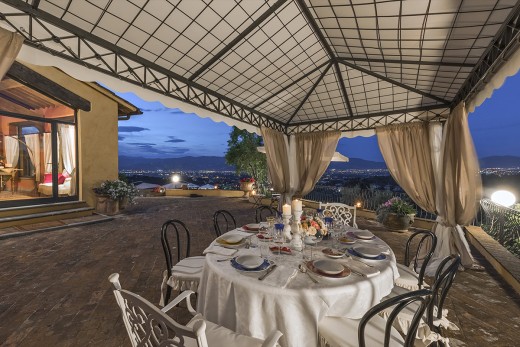 Each room is grand and spacious, making it the perfect spot for entertaining, big sit-down meals under the stars or taking in the lush views while splashing around in the luscious, outside pool. The property is in an ideal location with Florence and Pisa either side, which you can visit for some fantastic attractions.
Umbria
If you've been to Italy a few times now, and you've seen all the main attractions why not head out into the rural countryside to experience a more rustic side to the country? Umbria is perfect for tourists that want a countryside get-away for a tranquil retreat. Umbria is full of quant little hill towns and vineyards which reflect the romanticised version of Italy we see in a lot of romantic movies. A visit to Umbria is to experience all the beauty and charm Italy has to offer without the crowds.
Villa Martana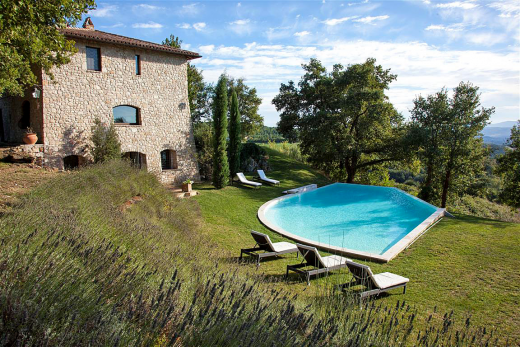 An addition to the Umbria listing includes Villa Martana. A perfect family villa set in the countryside that boasts an impressive 5 bedrooms, 6 bathrooms and beautiful outside pool. Villa Martana overlooks the one of Umbria's most stunning medieval hill towns, Todi, which was recently recognised as one of the most liveable towns in the world!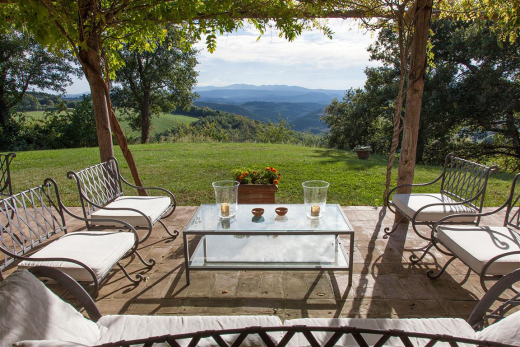 Everywhere you look when you're at villa Martana has breath-taking views and the secluded location will provide the perfect location for you to spend quality time with your loved ones. The villa dates back to the 17th century, however the villa is a perfect mix of rustic features and modern décor. One of the best rooms in the villa is the spacious and light living room that even has a cosy fire place (if it is needed on a cooler Italian night). The garden patio place is the perfect place to sit on the evening and enjoy the picturesque and unspoilt views of the sun-set that falls upon the rolling hills in the distance.
Puglia
Puglia is full of ancient sites and bursting with authentic, Italian charms. The secluded beaches of Puglia make a great alternative to places that attract a lot of tourists. The region is full of many influences, and this is seen through the towns, that include designs from Byzantine, Romanesque and Greek heritages. The region is full of olive trees, whitewashed hill-top towns with a tempting warmth that makes the region a must-visit.
Trullo Bellissimo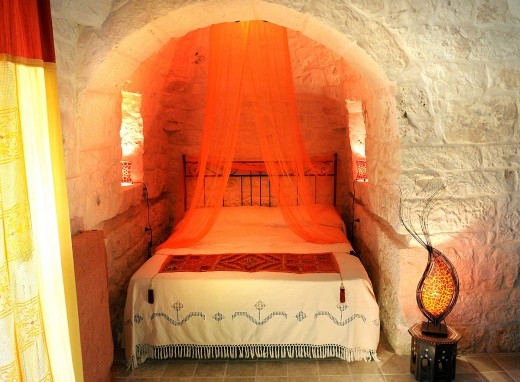 Trullo Bellissimo is a quirky option for travellers who love character in their accommodation. This quant villa has character in abundance, from the building itself to the décor inside, that feels quintessentially Mediterranean. This villa offers you the combination of luxury with authentic Pugliese charm.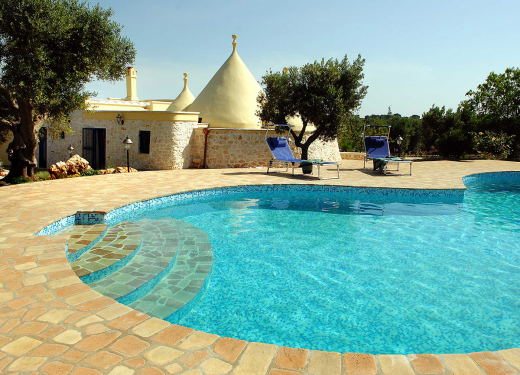 The villa sleeps four, has its own private pool as well as being set in its own olive grove. If that wasn't enough appeal the villa is in an ideal location- with the historic white city (Citta Bianca) and Osteria nearby for day visits. You can also go to the local beach which is just 18km away, as well as the local hill-top towns that offer you some fine and authentic Italian dining.
Sicily
Sicily is another well-known part of Italy captivating anyone who visits with its undeniable charm, with lemon trees that fill the air with sweet scents and the towns with their quintessentially Italian terracotta walls that are postcard worthy! The stunning island of Sicily will win you over with its variety of beautiful landscapes and cultural treasures.
Villa delle Palme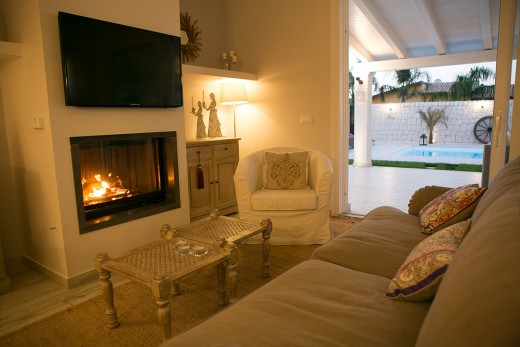 Villa delle Palme is a stylish and modern villa situated 300 metres away from a gorgeous, sandy beach called Santa Maria Foccallo- which was awarded a blue flag status in 2010. The villa is also close to the picturesque town of Ispica if you fancy a nice walk around. Other places worth visiting on day trips include the towns of Modica, Ragusa Ibla, Noto and Siacusa which are all easily accessible from this villa spot.
This classy villa is perfect place to socialise within your friendship group, accommodating 6 guests amongst 3 bedrooms. The villa is over one floor with a lovely flow from one room to the next, with grand window views that look over the luscious pool outside.
Sardinia
Sardinia is the island that many tourists who come to Italy fall in love with. If you're someone who loves the coast then don't look any further than Sardinia, with its crystal blue waters and sandy beaches that entice you in. With many coastal trails to explore and mountains to climb this can be a great place to explore or alternatively the perfect place to relax on the great array of beautiful beaches
Residence il Mirto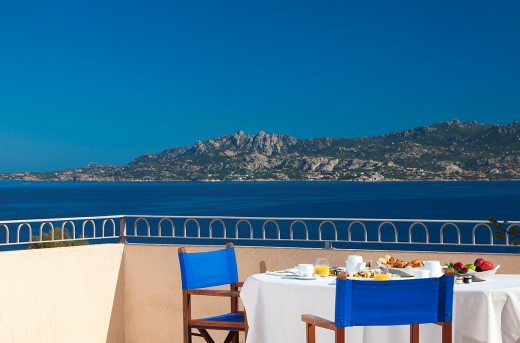 Residence Il Mirto are well established apartments that are situated on a little promontory on the north east coast of Sardinia, making it the perfect place for a peaceful getaway. Many of the apartments have a stunning view across impressive greenery, sparkling pool and over to the Archipelago of La Maddalena island, which can enjoy from your private veranda where you can enjoy stunning panoramic views.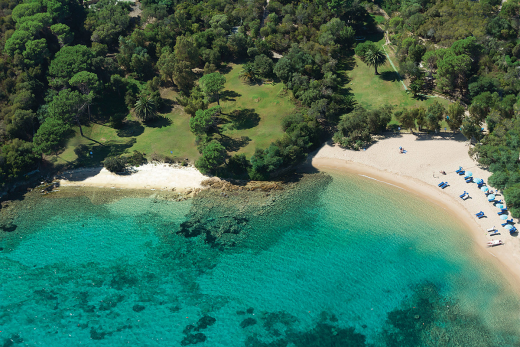 The apartments are located amongst beautiful olive and juniper trees which make for a beautiful location. When the morning is over, and you fancy a dip, take a short stroll to the beautiful sandy beach which is only 400 metres from the apartments. The crystal blue sea is a spectacular sight, and this beach will make the perfect spot to enjoy the sun and relax on your Italian holiday.
These are just a few of the great options added to Essential Italy's listing. Why not visit the website to find your perfect Italian get-away?