Meet Villa Owners, Franco and Claudia!
Posted on 2 October 2017 in Interviews
When it comes to the range of wonderful Luxury villas in Puglia, here at Essential Italy, the accommodation isn't the only thing that is lovely. The owner's of each of our properties are also extra special, with their own tips and insight into the locations of their villas.
Franco and Claudia Chiarpei own the gorgeous trullo Iduna nestled in the beautiful location of Puglia. Get to know both of them below!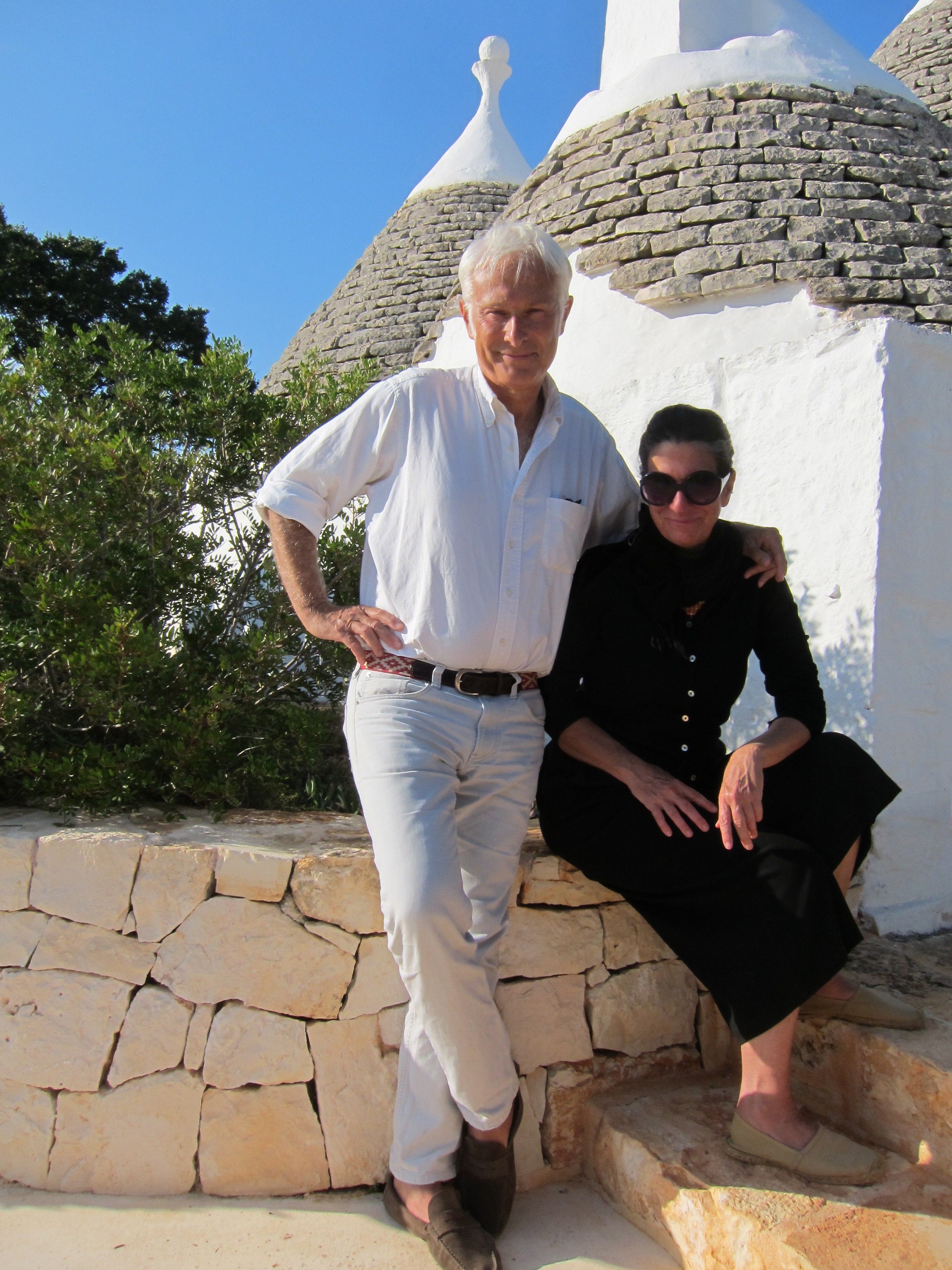 How long have you owned trullo Iduna?
We bought Iduna in 1997. After searching for a trullo for years, when we came across this property we both knew right off that it was our dream come true. We once heard that you don't find a trullo, the trullo finds you, in our case that is exactly how it went.
What is it that made you decide that Essential Italy was the right place to host your property?
We heard about Essential Italy through friends that own a beautiful B&B nearby, and since they praised Essential Italy and we were also interested in letting our property for the summer, we contacted them. When we met Helen and Sarah, we hit it off beautifully and have been working with them ever since.
If you could pick any three words to describe your property, what would they be?
Charming, sophisticated, authentic.
In regards to the location of your property, Trullo Iduna is situated in Puglia. What was it that made you both wish to purchase a trullo there?
We came to Puglia in 1993 for a summer holiday. It was love at first site; the gorgeous countryside and sandy beaches within a stone's throw, the variety and quality of food, and the warmth of the people made us want to return over and over. It took us four years to find Iduna, but the searching was part of the fun. Driving through remote towns, rolling hills and olive groves, increased our enthusiasm and when our trullo finally appeared, we bought it the day after.
If you could recommend one location for people to visit in Puglia, where would it be?
If you get tired basking in the sun by the pool with a glass of chilled white wine (Verdeca is one of our favourites!) within 15 km from our trullo, you can reach Ceglie Messapica with its authentic Southern feel intact. Lecce is also a must, famous for its baroque architecture and caffè leccese and last but not least Polignano.
We've suggested just a few of our favourite sites since the region is vast and so rich in historical and natural beauties that we would need extra space to cover fully.
What are your suitcase essentials?
Comfortable shoes, for both summer and off-season sightseeing, while during the summer months, a jumper is recommended. Also, you must not forget that trullo's are mainly found in the Itria valley, which is actually a plateau standing 400 metres above sea level. Although warm, if not hot, during the day, it can get chilly in the evenings. Most importantly, an empty suitcase to fill with Puglian specialities to enjoy back home!
Do you have a favourite Italian cuisine?
Not so much a favourite cuisine, as much as a favourite ingredient: organic extra virgin olive oil. If you want to live what we call the grand chef experience, you can add anything growing here, from freshly picked artichokes in spring (the small variety is wonderful raw with parmigiano, lemon, salt, pepper and of course olive oil) to fiaschetta tomatoes in the summer to your extra virgin olive oil. Shop at any lively, convenient and colorful open market (one in every town), carry home, wash, slice, chop or dice, add extra virgin olive oil, a dash of sea salt and you've got it. Simply perfect!
By the way, we often help friends during harvest (around late October/November), so we can assure you that lots of the extra virgin olive oil, sold in the small local outlets and masserie, is still traditionally produced.
What is an interesting fact about each of you?
We worked together for years as designers in London, New York, Milan. Thanks to our profession, we had a chance to meet many great photographers and artists (Andy Warhol, just to mention the most iconic). As a matter of fact, our eclectic style trullo is furnished with designer pieces, paintings and photos collected throughout the years: from a series of black and white pictures of famous jazz players to a blown-up portrait by renowned fashion photographer Giampaolo Barbieri. We are also adding an extra lamia in order to hold more art work, sculptures, around 1500 books, vintage LPs and much more.
If you could own a villa anywhere else in the world where would you pick and why?
We have two options: a colonial house in Baracoa Cuba or a 300 years old chalet in Wengen Switzerland; Baracoa cause we love the music, the people and the mojitos or Wengen cause we love skiing, skiing and skiing.
What do you both like to do in your spare time?
Franco likes to write, walk and wander, Claudia likes to read, run and roll!
If this interview piqued your interest in booking a holiday to Puglia, why not take a look at  Franco and Claudia's wonderful Trullo Iduna or check out some of our other Puglia properties here.