Matera officially proclaimed an EU Capital of Culture for 2019
Posted on 28 May 2015 in Italy, Puglia
The beautiful and ancient UNESCO-listed city of Matera, found in the Basilicata region, has been officially and formally designated as an EU Capital of Culture for 2019 by the European Union and its culture ministers, alongside the Bulgarian city of Plodviv.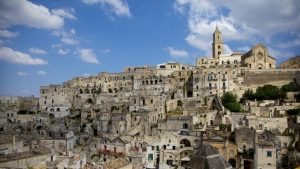 It is the fourth time that the European Capital of Culture has been an Italian city, with Florence in 1986, Bologna in 2000 and Genoa in 2004 all bearing the one-year title before Matera, which is the first city in southern Italy to be awarded the accolade.
During this year, Matera will become a host city for a number of cultural events, each with a strong European focus, hoping to unite Europe through a love of arts and entertainment as well as to bring more visitors to this stunning city.
Preparations have already begun for 2019, with the city aiming to involve 80% of its residents in the co-creation and production of cultural projects, as well as to attract 600,000 visitors during its year as the Capital of Culture. Railway connections between Matera and nearby Bari, the capital of Puglia, are also set to be improved, with planned shuttle services hoping to bring people to the city in just 45 minutes.
If you'd like to visit this beautiful city before the influx of tourists fly in to enjoy its year as a European Capital of Culture, take a look at our great villas in Puglia, which are just a short distance from Matera and surrounded by truly fantastic countryside.
Image: Francesca Cappa, available under Creative Commons