Fall in love with Puglia at these new properties by Essential Italy
Posted on 14 March 2016 in Puglia
Boasting stunning beaches, incredible countryside and picturesque whitewashed towns, Puglia is one of Italy's most spectacular regions, yet lacks the crowds of more popular tourists' spots such as Rome and the Amalfi Coast. Having extensive knowledge of the region and seeing its true potential for unforgettable holidays, Essential Italy now has a number of exciting new villas, apartments and hotels in Puglia.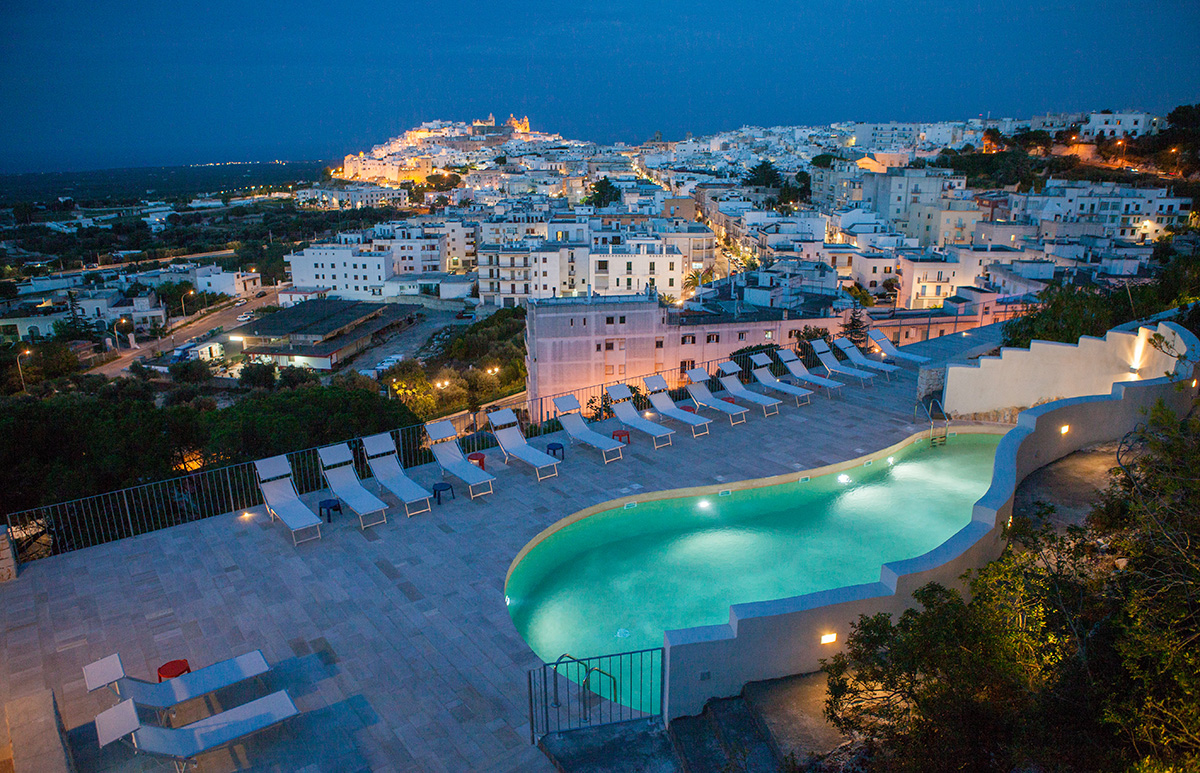 Overlooking the fabulous white city of Ostuni, these recently-built apartments offer tremendous sea views in a prime location. Comprised of 10 apartments, the Sarago Apartments are coloured in striking red, green, blue and white, decorated and furnished in a modern style, meaning they look far cooler than the soaring temperatures outside.
Each apartment has one or two bedrooms, sleeping between 2 and 6 people, with some making use of a sofa bed in the lounge to accommodate more guests. The apartments are spacious and light, and also offer a good sized kitchenette with all you'll need to prepare simple meals – a hob, oven and fridge freezer. Large windows offer amazing views throughout, while you'll also have your very own outdoor terrace or balcony where you can enjoy a relaxing evening meal or a refreshing aperitivo.
If you're looking to venture further away from the apartment, terrace and the shared swimming pool, you're just a short stroll from the centre of Ostuni, perfect for shopping, dining and exploring. You'll also be right in the heart of the Val d'Itria, meaning beautiful towns such as Alberobello, Cisternino and Martina Franca are just a short drive away, while the glorious coastline is only a ten-minute drive away.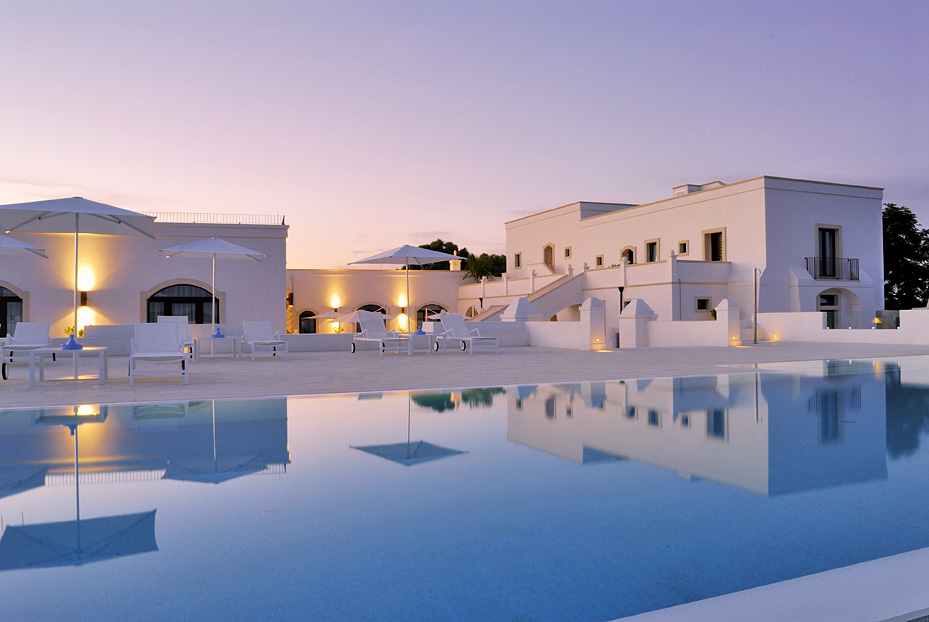 Masseria Bagnara is a classic example of an Italian masseria, with its whitewashed walls and interiors made from polished local stone. This chic hotel is just 1km from the Ionian coastline and its beautiful white sandy beaches, making it the perfect spot for a blissful coastal getaway in the Italian sun.
You'll enjoy a warm welcome as you enter the stylish reception and lounge, which leads through to a well-stocked bar offering several kinds of wines, beers and aperitivos. This is followed by a beautifully decorated dining room, though hopefully most of your evening meals will be spent out in the stunning courtyard, whether it's beneath the sunshine or under the stars, making it the perfect place to enjoy slow, authentic Pugliese food.
Each of the 15 bedrooms are contemporary and chic, and available in either luxury or suite, the latter being more spacious. Guests can also enjoy their own personal outdoor space, decorated with white furniture and umbrellas to keep cool in the scorching sun. If you fancy cooling off, there's a large swimming pool perfect for a few lengths up on a raised terrace, surrounded by sun loungers and parasols, while the on-site spa offers the ultimate relaxation with its selection of treatments and massages.
Of course, you may instead choose to enjoy a dip in the sea, which is just a kilometre away, and can easily be reached by one of the hotel's complimentary bicycles. Another short bike ride away is Marina di Lizzano (a flat 7km), where you can enjoy some delicious coffee and local cakes.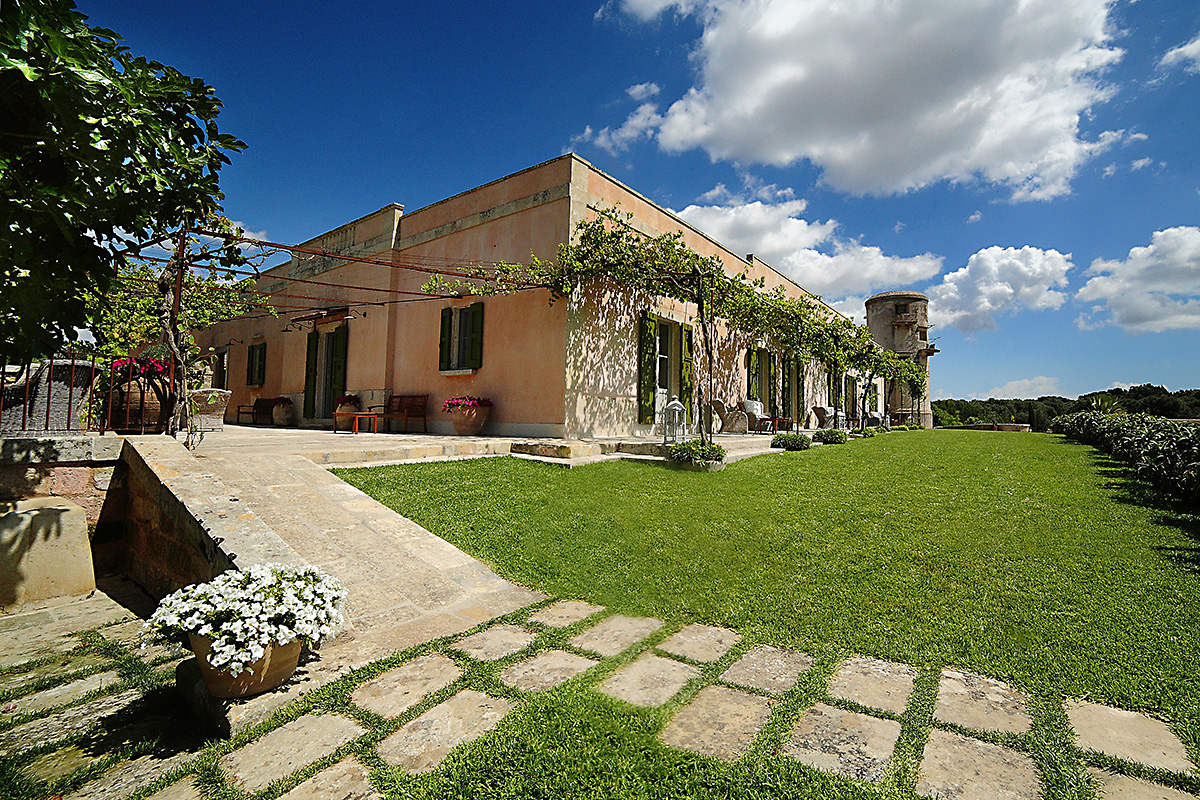 Also new to Essential Italy is the Naturalis Resort, a truly peaceful corner of Puglia tucked away between beautiful Lecce and the sleepy town of Martano. Even upon entering the grounds, decorated with aromatic plants and grassy gardens, you'll feel a sense of inner peace.
The resort is home to seven rooms, decorated and furnished in an authentic Salento style, featuring terracotta floors, pastel-painted walls and polished wooden furniture. Each room also comes with its own en-suite bathroom, the walls lined with beautiful local tiles, with a soothing chromotherapy shower found in each. Breakfast is served either in the welcoming reception room or out on the terrace overlooking the gardens in the warmer months, while you can also enjoy dinner under the stars on request, made from the freshest local ingredients and served with a selection of Pugliese wines.
Outside you'll also find alongside the terrace sun loungers and shady gazebos, as well as a cool infinity pool, bar and outdoor kitchen. For extra relaxation, the resort also has its own on-site spa, using home-grown lavender and aloe in all its treatments, which are sure to leave you with a wonderful sense of wellbeing.
The small town of Martano is just a short distance away, where you'll find a host of shops, bars and restaurants perfect for a day out, while further afield you'll also discover Lecce, Otranto and Gallipoli.