Events and festivals roundup: 2016 in Tuscany
Posted on 11 February 2016 in Italy, Tuscany
Famous for its beautiful landscapes as well as its signature wines, Tuscany is also a lively holiday destination when it comes to events and festivals, with plenty going on all year round. Below are just some of the great events you can get involved with if you plan on staying in one of our villas, apartments or hotels in Tuscany this year: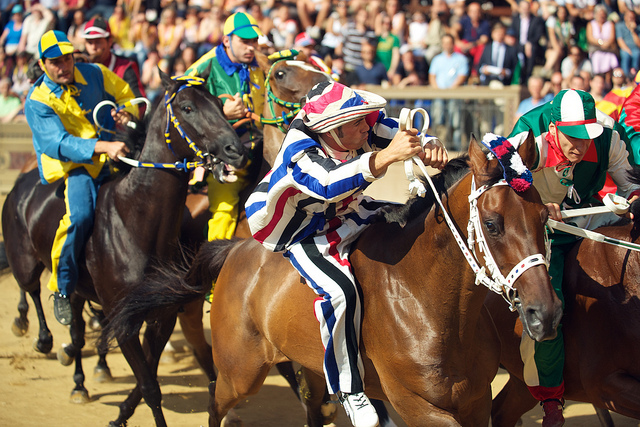 Carnevale di Viareggio – February 7-March 5
Currently underway in Viareggio, the annual Carnevale season is prevalent throughout all of Italy, though one of the most famous takes place in this Tuscan town. Enormous floats, some taller than buildings, made from papier-mache, process through the streets, with parades taking place on each Sunday during the Carnevale as well as on Shrove Tuesday.
Luminara di San Ranieri – June 16
This special event in Pisa has to be seen to be believed, as over 100,000 candles light up the houses, churches and streets which line the Arno river the eve of the city's patron saint day. The result is a dazzling illumination, with a firework display over the banks of the river bringing an end to this spectacular celebration of lights.
Palio di Siena – July 2 and August 16
With the build-up between Siena's contradas (districts) lasting all year, rivalries run high at the Palio, Siena's most spectacular event, as well as the most famous bareback horse event in the world. Although the race doesn't begin until an hour before sunset, you'll need to get there early to see the passionate riders and horses in action at the Piazza del Campo.
Lucca Summer Festival – July 10-26
The biggest summer rock and jazz festival in Tuscany, Lucca's Summer Festival is home to several big names in music, all performing open air concerts at the scenic Piazza Napoleone. Already confirmed for this year are international superstars Billy Idol, Elton John, Mark Knopfler, Robbie Williams and Lenny Kravitz.
Puccini Festival – July 15-August 13
A showcase for classic Italian opera, the annual Puccini Festival stages four of the best-loved operas by Puccini and his contemporaries, all set in a beautiful location. The open air theatre the performances are staged in overlook the beautiful lake at Torre del Lago.
Chianti Wine Festivals – September
With the upcoming grape harvest just around the corner, Tuscany's world-famous Chianti wine region hosts two festivals over the second and third long weekends, in Greve and Panzano. These festivals offer you the chance to taste a variety of Chianti wines from a raft of local producers, as well as try the delicious local food and soak up the atmosphere with street music and performances.
You may also like:
Siena prepares for legendary horse race Il Palio
Image: Janus Kinase, available under Creative Commons