Essential Italy welcomes three more properties to its Puglia portfolio
Posted on 22 April 2016 in Puglia
Puglia is a stunning region of Italy, making up the heel of the country's boot, though it is often overlooked in favour of more popular areas such as Tuscany. However, it is one of the best places in Italy to relax, take in some amazing coastal scenery and experience authentic Italian food, traditions and lifestyles.
This authenticity can even be seen in the holiday apartments and villas on offer, which often come in the form of iconic trulli and masserie, built in the local style. Whether you're a family, couple of group of friends, Puglia is the perfect backdrop for enjoying the simpler pleasures in life.
Essential Italy has long seen the appeal of this stunning and understated region, with a wealth of great places to stay in its portfolio. Three new fantastic properties have recently been added, which are described below.
Charmingly restored with whitewashed walls, this chic trullo sits upon a hilltop surrounded by private grounds and gorgeous Pugliese countryside, just 4km from the village of Casalini and all the amenities you will need for a memorable stay.
This beautiful conical-roofed building is stylishly decorated inside, minimal yet exciting with added dashes of colour in the wall hangings and quirky wooden furniture. Sleeping up to four guests, there is a double bedroom inside the trullo itself, as well as another extra room, which has been added at the far end of the property – both with an en-suite bath or shower room.
Outside there's a wonderful terrace and lovely swimming pool, meaning you'll spend most of your time outdoors, whether that's dining, swimming, sunbathing or watching the sun set and the stars emerge in the night sky.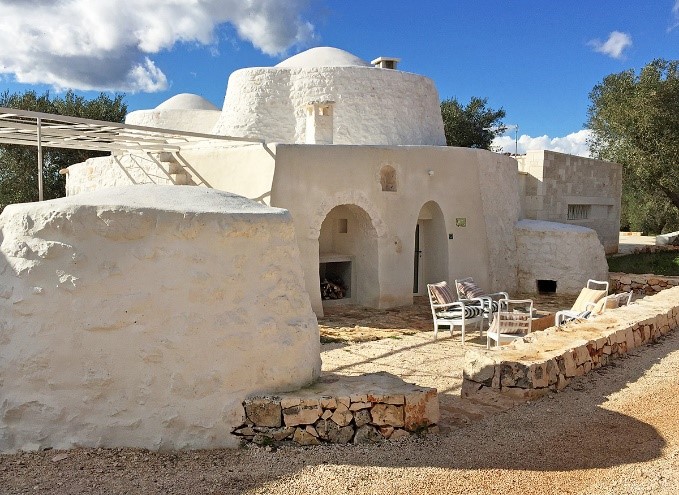 The Santa Marta Suites are at the heart of the action yet discreet – they're tucked away in a quiet corner of the wonderful city of Lecce, known for its magnificent Baroque architecture. Once you enter through the large wooden gate, you'll be thrilled with the surroundings, which include high ceilings and beautiful tiled floors. Sisters Adriana and Manuela welcome you to Santa Marta, offering you a delicious breakfast every morning ready for your adventures in Lecce.
Each suite sleeps up to four guests, and are extremely spacious, making the most of the building's original features yet also enhanced with some stylish décor. Complete with a shower room, every suite also opens out onto its own terrace, or balcony if on the upper floor. Guests can choose from the Junior Suite, Family Suite, King Deluxe Suite and Executive Suite (prices vary).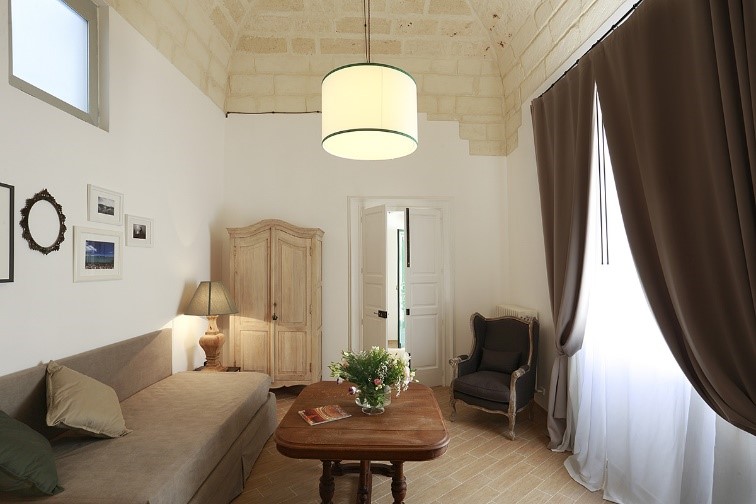 Situated alongside the Santa Marta Suites are the Santa Marta Apartments, which promise the comfort and style of the suites but with added features which make them feel even more like a home from home. These apartments are perfect for larger groups, sleeping up to six people.
Three stylish Puglia apartments are available at Santa Marta: Apartment Deluxe, Apartment Superior and Apartment with Terrace. Each comes with a double bedroom with an extra-large bed, as well as a shower room, kitchen and comfortable living room. Depending on the apartment, extra bedrooms or fold-out sofa beds are also available.
The location of Santa Marta makes it ideal for exploring Lecce or the Salento region in general. Wander to your heart's content along the city's narrow streets, marvel at the amazing architecture, browse the small shops and take a break at a bar, restaurant or café to watch the world go by.