Essential Italy presents brand new property Beach House Antonetta
Posted on 12 June 2015 in Italy, Puglia
Essential Italy are proud to present the newest addition to their portfolio, the beautiful Beach House Antonetta, nestled on the shores of wonderful Puglia.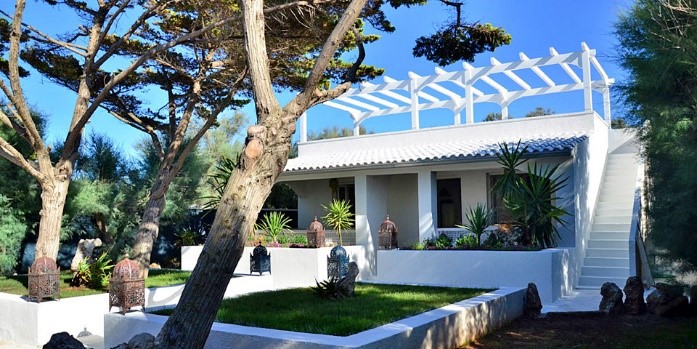 Located in the quiet but scenic coastal resort of Torre Chianca, rarely visited by foreign tourists, a great selection of local bars, restaurants and shops are just a short walk away, with the gorgeous sandy beach just metres away, with great views offered up from the terrace.
Your very own private lido is also right on your doorstep, and you can also lap up the sun and enjoy a refreshing glass of wine in one of two fantastic outdoor dining areas.
The house itself reflects a combination of Puglian and Moroccan styles, with its white walls, bright linens, paintings and furniture bringing a true Mediterranean vibe to the interior, alongside the sound of the sea lapping at your doorstep. Comprised of a living room, a modern and fully-equipped kitchen, two double bedrooms and two bathrooms with showers, Beach House Antonetta has everything you need to feel comfortable during your stay, and is perfect for spending time on the beach and in Torre Chianca, as well as venturing further afield to other places of interest throughout Puglia. The stunning baroque town of Lecce is just 15km away, with the Val d'Itria, complete with its famous whitewashed trulli, and the beautiful seaside town of Otranto.
Let your search for apartments in Italy end here and book Beach House Antonetta for your fantastic summer holiday today!