Essential Italy out and about in Tuscany
Posted on 20 January 2011 in Tuscany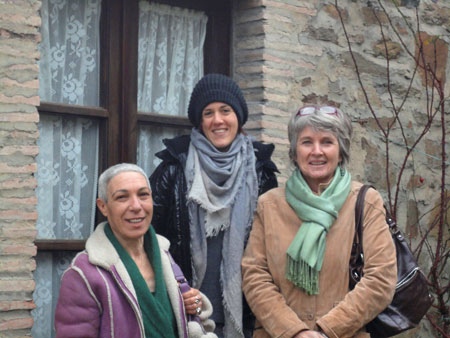 Zaria, Elena and Sarah outside Borgo Elena
Helen writes: Last week Sarah and I headed out to Tuscany to meet with Zaria who has started work with Essential Italy to assist with all things Tuscan. She has a wealth of knowledge and experience in Tuscany having worked there for many years. We are delighted she has joined us and are really looking forward to the coming season. It was lovely to catch up with owners and also to once more enjoy a visit to this beautiful region of Italy. It was glorious weather for the week, the temperature was cool, but the sun was out and the mist in the valleys in the morning was breathtaking.
Our first port of call was a lovely newly refurbished house in Pergo close to Cortona, a pretty two bedroom house surrounded by olive trees and a small vineyard called Casa Lavanda. We moved from there to the popular Borgo Elena; a small group of apartments close to Cortona and makes a great base for families and couples alike looking to explore this stunning area of Tuscany.
From Borgo Elena we moved on to Ai Cedri and met the caretaker Marsia. You'd never know it from her Italian, but Marsia is originally from Preston. She knows the Cortona area like the back of her hand. And there's a 10% off all bookings made before 31st January at AI Cedri. Only a few weeks available now so move quickly.
From Ai Cedri we moved on to Casa Lorenzo. This was our lunch stop, and although I should remember that a lunch invite in Tuscany isn't one to be hurried, I'm never quite prepared for what's surely to be presented. Lorenzo's mother was stoking the outside oven as we arrived and piling chickens on the coals. Casa Lorenzo was looking good with some new additions to the garden including a swing for children and a covered table tennis area. Lunch was delicious, with fresh salad from the orta (allotment) along with chicken fresh off the coals. 
One would think that chicken for lunch would be enough, but oh no, the chicken was swiftly followed by some fantastic local steak which simply melted in the mouth. Pudding was chocolate heaven. We had fun meeting Lorenzo's newly extended family. His youngest daughter Alice, is just one year old, and as you can see from the picture, she's able to hold her glass of Processo quite proficiently…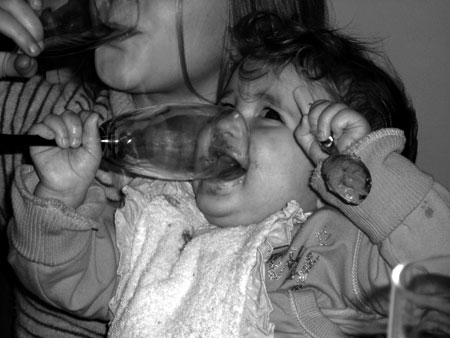 And onto Villa La Senaia which is a short drive from Castiglion Fiorentino. The town is really pretty with a selection of great bars, restaurants and shops. La Senaia is a lovely comfortable villa with fabulous views.
From La Senaia onto Poggio dei Mandorli. The notable change to this house was the trees which had always obscured the view have gone. The manicured gardens were looking as lovely as ever and the cottage is just perfect for a couple looking for complete privacy and tranquillity.
As the light was fading we made our last visit of the day to Villa Anna. This fabulous five bedroom villa is in the pretty village of Citerna and is a long term favourite with many of our clients who return year after year. Although not a typical Tuscan house, we love it as it's a fantastic space for groups of friends and families alike. It now boasts a brand new kitchen which will bring joy to the cooks amongst you.
We then headed back over to Foiano for supper and met up with Ian. We stayed at Casa Ago which was simply delightful. We sat by the log burning stove warming our toes and with the addition of heated mattresses, we had a great nights sleep.
On Wednesday morning we were up bright and early to visit Fabrizio at Villa San Martino, a super villa for large groups (sleeps 10–16) I know this villa well having spent a wonderful family holiday there a few years back and can't recommend it highly enough.
From San Martino we headed onto Le Terrazze where we received the usual warm welcome from Antonella & Fiorenzo who plied us with red wine and prosciutto. Our final stop was to see Mariella at Santa Lucia which was as lovely as I had remembered. Sarah and I then dropped Zaira off for a well earned rest at Poggibonsi station and headed back to Creti for our final night at Casa Ago.
But before we returned to our respective homes on Thursday evening, we had an exciting meeting in Rome of which there will be news of later. I can confirm it involves more Essential Italy properties in Sicily. Stay tuned…