Villa dinner number two in Puglia for the Dobson family
Posted on 4 August 2020 in Food and Wine, Italy, Puglia, Villa Holidays
Here's our favourite guest blogger of the summer!   Dinner number two at villa number two – Villa Callisto.
The owner of Villa Callisto recently advised us that her 'friend and pretty decent cook' had taken up residence in Puglia and was looking to cater for people in the area.  When Mr Dobson asked if he was able to secure the services of a cook at Villa Callisto to celebrate his wife's birthday we turned to the owner to ask for the contact details of said cook.  You can imagine our delight when Sophie Grigson's email address landed in our in-box.
HAPPY BIRTHDAY ERICA!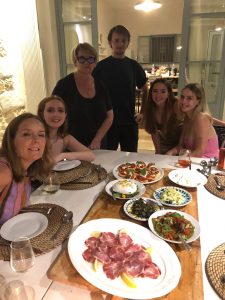 A cook in Puglia – by Owain Dobson- resident at Villa Callisto August 2020
Week two of our holiday, and our second night of private dining – we were blasé about it by now – veterans of the elite jet set world of chefs cooking for you – Angelo spoiled us at Masseria Lavandula, doesn't everyone have people come to their house and cook them food to eat?
So the second Sunday arrived along with celebrations for Erica's birthday.  We had been out for amazing pastries and coffee, had presents, and exhausted ourselves sitting by the pool.  At 4.30pm the buzzer went on the gate…..I would like to say I strolled up to it, and casually opened it, but in reality I had been sitting like a little school kid waiting. I positively skipped to the gate control to find it wasn't working and the button wouldn't open the gate as you would expect (this is Italy after all), so just in case Sophie left, I sprinted down the drive to open the gates.  She was there, with her son Sid.  She drove through the gates, axle groaning under the weight of the food on the back seat, and waved hello.  We spent 15 minutes moving all the food out of the car, chatted, talked about our favourite foods, Ceglie Messapica, and life in general, whilst I pretended to be calm around this food Goddess, Sophie Grigson.  She was really polite, but I know she could see through my ice cool exterior and spot I was a dribbling mess in side.  I did a tactical retreat, with one of my daughters also telling me to leave her alone so she could start cooking and that I was just annoying her – Sophie laughed, and I quietly went back to the pool.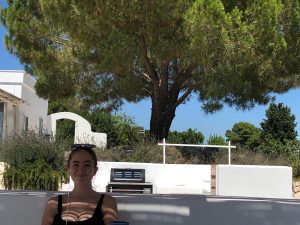 Soon pans crashing, and amid a bustle of noise, amazing smells started to come from the kitchen. I returned to poke and prod and discuss things.  How was she going to turn lemon pith into an amazing dish? What was she stuffing the courgette flowers with, what was the subtleties of cooking the courgette in just oil and adding raw garlic and lemon zest at the end, how did they bake the semolina bread and why would it last longer than normal sourdough……the conversation carried on, the cooking progressed and despite my daughters best efforts to tell me to stop talking, we discussed favourite foods, Puglia, her journeys, Sid's photographic skills and plans to travel in a Covid world.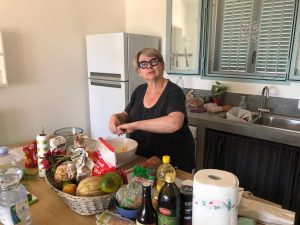 By 8, snacks appeared, 4 types of Taralli including, Chilli and Fennel from a local baker.  Prosecco was drunk, and then emerged carried by Sophie and Sid a TABLE, yes she had a TABLE of Anti-Pasta which she carried out.  Courgettes in lemon and garlic and mint, peppers in cherry tomatoes and garlic (this was so simple and unbelievable), Burrata on a peach and almond salad, bruschetta and garlic ricotta toasts, mozzarella knots, courgette flowers, bread and cheese balls, a pickled onion – I think it was actually a bulb, Capocollo, lemon pith in garlic and oil and the semolina bread.   Well, we obviously asked if that was it and if she was doing anything else!  Sophie is passionate about Anti  Pasta. This is the essence of Puglia and she is writing a book on it – I have already offered to test recipes, and be first in the queue for it – we debated for a little while our favourites, and the subtleties and complimentary nature of every dish,  The food kept coming and we kept eating…..we were rookies at this game as we had forgotten we still had main course and pudding.  Sophie giggled and told us she had not cooked a Secondo course as we might not have room. Ha – I couldn't stand up from my chair, and we had only had antipasto.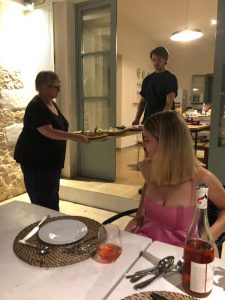 Ochietta with turnip tops followed, a very Puglian dish, with chilli and olive oil and garlic, with local Parmesan.  More wine, more discussion.  We had been eating solidly for two and a half hours by this point.   Could there be more.  Do remember I said her car had come in with the axle groaning…..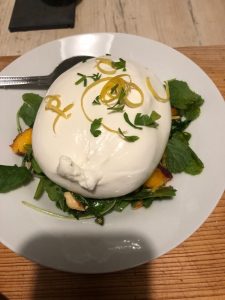 Of course there was more, the birthday cake,  An incredible Ricotta cheesecake, on a shortbread base, covered in slow roasted peaches and a fig essence.  Birthday wishes were sung, and Sophie and Sid sat down with us to consume cake,   Sophie produced a home made Bay leaf liquor (do read her blog on how to make it) and a cherry concoction.  As Midnight came, the kitchen left spotless by Sid, we wished Sophie and Sid farewell.  She recommended about 8 local places to eat, we have tried the pizza place which was unbelievably good and  cost 35 euros for 5 of us to eat!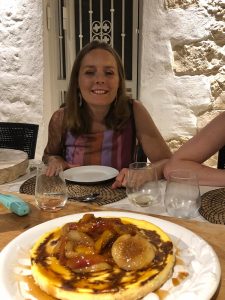 You might have guessed we quite enjoyed the night. Our previous experience with Angelo had been great, but with Sophie we had an immersive night.  Ironic that it was the best Italian food we have ever had cooked by an amazing, beautiful and warm-hearted lady from Oxford, but isn't that the best Italian food – cooked with love!   I'm a total fan.  In fact I have been mumbling about doing it again, but there are so many places to eat still.  We may still meet Sophie for ice cream in Ceglia.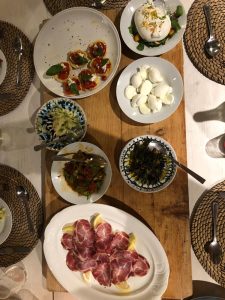 A real highlight of our holiday, a person I wish would be my new best friend, and about 3 days needed in the gym to burn off the food.  We all loved it, and still have. A few leftovers to consume!