Villa dinner number one in Puglia for the Dobson family
Posted on 3 August 2020 in Food and Wine, Italy, Puglia, Villa Holidays
We've been quiet on the blog front over the past few months – no prizes for guessing why!
What better way to kick us back into action than a guest blog – Written by Owain Dobson – on holiday in Puglia –  July 2020 at Masseria Lavandula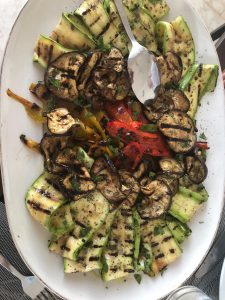 It would be fair to say we were quite excited – our own chef cooking us dinner.  We haven't eaten out for months, so this was turning into double wow!
As the hour approached I was sitting outside waiting for signs of arrival. I heard the crunch of tyres on gravel and leapt up far to enthusiastically to open the gates.  Angelo appeared from around the corner bouncing on his toes, waving, shouting Ciao, and a few other things I didn't understand.  Then he switched to English, beamed and proceeded to make what felt like 10 journeys laden down with food and other exotic items.   We were told to sit down and relax.  The next few hours went by in stages.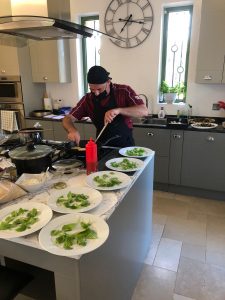 Every time I turned away something else had happened.  The table from being empty was dressed and decorated to look like a Michelin restaurant.  Angelo was in full Chef attire, plates were laid out and decorated, pans bubbling, aromas of what was to come wafting around the house.   He checked a few times on diets, and timings, and we were all sitting down in our best outfits (not beach shorts I had been advised by the family!) with Angelo describing the food.  Antipasto with delicacies such as stuffed Courgette flowers, fresh figs, hazelnuts and Angelo's own honey, Bruschetta and other delights to start.  We followed with the most amazing pasta, so perfectly cooked all that could be heard were little sighs around the table, a tomato sauce, and green beans that were simultaneously soft, crunchy and perfect – like I can never make!  He brought a local hard cheese with the perfect saltiness to balance the sweetness of the tomatoes.  This was accompanied by plates of perfectly grilled vegetables.  Italian vegetables and basil just taste so good compared to the same ones at home.   More chat, debate and discussion on our favourites, and then out came pudding – a local tart, filled with patisserie and sweet cherries, topped with sweet pastry and icing sugar.  It was only polite to eat as much as possible, but still a few days later we are eating his honey, veg and cake.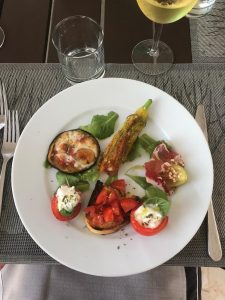 All too soon Angelo popped his head out, said everything was clear and washed up and we were saying our goodbyes.  As his car disappeared down the dusty drive, we sat around the pool too full to move, looking forward to the next week when Sophie Grigson (yes the Sophie Grigson) was coming to cook our next private meal.  I'm excited about the meal we had, I am beside myself about Sophie cooking for us, a woman I have followed for thirty years.  I am still laughing that Helen wondered if we wanted Sophie to cook for us……Now back to the pool as that sun lounger won't hold itself down.  Post number 2 coming up next week…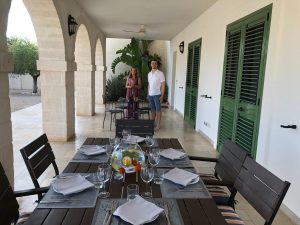 Owain moved as planned last Saturday to Villa Callisto where Sophie Grigson was booked to cook to cook in celebration of a birthday within the family last night.  As this goes to press we have his photo's but not his words.  Having seen the photos we suspect they are all still sleeping off lunch under the shade of a tree!