Day out in Rome
Posted on 23 February 2009 in Uncategorized
Ian writes: this weekend I spent a great day out in Rome with my two boys. We caught the train from Arezzo down to Rome and wandered the streets of this amazing city. There is so much to see and do without breaking the bank: Trevi fountain, Spanish Steps, Colosseum and the Bocca della Verità were on our schedule.
The highlight of the day was an evening game at the Stadio Olimpico to see Roma play Siena. It's nearly always possible to get tickets as the stadium is rarely full; though avoid Roma/Lazio and the major Seria A teams. Unless you support them of course…
And the result? 1–0 to Roma. The boys were thrilled and Sunday was spent out in the garden re-enacting the match. Needless to say 'I was Siena' and the result was always the same.
La Bocca della Verità
Place your hand in the mouth and if you tell lies it will be bitten off. While we were there, no blood was to be seen. So you can be sure when I say: Come to Italy with Essential Italy; it will be your best holiday ever – you know I'm telling the truth!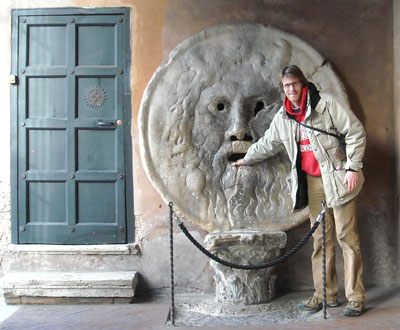 Trevi Fountain
The surroundings are a bit of a tourist trap, but the fountain itself is definitely worth a visit. Launch a coin over your shoulder and you are sure to return to Rome; a good earner for the town council I reckon.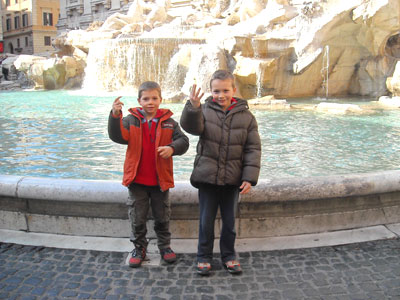 Stadio Olimpico
A huge marble obelisk engraved with 'Musolini Dux' meets you upon arrival to the Foro Italico sports complex.