Client feedback | Masseria Due Torri
Posted on 25 September 2009 in Uncategorized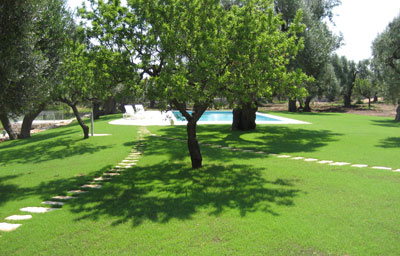 'Just thought I'd drop you a note to say how much we enjoyed our stay at Masseria Due Torri last week. Everything exceeded our expectations; usually a website conveys a positive picture and the reality can sometimes be some what less rosy, but at Masseria Due Torri the reality is that it was all better than a website could ever portray.
The surroundings were beautiful amongst the olive groves and gardens, the pool relaxing and the accommodation stylish, immaculate and very well appointed. You mentioned the butcher up the road who also serves a BBQ in the evening and I imagined us being up there every other night but the reality is we didn't even make it there, there were too many other options!
My wife and I both felt that a large part of what made the holiday so enjoyable was the hospitality shown by Doug and Elizabeth. They were the perfect hosts and made us fell very welcome and at home, full of advice and recommendations for the local area. Breakfasts were the best start to a day and went from 30 minutes on day one to 90 minutes at the end of the week.
Thank you for your help in arranging everything, quick and efficient, and I would have no hesitating in recommending your services and most definitely Masseria Due Torri.'
Rhys Jellie, London, UK