Autumn breaks in Tuscany
Posted on 14 August 2010 in Tuscany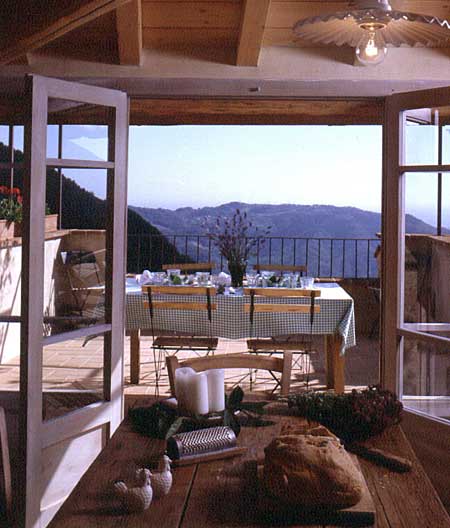 Helen writes: As our summer season draws to the end, my thoughts start turning to the olive picking season and the smell of roasting chestnuts filling the air. Here are some of my favourite Autumn Tuscan retreats:
Casetta al Castello. This pretty stone cottage is in the south of Tuscany in beautiful countryside a short drive from Roccastrada. The owner Silverio, will show you where to forage for mushrooms under the cork trees around the house, and you can then prepare a lovely warming mushroom risotto in front of the roaring fire, washed down with a bottle of Brunello.
Nicolo. Ian, Sarah and I spent a lovely few days at this beautiful apartment last November. The view is spectacular. Each evening we returned to the terrace to watch the sun set over the sea, moving ourselves inside to eat supper in front of the blazing fire.
Casa Valentina. This three bedroom house is in the small village of Aquilea – a short drive to the beautiful town of Lucca. The house is cosy and warm. For the hikers amongst you, there are some fantastic walks around the house without the need to get in your car.
Casa Ago. This one bedroom cottage is positioned between Foiano and Cortona. It has a lovely wood burning stove and the owner Anna who lives close by, will throw in a free pasta making course for any couples travelling in October, November and December.
Bucciano. This is a group of apartments is very close to the truffle capital of the world, and October is the time to be there. Miniato is buzzing with truffle hunters and their dogs during the autumn. The truffle markets are a real treat for food and people watching.
Le Terrazze. Always on our list of favourites – come rain, shine or snow – it's a great starting point to explore the Tuscan towns of Arezzo, Cortona, Montepulciano, Florence and beyond. The owners who live next door will happily share their local knowledge with you.
Ripiano. This house close to Bagni di Lucca is great for a group of family or friends who want to get away from it all and have perhaps one of the best views in the whole of Tuscany. It's another of our properties I always have to be dragged away from when we visit.
There are more places perfect for experiencing Italy in the autumn, so if you want to discuss an Autumn / Fall break in Italy, do give us a call and we'll happily assist you in any way we can.