Accommodation on the Amalfi coast
Posted on 21 May 2009 in Uncategorized
Helen writes: Ian and I have just spent a lovely week in and around Sorrento. We stayed at the lovely Oasi Olimpia where Carmen (below right) and all her team looked after us perfectly.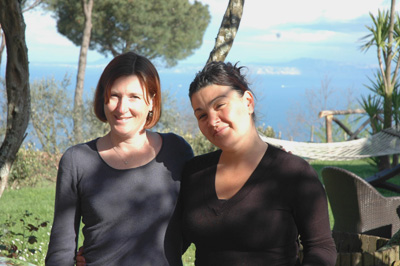 We also visited a couple of new small hotels in the region and are delighted to be able to add them to our website.
Relais Gourmand

Antonio Mellino and his wife Rita own the beautiful Quattro Passi restaurant, which is the very proud owner of a Michelin star. Unfortunately we couldn't stay for lunch, however based upon the biscuits we were given with our coffee (aqua calde con Fettina di Limoni in my case) it's a treat not to be missed if you're in the area.
Antonio and Rita have decided to branch out to offer hotel accommodation (Relais Gourmand) and we're delighted to be able to offer all our clients who book accommodation for seven nights or more a complimentary dinner at Quatro Passi. The views out to sea from the pool are truly magnificent.
Lubra Casa Relax

This brand new B&B has just opened in the small village of Schizzano; the first clients had just arrived two days before us were enjoying the sunshine on the terrace during our visit. Although the village is small it has a couple of restaurants and bars along with a village store. The B&B sits on the hillside with great views out over the sea to Capri.
These properties are sure to be hits with our clients, and I shall certainly be returning to both in the near future.