A traveller's guide to Ragusa
Posted on 4 January 2016 in Sicily
One of the best towns to visit on a holiday to Sicily has to be Ragusa, a UNESCO-listed Baroque town located in the south-eastern area of the island, also featured in the popular Italian detective series Inspector Montalbano.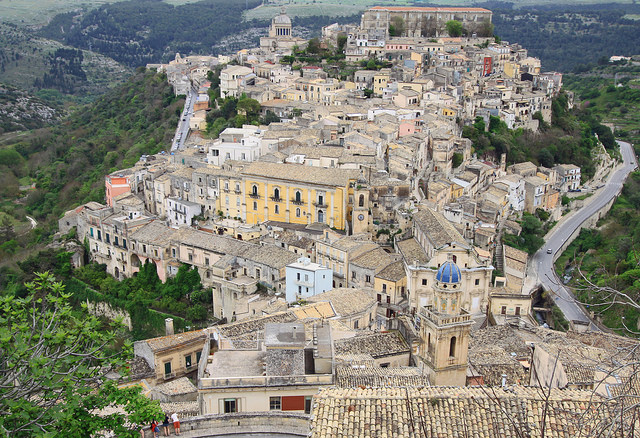 Built within the Monti Iblei, an area of high ground crossed by ravines, and, following an earthquake which took place in 1693, is made up of two parts Ragusa Ibla and Ragusa Superiore. Ragusa Superiore is the more modern upper town built following the earthquake, while Ragusa Ibla, the older nucleus of the town, is the best place to head to if you're looking for the real flavour of the town, its narrow streets lined with quaint cafes, shops and restaurants.
As you wander through the character-filled lanes of Ibla, you'll find bags of charm in the traditional Baroque buildings, the grandest being the cathedral, the Duomo di San Giorgio, tucked away from the streets by a flight of steps and housing some of the town's most prized artworks. Alongside the church is the Museo del Duomo, offering an insight into what the church was like before the earthquake struck, featuring artefacts such as stone carvings and architectural drawings. If you'd rather just sit back and watch Sicilian life unfold, there's the Giardino Ibleo, the public park, with leafy gardens where couples stroll arm in arm, or simply sit back at one of the small cafes, enjoying a wine-flavoured gelato or a long drink.
While Ragusa Ibla is more popular with tourists, Ragusa Superiore also has plenty to offer visitors, and is an energetic climb up from the old town below. Superiore also has its own cathedral, the Cattedrale di San Giovanni Battista, with the main street, Corso Italia, lined with other attractive buildings. The Museo Archeologico is a must for anyone interested in Sicily's history, including some truly fascinating artefacts from the local area, including a sculpture of a warrior.
Alongside the various attractions, the town also comes to life with a number of events such as the popular Easter and St George's Day processions. Throughout the summer, the town celebrates the Estate Iblea, a summer festival of music and events, while more entertainment can also be enjoyed throughout October during the busking festival.
Image: vil.sandi, available under Creative Commons