7 days in Puglia – A week in series
Posted on 25 April 2018 in 7 Days In..., Puglia
Our next '7 days in…' blog will give you some great ideas on what you could get up to in a week in Puglia. The heel of Italy's 'boot', Puglia boasts a plethora of attractions, many of which are off the beaten track and remain fairly undiscovered. This area is a superb option for anyone looking to visit Italy, but away from the main areas that tourists flock to. From Lecce, known as the 'Florence of the South' to Bari, the vibrant capital, each area offers its very own individual charm that you will simply fall in love with!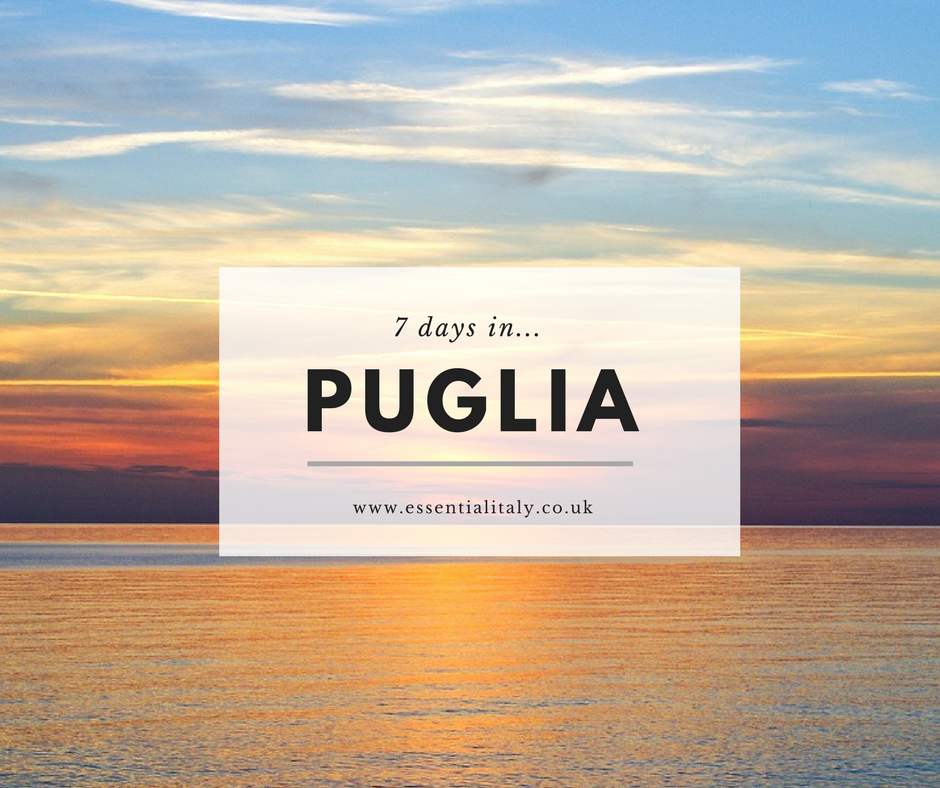 The main airports in Puglia are Bari and Brindisi, and from both you can easily access the rest of the region. We recommend hiring a car at the airport so that you can make the most of your experience and explore the various magical spots hidden all around. This also means that you can take a leisurely drive to your villa and settle in, in comfort. If you want to take this chance to explore Bari further, then it is a great opportunity; simply pop your suitcases in the car and take a wander through the winding streets. We certainly think that the first day when you arrive at your holiday home should be a day of rest, recovering from any travel times, lounging by the pool and getting to know the local area. So unpack your suitcase and head out to sample some rich Italian food in a local restaurant and rest up before your first full day!
Day 1: Lecce
Often thought to be the 'most beautiful city in Italy', Lecce is the place to be if you are a lover of baroque architecture, decorative arts and fine wine. Everything about this city will leave you in awe, from the traditional papier-mâché sculptures to the beautiful boutiques and winding streets. Lecce offers the perfect balance between lively and relaxed that make travellers swoon over the sheer beauty. Whether you are in search of a day of shopping for unique trinkets and clothing, relaxing in a restaurant/bar or looking to split your time between the sandy beaches and buzzing city, Lecce has it all on offer. The Adriatic and Ionian Seas are easily accessible from Leece meaning that you can explore until your heart's content, and catch your first Italian sunset on the beach. If you want to learn more about this magical city, read our blog on life in Lecce!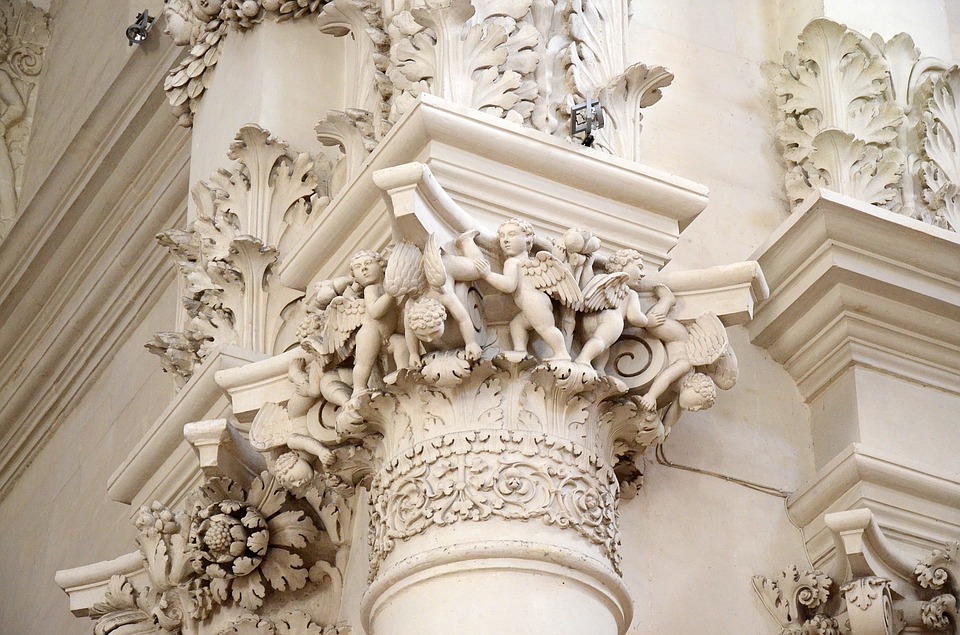 Day 2: Ostuni
The 'White City' of Ostuni is quite astounding, having been given its name as a reflection of the iconic whitewashed buildings which gleam in the sun. This city is built atop a hill which stands proudly looking out over the Adriatic sea and is fortified by the ancient walls. Be sure to take a trip to Ostuni Cathedral and the Bishops Place for a cultural experience. Or if you are feeling brave and want a little bit of an adrenaline rush, head over to Cuichino Birichino – Ostuni Adventure Park. This is perfect for children and adults alike, and is the biggest adventure park in Puglia! The activities on offer here range from yoga classes and eco-fitness to trails on trees zip-lining, falconry and archery, so you can be sure that everyone will be kept smiling for the entire day.
Day 3: Alberobello
Alberobello is a UNESCO site renowned for the traditional cone-topped trulli. Although a small town, there certainly is plenty to be explored, particularly with the breadth of trulli available which create an incredibly unique image. These distinctive abodes were once used as peasant housing and storage sheds; however many have been transformed into beautiful villas and homes that have a real sense of character and charm. Many of these are available to rent if you would really like to make your experience as authentic as possible, but even if not, you will certainly want to see the beauty of Alberobello for yourself. Aside from the trulli, there are some wonderful quaint museums, gift shops and local restaurants to explore on your trip. If you're looking for a truly unique experience, there are Segway tours (even Segway wine tours) on offer so that you can see the sights from a whole different view!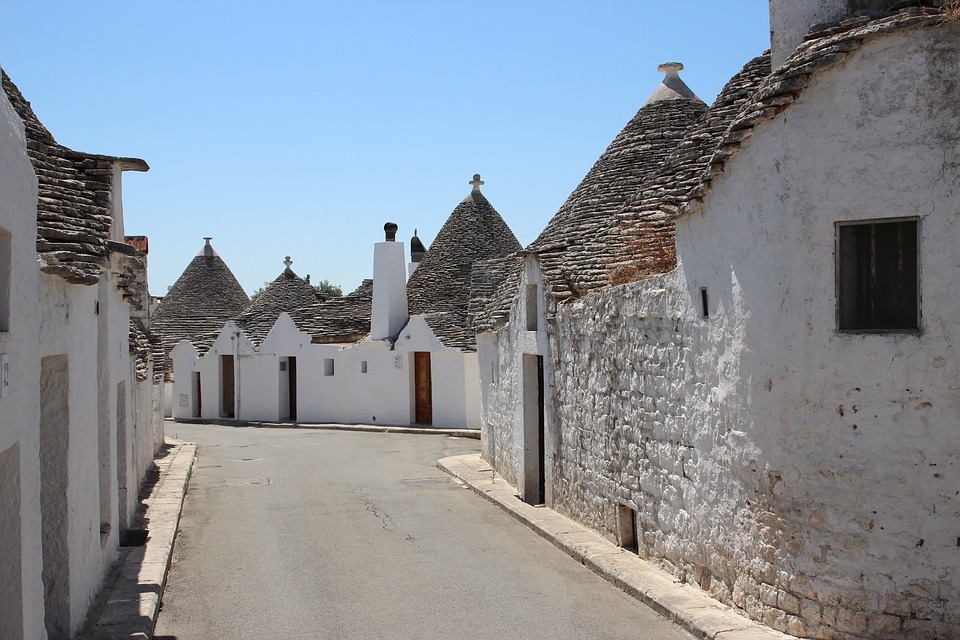 Day 4: Basilicata
Otherwise known as Lucania, Basilicata is an experience not to be missed. Within the region is a town called Matera, which is famous for its cave-dwelling district, the sassi. The sassi themselves are thought to be amongst the first human settlements in Italy and are essentially houses dug into the walls of the calcarenitic rock. The roads and pavings will often take you over the top of, or underneath some of these intriguing homes. These hidden caves are certainly undiscovered gems, with some having been left to ruin, and others transformed into wonderful abodes and eateries. Basilicata's other defining features include the rolling green hills, forests and mountains that are just waiting to be explored. Although Italy is well known for its beaches, the attractions inland provide something quite incredible too. Watch the sunset from the mountain top with a picnic of fresh produce and you will have an evening you'll wish never ends.
Day 5: Vineyard visit
Although Puglia is not commonly known for its wine producing capabilities, it is certainly an up and coming area when it comes to fine wines. Every trip to Italy should include a trip to a vineyard or winery, even if you aren't a massive wine drinker, and Puglia is no exception! The authenticity and pride of the vineyards offer a magnificent experience, and the wine here will likely be much better than anything you've tasted before. There are many tours and tasting sessions available all over the region of Puglia, many of these can even be combined with a cooking lesson so that you can bring your skills home. Get in touch with us today and we can help you to book a wine tasting or vineyard visit during your holiday that is easily accessible from your holiday villa.
Day 6: Polignano a Mare
Polignan a Mare is a small town located within the capital city of Bari; this is an absolute must-see whilst visiting Puglia. Perched atop a 20m-limestone cliff, it offers some of the most magnificent sea views to be seen all over the world. You truly will be left in shock at how amazing the sights are into the turquoise seas from Grotta Palazzese. The Blue Flag Beach is the perfect place for families with calm waters and soft sand. The real star of the show in Polignano a Mare though has to be it's incredibly unique cave restaurant. This gives you the chance of a world-class dining experience within a magical cave which protrudes out around 74ft above sea level. The views that can be seen from the dining tables are simply incredible, and this has to be one of the most romantic settings around! You won't find anything like this anywhere else in the world, so this is sure to make your holiday a memorable one for all the right reasons!
Day 7: Departure day
Your holiday may soon be over, but the memories you have made will last a lifetime. Finish your packing early on in the day then you will have minimal worries when you go out and enjoy your last few hours in Puglia. Soak up the last few rays by the pool of your villa in Puglia, or head back to Bari a little before your flight to stop off for a last minute sip of fine Italian wine, purchase those last few trinkets and treat yourself to some Italian sweet treats! We're sure that Puglia will keep you coming back time and time again, so don't worry if you didn't manage to explore the full extent of the region, it will be there waiting for your return!