5 ways to enjoy a romantic holiday in Sicily
Posted on 14 April 2016 in Sicily
Italy is known for being one of the most romantic holiday destinations in the world, with Sicily, an island paradise promising truly idyllic views, being the perfect place for a couples' getaway. Treat your loved one to a holiday to remember at our holiday villas in Sicily and create some incredible memories with these romantic experiences.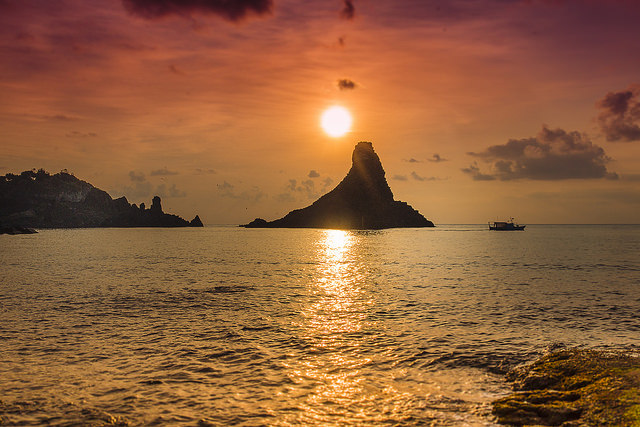 Watch the sunrise at Mount Etna
Mount Etna, Sicily's famous active volcano, dominates the skyline, though there's no better time to see it than at sunrise, when the volcano's enormous silhouette stands tall against the backdrop of the colourful morning sky. There's also excellent views to be enjoyed from the top, looking out towards Taormina and the coast. Complete the experience with a picnic breakfast and you'll enjoy a truly incredible start to your day.
See the whole island on a helicopter ride
For a different way to see Sicily which will surprise your loved one, why not try a helicopter flight? You'll be able to see Sicily's striking volcanoes from above, first by soaring over Mount Etna, before heading over to the Aeolian Islands for a bird's eye view of smoking Stromboli. You may even have time to stop for lunch here and enjoy a swim in the stunningly blue waters.
Cruise into the sunset
If the sunrise is just too early for you, you can always watch the blissful sunset while enjoying the luxuries of a private cruise. Taking you around Sicily's beautiful and scenic coastline, crack open a bottle of champagne and enjoy the dazzling views promised by the cruise as you watch the sun melt into the western Mediterranean.
Enjoy Sicily's gastronomic delights
After a day of sunbathing on the beach, lounging by the pool or strolling through the streets of Sicily's many towns, why not charm your partner with some of Sicily's finest gastronomic delights? Whisk them away to an authentic family restaurant or go the extra mile and whip up something yourself in our well-equipped villa kitchens, before serving dinner out on the terrace with candles and a bottle of wine.
Treat yourselves to a night at the opera
Classic Italian operas make for some of the most romantic performances you'll ever see; full-blooded and passionate, they capture a snapshot of iconic Italian romance. Sicily is home to one of Europe's finest theatres and opera houses, the Teatro Massimo in Palermo, where, for an even more luxurious experience, you can even enjoy a performance from your very own private box. Make the night complete with a post-performance supper in one of the island's many romantic restaurants.
Image: andrea, available under Creative Commons