5 Reasons Why You Should Visit Puglia
Posted on 18 December 2017 in Family & Friends
With 2017 slowly coming to an end, you may be finding yourself daydreaming about your 2018 holiday. Across Italy, there are a host of destinations for you to explore, each with something different to offer. However, here at Essential Italy, we believe that you will not be disappointed while on holiday in Puglia.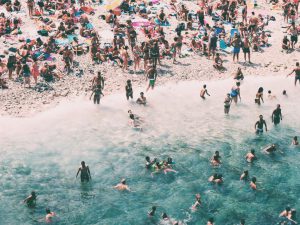 Boasting a number of world heritage sites, a plethora of sandy beaches and stunning white-washed buildings that contrast with the cerulean-blue ripples of the ocean, Puglia should be top of your must-see list of destinations. So, take a look at our array of luxury villas in Puglia and dive into our list of the top reasons why you should be sure to visit Italy's heel!
The locations
Split into six provences, each offers you something different. From the breathtaking baroque buildings in Lecce to the buzzing harbour in Bari, the fascinating variety of towns and villages across the region are sure to provide you with a range of different activities for you to enjoy while on your holiday. Settle in one provence or explore the length of the boot, you'll never run out of things to do.
Less crowds
Despite being one of the more popular of the 20 regions, Puglia is still somewhat unknown. If you're looking for an option free from some of the crowds that you would expect to experience in Venice or Rome, then it is the perfect location for you! Although popular with the Italians who will flock to its sandy beaches over the summer months, you'll find navigating the winding streets easier in comparison to the more typical tourist destinations such as Tuscany.
The food
Puglia is the perfect place for vegetarians to visit. Historically, as one of the poorer regions with a history of poverty, locals couldn't afford to buy meat. Instead, they came up with a number of uses for vegetables. As one of the most sun-drenched locations, in addition to being extremely fertile, those from the region still utilise their seasonal, fresh vegetables, incorporating them into their antipasti dishes, as well as their famous orecchiette pasta.
Sandy beaches
When looking for a holiday destination, the perfect sandy beach is top of the list for many. Luckily, Puglia is home to a coastline edged with turquoise, sparkling waters. Highlights include the 4km stretch of Torre Lapillo, where the crystal clear waters merge with the brilliant blue of the sky at the horizon, providing your with a tranquil backdrop for your holiday and Punta Prosciutto, where the teal-toned water and the emerald hue of the lush greenery contrasts with the pearlescent sand.
The architecture
Scattered across the sweeping Puglian landscape you will find a number of trulli; a traditional dry stone-walled hut covered by a conical roof. Peppering the region, these dwellings date back to the Middle Ages and can typically be found in amongst olive groves and vineyards. In addition to the trullo, amphitheatres, such as The Roman Amphitheatre in Lecce is an extraordinary example of Italian architecture, so marvel in the details on a wander around the town.
Have you ever visited Puglia? If so, we would love to know what your favourite part about the region was, so let us know on our social media channels. Over on our blog, we have a range of other guides about regions, such as Abruzzo and Sardinia, so check them out here for more information!