A winter festive treat to try on your holiday
Posted on 8 December 2016 in Uncategorized
When Christmas descends on the world, the festive spirit brings joy to everyone. With loved ones around you, there is no better time to put on a feast, and enjoy some great food together! Once the turkey and stuffing, along with all the other trimmings, has been demolished it's time to turn your attention to the sweet treats on offer! If you're feeling a little bored of Christmas cake and mince pies each year, or you're taking a Christmas break in our luxury villas in Italy, cooking up some authentic Italian treats may be just what you need to satisfy that sweet tooth. We will be giving you some great Italian treat recipes to try in the countdown to Christmas, so you can indulge in a feast this Christmas!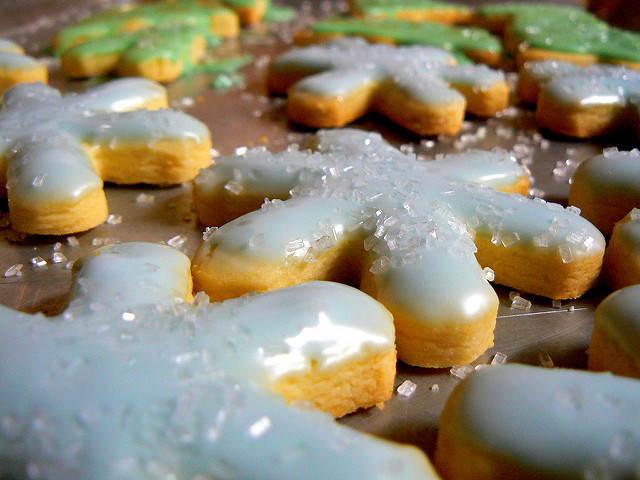 Ricotta cookies
Put a twist on the normal cookies by offering up some ricotta cookies instead. For many the sound of putting cheese into a sweet treat may be a little off-putting, but we can assure you that these cookies are delicious- tasting just like the sugar cookies you have had before!
Ingredients you will need:
For the cookies:
1 ¾ cups of granulated sugar
½ pound of softened butter
2 eggs
15 oz. of ricotta cheese
4 cups of all-purpose flour
1 tsp. baking soda
1tsp. baking powder.
For the glaze:
5 tbsp. of milk
1 tsp. of almond extract
1 ½ cups of powdered sugar
Sprinkles
Make sure to preheat your oven to a toasty 350 °F or 180°C. In a medium bowl, mix the butter and sugar into a cream. Then add the eggs, ricotta cheese and vanilla extract until it is all combined. Take another bowl, of medium size, and combine the flour, baking soda and baking powder. You should then add the flour mixture to the cream ricotta mix, and stir it in until it is all combined into a nice dough. Roll the dough into small balls and place on an ungreased cookie sheet, leaving enough space for them to expand.
Bake the dough for around 8 to 10 minutes, they should be a nice light brown colour. Make sure to allocate time to let the cookies cool before putting them on a wire rack to cool completely. While the cookies are cooling grab another medium bowl, beating the milk, powdered sugar and almond extract until it is a smooth texture. Dip the cooled cookies into the glaze and put back onto the wire rack. Lightly cover the top with sprinkles and repeat for the remaining cookies.
This is just one fabulous recipe to try this Christmas, with plenty of other Italian winter treats to be posted on our blog, you are bound to have a jolly Christmas!
Image:timlewisnm, available under creative commons.