Wine fountain offers free Italian wine 24/7!
Posted on 14 October 2016 in Abruzzo, Italy
If you're looking for more reasons to stay in one of our Abruzzo villas other than its beautiful landscapes and attractions, then this one may seal the deal…Free wine for all, from a fountain!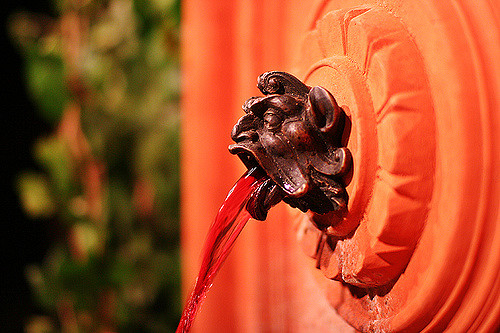 The fountain is the first of its kind, offering locally-produced wine 24/7. The fountain, aptly named fontana del vino, is situated in Caldari di Ortona along the popular pilgrimage route, the Cammino di San Tommaso.
Pilgrims and tourists gather in their thousands to make the journey from Rome to Ortona, visiting the city's cathedral to pay their respects to the resting place of Thomas, one of Jesus' disciples.
The wine fountain is a collaborative project between the vineyard who provide the wine and the non-profit organisation who promote the pilgrimage route. The idea for the fountain came from a similar concept that was integrated as part of the Spanish pilgrimage route, the Camino de Santiago.
Although this fountain is not the first to offer wine in Italy, providing wine on special occasions like local festivals, it is recognised as the country's first 'proper' wine fountain as it will be accessible every day.
One of the most renowned was the wine fountain in Marino, just south of Rome, that is a feature in the town during the town's annual grape festival. 2008 gifted the local residents of Marino with wine in their homes when the wine was accidentally channelled into the local taps rather than the ones for the fountain.
So why not take some great casual walks around Abruzzo and then enjoy a nice glass of wine?
Image Credit: Rob Gallop, Available under Creative Commons.