5 great things to see and do in Spoleto
Posted on 6 January 2016 in Umbria
Ancient capital of the Lombard dukes, Spoleto is a beautiful city in Umbria with bags of charm, from its impressive buildings dating back as far as the Roman times to the surroundings valleys and forests. During your stay in our Umbria holiday villas, why not explore Spoleto and discover the majestic delights the city has to offer?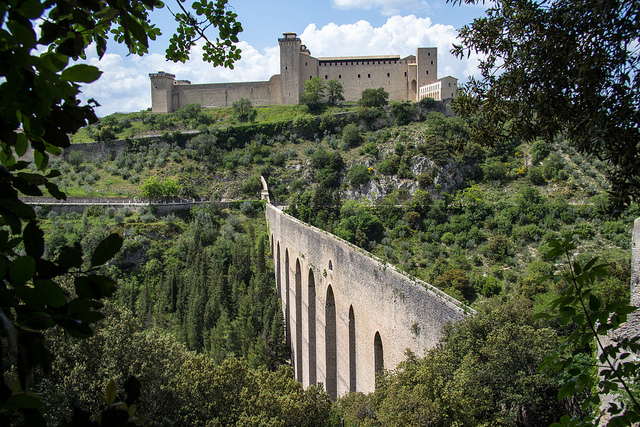 La Rocca
Overlooking the city is La Rocca, a towering fortress and an iconic image of Spoleto. Comprised of six square towers and surrounded by high perimeter walls, over the centuries the fortress has hosted several popes and governors, and commands spectacular views of the city and the surrounding valleys below. Connecting La Rocca to Monteluco is the impressive Bridge of the Towers, measuring 230m long and built in the thirteenth century.
Roman amphitheatre
One of the city's best architectural wonders is the Roman amphitheatre which dates back to the first century. Found in the Piazza della Liberta, the amphitheatre is incredibly well-preserved and is a remnant of a different age, much like the walls which surround the city that date back to the 6th century BC.
Duomo
Most Italian cities feature a Duomo, each different from the one before it. Spoleto's has to be one of the best in Umbria, showcasing several different styles of Italian architecture, from Romanesque to Renaissance and everything in between.
Valnerina
Just outside of the city is the Valnerina, a beautiful area which runs along the Nera river. Perfect for hiking, the area is full of the natural beauty that Umbria has become famous for, including the dominating views of Monte Sibilla standing in the neighbouring Le Marche region.
Eroli's Chapel and the Relic's Chapel
These two chapels should simply not be missed if you're planning on visiting Spoleto – not only are they yet another excellent showcase of the city's beautiful architecture, but also home to some exceptional artworks which have stood the test of time. In Eroli's Chapel, you'll discover the stunning frescoes made by the Pinturicchio, while in the Relic's chapel, you'll find a wonderful statue of the Virgin Mary dating back from the 14th century.
Alongside these five highlights, Spoleto also has a wealth of other great sights to take in, including the Basilica of San Salvatore, Druso's Arch and the cultural event Festival dei Due Mondi.
Image: Andrew Moore, available under Creative Commons