Ten reasons to visit Puglia
Posted on 22 February 2016 in Italy, Puglia
Puglia is one of Italy's most overlooked holiday destinations, situated at the heel of Italy's boot – a region that offers coastline with crystal-clear sea, sleepy whitewashed villages, delicious food and a relaxed way of life. Many people tend to avoid heading so far south, instead opting for the more touristy spots such as Venice, Rome and Florence, though hopefully we can convince you why this region is so worth a visit!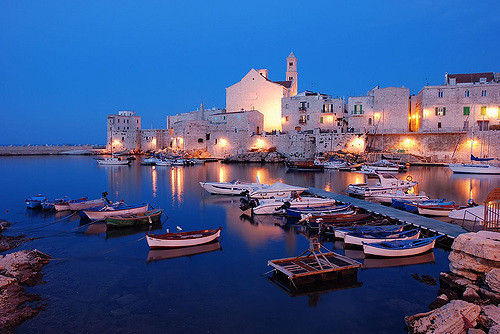 You can avoid the crowds
Several of Italy's highly popular tourist attractions can get highly crowded, though in Puglia it's a different story – though it is an established summer holiday destination among Italians, it has only just grown in popularity in foreigners. You'll still find far fewer visitors here than in other parts of the country, however, so you'll be able to navigate the streets freely as you wish and benefit from lower prices.
Wonderful food
Due to its history of poverty, many of the area's locals couldn't afford meat and so an innovative vegetable diet has been devised instead, making the most of the seasonal and fresh vegetables, cooked to burst with flavour. Among other popular foods are burrata, a delicious cheese oozing with goodness, and orecchiette, a local variety of pasta often painstakingly made by hand.
The welcoming people
Things move at a slower pace down in Puglia, meaning that people will always make time for you, and the locals are truly warm and welcoming. The people here are truly proud of their region, and they will be incredibly keen to teach and show you more about it if you show an interest.
Beautiful towns
One of the things Puglia is most famous for is its host of beautiful towns, lined with elegant trulli – whitewashed stone buildings with conical roofs. During your stay, prepare to lose yourself in the winding narrow streets of towns such as Locorotondo and Ostuni, while also discovering incredible architecture such as the grand baroque buildings of Lecce.
Excellent wines
Puglia in fact produces 20% of Italy's wine, with Salice Salentino and Primitivo red wines being internationally renowned, though the wine produced in the region is in fact very varied. Enjoy a simple glass with lunch or enjoy a tour around one of the many wineries, where you can discover how the producers combine both traditional and modern techniques, and of course sample a few of the wines on offer.
Olive oil
Olive oil is one of Italy's best known exports as well as a staple of the diet. Puglia's Valle d'Itria, in the centre of the region, has the highest concentration of olive trees in Italy, and some of these trees are even thousands of years old. These trees still produce excellent olive oil even today, applied liberally to the majority of local dishes, and we're sure that upon your visit you won't be able to get enough of it!
Rich history
Situated in a prime location in the midst of the Mediterranean, Puglia has been a strategic location for many an invading colony, and as a result, you'll discover influences from the Greeks, Romans, Norms, Spanish, Turkish and Byzantines in the local architecture. Prepare to fall in love with the medieval castles, Baroque cathedrals, and 17th century underground olive mills you'll discover while exploring Puglia.
Interesting traditions
While every region in Italy has a strong local identity, Puglia in particular has a pride which shines through in its food and traditions. Many dishes, for instance, are not attributed to the region, while the Grecia Salentino still maintains Greek traditions from several centuries ago, including speaking the Griko dialect, the pizzica folk dance, and in the food.
Stunning accommodation
From charming farmhouses (masserie) to the trulli which have become synonymous with Puglia, here you'll get to enjoy a stay where you'll gain real insights into the life of southern Italians. Many of our Puglia villas, apartments and hotels are located in beautiful countryside locations, or just metres from a beach, while still being a short distance from the wonderful towns and the friendly people.
Spectacular sea and sun
Boasting over 800km of coastline, Puglia is home to some of Italy's best beaches, lined with golden powdery sand looking out onto crystal-clear turquoise waters. Though the beaches become popular in summer, Puglia's warmer climate means that the beaches are also great to visit out of season, sometimes even well into October.
You may also enjoy reading:
• Five family days out in Puglia
• Puglia: Italy's hidden gem which offers everything
Image: Daniele Testa, available under Creative Commons