San Gimignano's Campatelli tower and house to reopen
Posted on 19 January 2016 in Tuscany
After almost five years of work, one of San Gimignano's famous medieval towers, the twelfth-century Campatelli tower and house, will reopen on April 15 following a two million-euro restoration.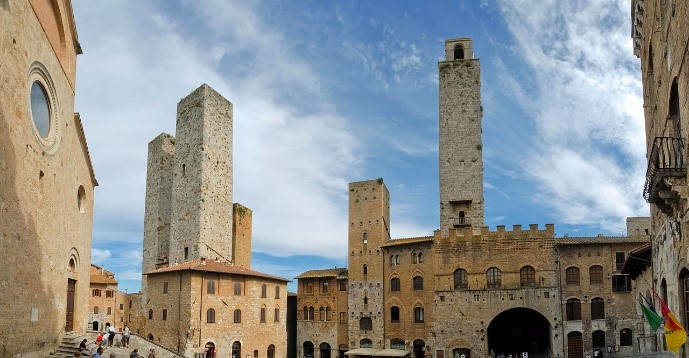 Restoration began on the building in 2011, and included extensive structural work as well as improvements to the chapel. Currently, the tower is in its final stages of restoration, and is currently being decorated with eighteenth and nineteenth century-style Tuscan furnishings to give a further glimpse of life in the past for a wealthy Tuscan resident.
Campatelli tower, found on Via San Giovanni, is just one of 14 remaining medieval towers and, formerly owned by the Campatelli family, is today looked after by the Fondo Ambiente Italiano, who seek to preserve Italy's cultural heritage.
San Gimignano's towers stretch up over 40 metres high, with the tallest being the Torre Grossa, measuring 54 metres high. In the city's heyday, San Gimignano boasted over 72 towers and tower houses, though the 14 that remain today are excellently preserved and stand out boldly on the horizon of the Tuscan landscape, with the city and its medieval towers recognised as a UNESCO World Heritage Site. The oldest tower is Torre Rognosa, the clock tower rising from the town's hall, the Palazzo del Podesta, which measured 51 metres high.
Situated in the heart of the glorious Tuscan countryside, San Gimignano is easily accessible from several of our hand-picked Italy villas, each with a great location and all you'll need to enjoy an unforgettable holiday in this wonderful part of the country.
Image: Mihael Grmek, available under Creative Commons