Sagra di Maggio, Bari, Puglia
Posted on 2 May 2011 in Uncategorized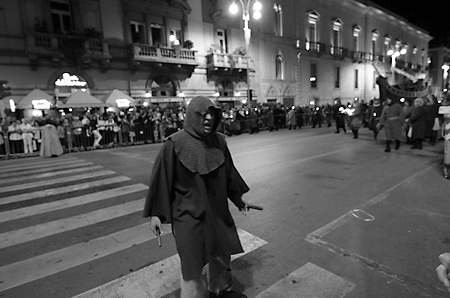 Doug and Elizabeth Manuel write: The patron saint of Bari in Puglia is San Nicola, better known as Saint Nicholas in the rest of the world. Every May there is a magnificent festival in the historic city and this year is the 924th anniversary of 20th April 1087 when 62 sailors from Bari robbed the holy relics of the saint in Myra in what was then Asia Minor, now Turkey, and arrived with them in Bari on the 9th May.
Having delivered the relics to the city a Basilica was built in the Romanesque style to house them. It is still possible to visit the crypt of the Basilica to view the saint's remains in a beautiful tomb. Celebrations continue in the city from late April to mid May. Many of the celebrations are religious but the pageantry, costumes and music will probably be of interest to people of any religion or none.
What will almost certainly be captivating for any tourist to this part of Puglia would be the civil events and this year two major elements are the Corteo Storico (historic re-enactment) of the events where several hundred participants dressed in medieval costumes, including knights in armour, sailors with a large boat, religious figures etc participate in a wonderful colourful and noisy spectacular parade through the historic city. This year the Corteo Storico is on Saturday 7th May. Sunday 8th May is another huge day in the celebrations with the Saint's statue and relics being delivered to the harbour in the morning and celebrated with fireworks and music. In the evening the statue is returned to the harbour by boat and then carried through the old city to the Basilica accompanied by a huge and enthusiastic crowd. During every day of the feste there are music concerts and street performance, with all the streets decorated with a breathtaking display of lights on elaborate frames which turn night into day.
The evening of 8th May is also the day that about three or four kilometres of the lungomare are given over to celebrations, street stalls selling almost every type of food and drink accompanied by music and theatre. That evening and several others conclude with huge firework spectaculars that can be seen from miles away. Several pictures attached show parts of last year's Corteo Storico, the procession of the statue and the fireworks. Masseria Due Torri is a short drive from Bari and Douglas & Elizabeth can offer help to guide visitors so they can enjoy the events. We may be able to take limited numbers who are unable or unwilling to drive.
Image courtesy of Ubaldo Leo.