Relax in the thermal springs of Saturnia
Posted on 25 May 2016 in Italy, Tuscany
A much smaller town compared to the likes of Florence and Pisa, the town of Saturnia, in the Maremma region of Tuscany, is a beautiful place known best for its thermal springs, perfect for a change of pace on your Tuscany holidays.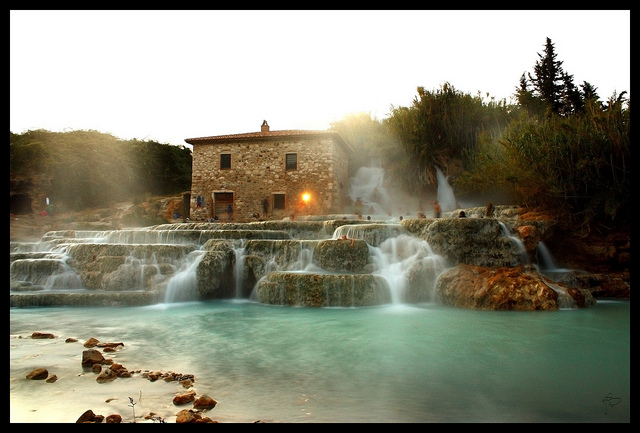 Perched on a hilltop overlooking the springs, the town of Saturnia stands close to the Roman road of Clodia, as well as an Etruscan necropolis, but itself is also steeped in history. Set within the medieval walls built around the town by the Aldobrandeschi family is the Porta Romana (Roman Gates), the oldest structure in Saturnia, which dates as far back as the 2nd century BC. There are also several remains originating from more recent centuries such as the Bagno Santo (Holy Bath), a holy place a few kilometres from the centre, the medieval Church of Santa Maria Maddalena and the Aldobrandeschi Fortress, another example of the influence this powerful family had over the town.
Its thermal springs, however, are the main reason people pay a visit to Saturnia, with even the Etruscans and Romans being well-aware of the area's warm sulphurous waters. They believed that the springs were created at the exact point where Jupiter's thunderbolt fell in a battle with Saturn (hence the name Saturnia). The thermal waters come from several springs, stretching from Mount Amiata to the hills of Albenga and then over to Talamone. With a temperature of around 37.5°C, the waters are incredibly soothing and relaxing, and are believed to have therapeutic properties.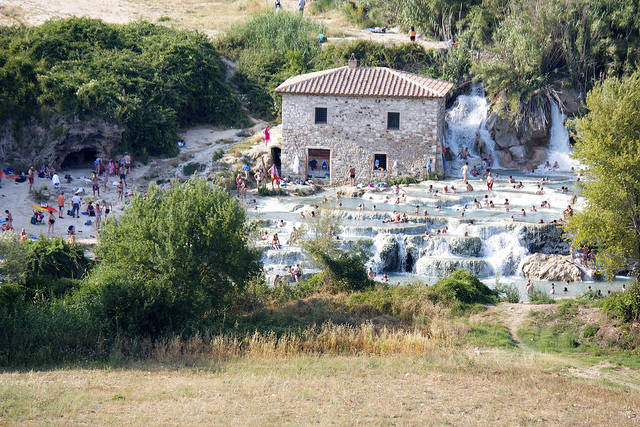 Saturnia has made the most of its reputation for relaxation with a number of wellness and spa centres, though the majority of visitors simply enjoy the town's two waterfalls, which are open to the public and free year-round: Cascate del Mulino and Cascate del Gorello. These waterfalls are made from several natural pools of warm thermal water, making for the perfect outdoor relaxation surrounded by the beautiful Tuscan landscape. During the high season, make sure you arrive early, as finding a parking spot can be notoriously difficult.
Image: Jarle Refsnes, Richard Grant, available under Creative Commons