Recipe: Classic Sicilian cannoli
Posted on 7 August 2015 in Italy, Sicily
Ubiquitously associated with Sicily, the humble cannoli is enjoyed all over the world and is a favourite baked treat either after dinner or as a snack. Now you can have a go at trying to make these famous sweet filled rolls at home with our simple recipe, which is sure to remind you of all the delicious food you've sampled on your Sicily holidays!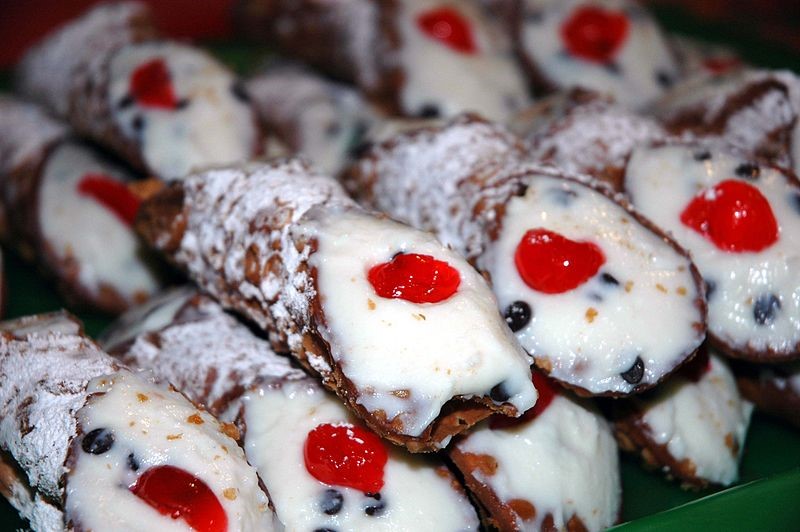 Ingredients (to make 24 cannoli):
For the shells:
500g plain flour
2 tablespoons sugar
3 tablespoons softened butter
2 egg yolks
180ml white wine
A pinch of salt
Lard for frying
For the filling:
1kg ricotta cheese
200g icing sugar
1 tablespoon vanilla essence
50g chocolate chips
50g maraschino or glace cherries
250 whipping cream (optional)
Method
To begin making the shells, first mix the flour, sugar and salt together in a mixing bowl. Add in the butter, cut up into chunks, before adding in the egg yolks. Stir the mixture together with a fork before gradually stirring in the white wine, still mixing with a fork as you pour, until the dough clings together.
Once the mixture is made, form a large ball with the dough and leave it to stand for 30 minutes. After the dough has been left to stand, roll out the dough on a well-floured surface until it was almost paper thin. Cut out circles around 3-4 inches across (a cocktail glass is a good guide) and roll around a metal cannoli tube. Make sure the ends are overlapping and press to seal, flaring out the edges of the cannoli slightly.
Fry the cannoli one or two at a time in very hot melted lard for around a minute, or until they turn brown all over. Once fried, remove from the hot pan and drain on kitchen towels, placing them seam side down. Allow to cool for a minute or two before removing the metal tubes by carefully sliding them through one end of the cannoli shells. Leave the shells to cool completely before adding the filling.
To prepare the filling, first drain the ricotta cheese if watery and mix together with the icing sugar and vanilla essence. Stir in the cherries and chocolate chips, being careful not to over mix. If you wish to have a slighter filling, whip up the whipping cream until it forms stiff peaks, before folding into the filling mixture.
Leave the mixture to cool in the fridge for around half an hour before piping the mixture into the cool cannoli shells.
The cannoli are now good enough to eat, though they can be further garnished by sprinkling icing sugar on the top, or by topping with a spoonful of whipped cream, a cherry and shaved chocolate. If you don't wish to serve them straight away, keep them refrigerated until you do.
Image: Onofrio Scaduto