Classic Tuscan recipe: Pappa al Pomodoro
Posted on 20 January 2016 in Italy, Tuscany
If you've got some stale bread that would otherwise go to waste, we've got the perfect recipe for you to use it with. Pappa al Pomodoro is a classic Tuscan dish – a rich, thick tomato and bread soup, perfect as a winter warmer, though it's also great for summer, too, as it can be served at room temperature.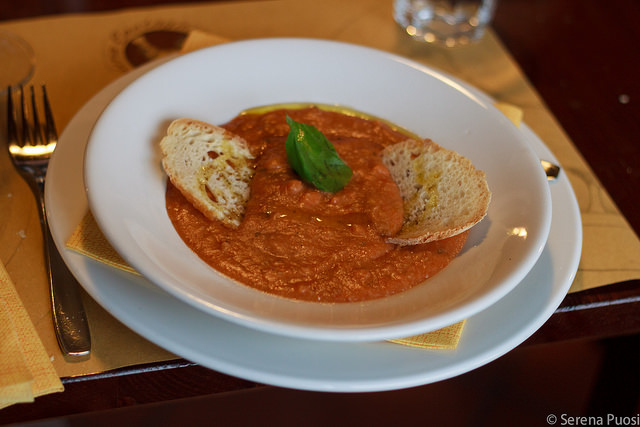 It's made from just a few simple ingredients which are key to Tuscan cuisine, making the most of the fresh, local produce available year round, meaning it's best made while staying at our villas to rent in Tuscany, though you can also easily make it at home. Here's how to make your own:
Ingredients
• 500g (1lb) chopped and peeled tomatoes (you can also use tinned tomatoes)
• 250g (½lb) stale bread, cut into small pieces
• 1 litre of warm vegetable stock or broth
• 4 cloves of chopped or minced garlic
• Basil, chopped coarsely
• 2 tablespoons extra virgin olive oil
• Salt and pepper to season
Method
Place the pieces of stale bread into a large bowl and pour the warm vegetable stock over it, before covering and setting aside for an hour.
While you wait for the bread, you can begin to prepare the rest of the soup by sautéing the garlic in the olive oil in a large pot over a medium heat. Once the garlic begins to change colour, add in the tomatoes and sprinkle in a dash of salt and pepper, before leaving to simmer for 20 minutes.
By the time the bread is ready, it should have absorbed most of the broth, and it can now be added to the pot. As you add it, squeeze the bread slightly with your hand to remove any excess broth. Allow the mixture to cook for another 15 minutes, stirring every so often with a wooden spoon.
The soup is now ready to serve – ladle it into bowls generously and add some hand-torn basil and a swirl of olive oil on top for an extra burst of flavour.
Image: Serena Puosi/Visit Tuscany, available under Creative Commons