Visiting Otranto, one of Puglia's prettiest towns
Posted on 15 June 2016 in Uncategorized
A historic seaside town and port on Puglia's Adriatic coast, Otranto is small but spectacular, and a location perfect either for a day trip or for a longer stay. Offering picture perfect views out over the crystal clear blue waters and decorated with Puglia's characteristic whitewashed buildings, Otranto is a perfect place to visit on your holidays in Puglia.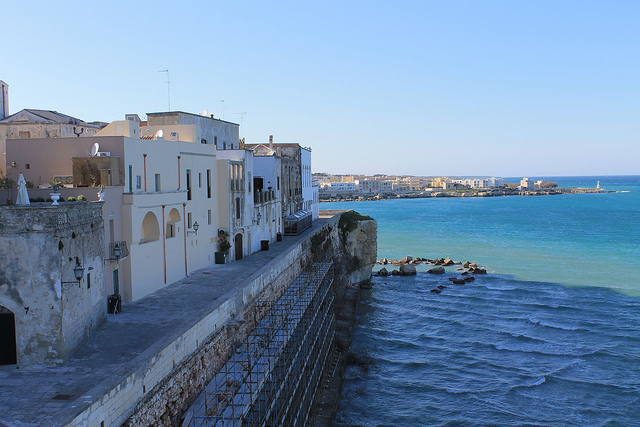 Like much of Puglia, due to its location close to several other coastal regions, Otranto has had a varied history, and has been occupied by many civilisations over the centuries. It was first built up as a Greek and then a Roman port, before being occupied by the Byzantines, Normans and Aragonese, before being invaded by the Turks. Each of these civilisations has left their influence, whether it's in the varied architecture or priceless historical treasures.
The town's Romanesque cathedral is perhaps the stand-out attraction in Otranto, with its defining feature being its twelfth-century mosaic, a large-scale piece created by the monk Pantaleone. Depicting historical, mythical and pagan figures, as well as Christian stories such as Noah's ark, the mosaic gives an interesting insight into how culture had already influenced life in Otranto all those years ago. Smaller fragments from a fifth-century mosaic can also be found at the next-door Museo Diocesano.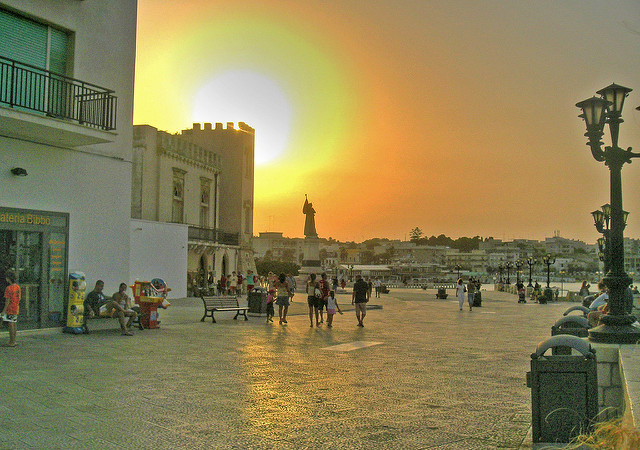 Also worth visiting are the Chiesa di San Pietro, a small church housing Byzantine frescoes, and the fifteenth-century Castello Aragonese, a mighty construction which acted as one of Otranto's main defences. Even if you don't end up visiting any of these buildings, you can still have an enjoyable day out simply roaming the streets and lanes which weave their way through the town. Restaurants, bars and souvenir shops can be found along the busiest lanes in the centre, while leading out are some atmospheric alleyways taking you up to the city's walls, which look out over the harbour and bay, as well as the crumbling ruins which dot the coastline.
Visitors also flock to the town for its small yet wonderful beaches, found both in and around Otranto. The beaches within the town are tiny and can become easily crowded, though to the north you'll fall in love with the sands of Baia dei Turchi. Also nearby are the Laghi Alimini, large lakes which also offer views of the sea, while south of Otranto is the picturesque rocky cover of Porto Badisco.
Image: Patrick Nouhailler, Andrea D'Alba, available under Creative Commons