More than three steps to heaven
Posted on 12 August 2008 in Uncategorized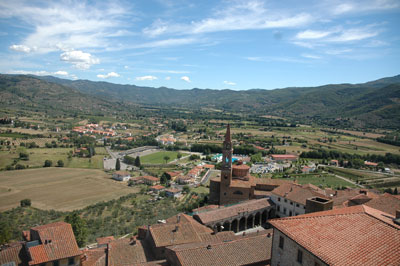 Forget the Duomo in Florence, the leaning tower of Pisa, the Campanile in Siena; head for Castiglion Fiorentino and have a jaunt up the tower called Il Cassero. No queues, 1.5 Euro entry fee and some very steep stairs.
But the view from the top is worth the climb and in all probability you will have it all to yourself. As is often the case it took a visit from friends for me to explore some off-the-beaten-track places, but it was certainly worth it. The view takes in the Val di Chiana and the Val di Chio, one of the most unspoilt valleys in Tuscany. The village lies at your feet and the red tiled roofs look like a Tuscan jigsaw.
One last thing to note: try to avoid being at the top on the hour as the bell is very loud!