Jousting in Arezzo
Posted on 22 June 2009 in Uncategorized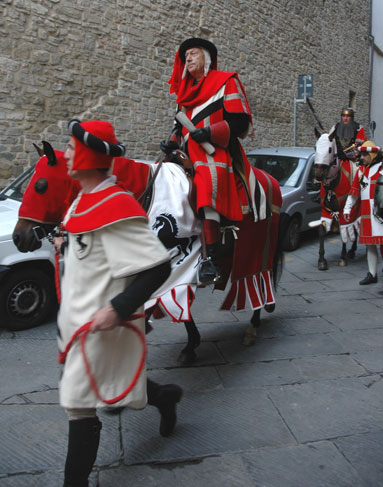 Ian writes: this weekend saw Arezzo buzzing with jousting fever. Twice every year Arezzo transforms into a medieval throng as the traditional jousting event hits town. The four quarters battle it out for the coveted 'Lancia D'Oro'.
This year I was in town on the Saturday afternoon and snapped some of the action prior to the main event in Piazza Grande. Whilst less famous than the Palio in Siena the Giostra del Saracino is equally spectacular and much more accessible; you can walk with the knights and flag throwers as they parade through town.
This year, the 117th running of the event saw Porta Crucifera take the honours. The winning 'knight' Alessandro Vannozzi claimed that his secret was a lunch of pasta with rabbit. The Saracino takes place the penultimate Saturday of June and the first weekend of September.