Join in with a great Italian tradition at Florence's Feast of the Epiphany
Posted on 31 December 2015 in Italy, Tuscany
January 6 marks the twelfth day of Christmas, and an important day for Italians, the Feast of the Epiphany. The day is celebrated all over Italy, though some of the best celebrations can be found in the city of Florence, near our villas in Tuscany.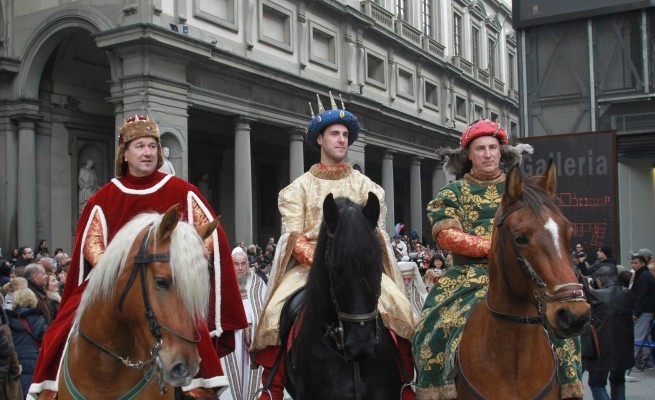 One of the main events of the day is the Procession of the Wise Men, a re-enactment of the journey to Bethlehem, which sets off from Piazza Pitti at 2pm, crossing the Ponte Vecchio and passing through Piazza Signoria before reaching the Duomo, where a nativity scene is on display. The nativity scene features real people playing the roles of Jesus Christ, Mary and Joseph, as well as a host of farm animals. This tradition dates back as far as 1417, though they ceased in 1494 following the expulsion of the Medici family, with the cavalcade finally being resurrected in 1997 during the celebrations of the cathedral's Seventh Centennial.
During the parade, you'll see a fantastic display of not only the three wise men carrying their gold, frankincense and myrrh, but also hundreds of locals following behind them, each in illustrious period costumes, dressed as knights, soldiers, religious figures and more. Several of the locals entertain the crowds as the procession continues through the city, throwing flags and playing drums.
Visiting Florence during the Feast of the Epiphany is highly recommended, though there are also several other traditional events and holidays that take place in Tuscany throughout the year.
Image: Repubblica.it