Italian town sets the new record for the world's largest tiramisù
Posted on 29 May 2015 in Italy
A new world record for the largest tiramisù in history has been set recently, as part of a vast effort by the residents of the north Italian town of Gemona.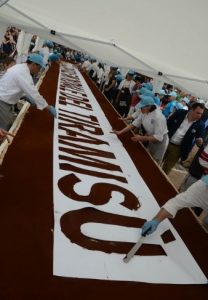 Weighing in at an incredible 3015 kilos, it has beaten the previous Guinness World Record, set only in March, by over a thousand kilos.
It was inspired by a competition being held amongst local shopkeepers in the town, organised by the Conserva association, with the tiramisù project sponsored by several local businesses. Vice-president of Conserva, Mirko Ricci, said that the association decided to attempt to break the record after reading about a 2014 record-breaking effort, which was made in the Veneto region. Since then, the record had been broken in Bahrain, meaning that the people of Gemona had to pull together to create an even bigger dessert.
Around 200 people gathered on Saturday to help with the creation of the creamy coffee dessert, which also combines sponge fingers, eggs, sugar, mascarpone and cocoa, including 30 pastry chefs from the local area. Over 250 trays of tiramisù were put together to form the giant dessert, which translates to 'pick-me-up' in English.
20,000 people gathered to watch the grand weighing of the tiramisù, which involved using a crane, before grabbing a spoon and digging in, with many saying it was the best that they've ever tasted.
If you'd like to sample authentic tiramisù as well as other delicious Italian cuisine in the beautiful setting of the diverse Italian countryside, visit our website to view our hotels, villas and apartments for rent in Italy.
Image: Gemona Turismo