A guide to dining out in Italy
Posted on 23 September 2016 in Italy
Italian cuisine is renowned for its simple but delicious flavours, and the exciting thing about dining in out Italy is that every region has its own specialties. Cooking traditions are part of many people's cultural identity, shaped by historical and geographical differences. It's common in Italy to take a few hours to enjoy a meal and drinks among good company, and we think Italian holidays are best spent sampling fresh Mediterranean dishes and sipping flavoursome regional wines. Here's everything you need to know about dining out in Italy, Italian style.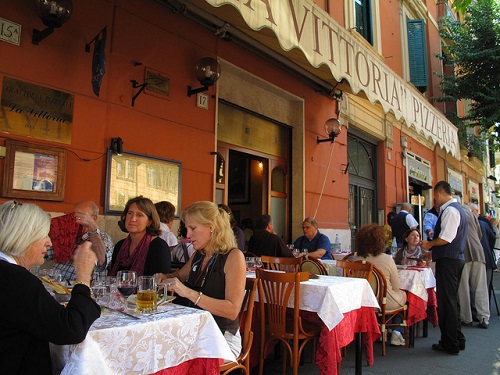 The Menu
Unlike typical English menus which are usually split into three listing sections, a traditional Italian menu has five sections. A small appetiser is followed by a first course, a second course, a side dish, and a dessert, and people will often choose a dish from two or more sections.
Italian Appetisers – Antipasti
The Antipasti – literally translated as 'before the meal', is often a great chance to sample a regional specialty you've never had before without committing to an entire dish. The choices will vary considerably depending on which part of Italy you are in.  Another fun way to try new things is to order an antipasto misto, from which you can expect a platter laid with a variety of dishes. Often this will consist of meats like mortadella or salami, and various cheeses and vegetables, however some restaurants will prepare mini taster size dishes.
Primo – The First Course
Primo is served hot and consists of light choices like soups, lasagna, risotto or gnocchi. You can expect to find a range of delicious pasta choices, such as smooth Conchiglie or bow shaped Farfalle. Pasta sauce is used sparingly, which allows the texture and shape of the pasta to be appreciated.
Secondo – The Second Course
Generally considered the main course, the secondo is usually focused around meat or fish. The Italians serve many meats, from pork, to zampone, salt cod, salmon, lobster, or chicken, and there are usually a couple of vegetarian options too. Unlike a traditional British three course menu, the secondo is unlikely to include any veggies or potatoes, as this will be served as the Contorni, or 'side dish'.
Contorni – The Side Dishes
The side dish will usually consist of vegetables cooked in a variety of ways. They might be grigliate (grilled), lessate (boiled), or al forno (oven roasted), and will arrive on a separate dish.
Dolce – The Dessert
Sometimes fruit and cheese (formaggi e frutta) will be offered as a dessert, however this platter can end up being a separate course in itself. The course consists of seasonal fruit complementing the local regional cheeses.
For those with a sweet tooth, traditional desserts often served are indulgent classics such as tiramisu, zuppa inglese, panna cotta and gelato. You can also expect that regions will have their own sweet specialties. In Sicily the dessert of choice is cassata, a complex liqueur-soaked sponge cake with a chocolate or vanilla filling, layered with ricotta cheese and decorated with jellies and marzipan – a must try if you're in the area!  After dessert typically a coffee (caffè) is offered. In Italy the coffee is served strong, hot and without milk.
Image: Margaret Napier, available under Creative Commons